September marks suicide awareness month, time for reflection and education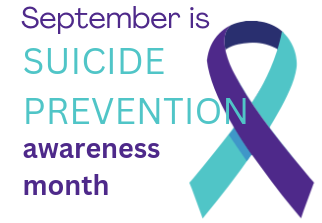 Suicide. A word that has many connotations surrounding it, and a word that takes on a new meaning in September as we pay closer attention to this troubling problem during Suicide Awareness Month.
"We are raising awareness for everyone and not only raising awareness of suicide, but raising awareness of mental health needs. The more we talk openly about it, the more we can use language and ask people how they're doing, checking in with them, the hope is that we can truly make an impact and save students lives and people's lives," head counselor Danielle Brino said.
"
We are raising awareness for everyone and not only raising awareness of suicide, but raising awareness of mental health needs. The more we talk openly about it, the more we can use language and ask people how they're doing, checking in with them, the hope is that we can truly make an impact and save students lives and people's lives.
— Danielle Brino
The counseling department set up tables with information on ways to get help during lunch shifts, held a family information session on suicide prevention, Sept. 22 and scheduled a day where everyone wears turquoise and purple, the colors of suicide prevention.
"We know that when people get help, when they get the proper treatment, they can go on to live happy fulfilling lives," Brino said. "It's also important that we know that there are some signs and symptoms when students are not doing well. We want to be able to look out for those and then get help."
Jane Doe was diagnosed with major depressive disorder and anxiety at the young age of 12. She has had two failed suicide attempts and has been in and out of psychiatric wards and mental hospitals.
"Mental illness definitely had a negative effect on my life for a good four years, but once I started to make progress and learned how to not let my depression control my life, mental illness hasn't been much of a burden," Jane Doe said. "It took mainly self reflection and isolation from my social life to help me get better."
According to the CDC, suicide is currently the twelfth leading cause of death in the U.S. with 45,979 deaths by suicide in 2020 and 1.2 million attempts. On average, 30 people die of suicide a day in the U.S. alone.
"I think a big misconception about suicide is that people tend to think it's cowardly or selfish. When people say that it really bothers me because unless you have those suicidal thoughts, you really don't understand why it makes people want to attempt to take their life," Jane Doe said.
Jane Doe has experienced a variety of treatments for her diagnosis' including inpatient care programs. These programs have the intention of focusing on extensive treatment, but can oftentimes further damage the well-being of an individual due to old-fashioned approaches.
"North Springs Behavioral Center is the first mental hospital I went to. The so-called therapy and treatments didn't help at all. They would take two minutes with you and prescribe an insane amount of medication. We slept on gym mats and everything there was prison-based. It felt like I was in prison, it was the worst experience of my life," Jane Doe said.
Sept. 13 marked the one year anniversary of dispatch from a psych ward for Doe. Like Jane Doe, their experience was not positive.
"It was really rough and I don't think it helped as much as it was supposed to. I think what actually helped was being so close to dying and realizing I didn't want to. It was rough, but I'm still here, and I'm glad," Doe said.
Doe was diagnosed with depression, anxiety and ADHD last summer. Their struggle with mental health took a turn while at summer camp with a number of other campers battling mental illness. The surroundings made it difficult to ignore the thoughts and feelings Doe had been experiencing.
"When I got back home after being at camp, my parents looked into getting me to start therapy again. When I was younger, I did some therapy for what was obviously depression, but we just called it random sad," Doe said.
Doe described the camp as being full of closeted trans kids, many battling dissociative identity disorder (DID). While the camp experience was a difficult one, it brought to fruition the gender identity struggles Doe had been previously facing.
"I had started to realize that I was non binary and I didn't want to be. I realized I wanted to change my name and I felt like my parents were unsupportive of my name change," Doe said.
LGBTQIA+ youth are four times more likely to attempt suicide than others. According to the Trevor Project, at least 45% of youth in the LGBTQ community have seriously thought about committing suicide over the past year, including over half of transgender and nonbinary persons.
"My meds were out and I had been sitting on the idea of [suicide, it was] subconsciously sort of forming. I was sad and anxious all the time, even when I felt like I shouldn't be. I really had some impostor syndrome around that also because my parents were accepting and it was a more accepting area than my friends, so I felt like I didn't have the right to be in the same mental state as them," Doe said.
Doe had been in and out of therapy and on medication to help with chemical imbalances contributing to anxiety and depression, but they still struggled.
"Nearing the end of that summer the coping skills that I had learned with my therapist weren't super helpful because she was a children's therapist. I was maturing out of the simple stuff that she had talked about with me," Doe said. "I turned to self harm. It became a way to relate to my other friends who were also doing that. We obviously all wanted each other to have stable mental health, but none of us seem to be getting any closer to that, so I was feeling included with [self harm]."
The mixture of self harm and dark thoughts began to bubble over for Doe on one particular day last year.
"I was in my algebra class and my algebra teacher was a super nice lady. She noticed something was up because I was in class and I was on my phone, I was never on my phone. I was texting a crisis line. I asked to use the bathroom. I was in there for a little bit texting the crisis line crying and I realized, I didn't actually want to die, I just didn't want to keep living with more sadness than happiness," Doe said.
This memory is a vivid one for Doe. They recalled sitting in the bathroom with their ex-girlfriend and counselor talking through the thoughts spiraling in their mind.
"I thought that since I didn't actually attempt anything, that I was just going to have to talk to my parents," Doe said. "I went to my next period, which was a class [where] I really loved the teacher. She was one of the things I thought about while I was in the stall because she's always been very positive and supportive of all her students."
Doe was later checked into the psychiatric ward at a local hospital. The ward was a difficult place for them, but they had a sense of support that Jane Doe did not.
"A difficult experience for me was coming back from the mental hospital. When I had access to my phone again, the vast majority of my friends had left because of what I had done. I felt even more alone and even more hopeless. I really wish I had people there for me when I got out," Jane Doe said.
Loneliness is one of the main contributing factors of depression. Brino believes providing students like these with the support they need is the key to begin destigmatizing mental illness.
"The past few years we have realized as a division [that] we want to be able to talk openly with our students and families about suicide prevention, looking for the signs, not ignoring it, not being scared to talk about it. When we openly talk about it we can get people connected with help," Brino said.
The counseling department consists of over a dozen staff members ready and willing to help students with anything they may need to talk about.
"As school counselors we work with students in mental health, academics and college and career planning, but we know that a student's mental health has to come first, before they can be a good student, before they can start planning for after high school. We always want to prioritize that," Brino said.
"
People would rather listen to your problems than go to your funeral.
— Doe
You are not alone. There are a number of organizations, hotlines, crisis lines, people and more devoted to helping people struggling with thoughts of suicide and mental illness struggles.
"There's always someone to talk to and it doesn't have to be in-person. There's always crisis lines or throw away accounts. People would rather listen to your problems than go to your funeral," Doe said.
***To protect the anonymity and safety of the students their names have been changed to Doe and Jane Doe
If you or someone you know is experiencing thoughts of suicide do not hesitate to reach out to someone.
Suicide & Crisis Line: 988
Crisis Text Line: Text BRAVE to 741741 to talk to a certified counselor
National Suicide Prevention Lifeline & Veteran's Crisis Line: (1-800-273-8255)
LGBTQ resources: https://www.thetrevorproject.org/
Suicide Prevention Resources: https://www.nimh.nih.gov/health/topics/suicide-prevention