Burgess tackles pressures of upcoming senior basketball season, sees offers on horizon
"Now becoming a senior, it's more surreal. It's taking basketball and trying to turn it into your life even more."
Basketball has been a primary part of senior Jadon Burgess' life. Now, shifting into senior year and with the winter sports season quickly approaching, the pressure is on. 
Burgess' relationships with his teammates inside and outside of school have begun to change as this marks their last year playing together. 
"As far as travel ball and [Amateur Athletic League] (AAU), it's kind of different because it was our last time playing with each other this past summer. It's hard saying goodbye, but we're staying connected. One of my teammates just committed to Fairleigh Dickinson University. We had seven total who are going to play at the next level. That's something special, but it's bittersweet," Burgess said. "Then my high school teammates, it's definitely something that gets me excited because I know that we're going to work to get better, collectively and individually. Senior year, it's kind of a big one, but I got to enjoy it while I can." 
JV basketball coach Malcolm Thomas has coached Burgess since middle school. He has witnessed much of his growth that has made him into the player he is today.
"He's always been a leader [and has] always been someone [who's] been a good basketball player. Now he's kind of dotting his I's and crossing his t's and becoming an even better player and teammate, but also a role model for the younger guys in our program," Thomas said. "He interacts with other kids, helping them with their homework or getting rebounds for younger guys when we're doing shooting drills. When a coach is demonstrating a drill some might not understand, Jadon is one of those types of people [who] the younger guys can go to and feel comfortable talking to."
"
Senior year, it's kind of a big one, but I got to enjoy it while I can."
— Jadon Burgess
Senior Joel Alvarado has played on several basketball teams with Burgess over the past nine years. Playing together since elementary school, Alvarado has witnessed much of Burgess' growth as a player at the teammate level. 
"He's gotten so much better over the years, especially between my sophomore and junior year. He puts in the work all the time in the gym, so he deserves it," Alvarado said. "Me and Jadon's bond grew very strong [from playing together for so many years]. He is basically my brother. His father is like a father to me as well. It's very fun and competitive to play with such a close friend."
This motivation to get better in the sport has been instilled in Burgess since he was a kid, which may have been inspired by his father, HHS Dean of Students and boy's varsity basketball coach, Don Burgess. 
"Basketball is something I grew up around with my dad being a college coach. Taking road trips to games with him, going to practices and stuff like that. Overall, growing up around basketball has definitely impacted me," Jadon Burgess said. 
Don Burgess juggles the roles of being both Jadon's father and coach. 
"Jadon is a very hard worker who does a great job of showing leadership skills on and off the court," Don Burgess said. "My wife and I tell our kids to do three things: play hard, do your best and have fun, and you will have success. The thing which we are most proud of is the kind of young man he is becoming." 
Don Burgess played basketball in high school and went on to play at Radford University. This past experience has been both a resource and source of pressure for Jadon.  
"My dad has definitely pushed me in a way that has helped me a lot as far as my growth as a player and individually. He's always encouraging me to be the best player I can, but more importantly, be the best person I can," Jadon Burgess said. "It's definitely pressure and affects me in regards to subconscious comparison every now and then. At the end of the day, it's something that encourages me knowing that he has been through some of the things that I'm going through now. I have someone who I can talk to and help me out when I need that reinforcement. Having him there and knowing that he went through that is comforting." 
Don Burgess hopes to relieve some of the stress and pressure for Jadon and encourage him to have fun playing as it's his last year at the high school level. 
"We want him to enjoy the journey of being a recruited student-athlete as he is receiving interests from college coaches at all levels: D1, D2 and D3. We do not want him to be stressed out. [We hope to] visit some campuses, compare the demographics and locations and make a decision which is best for Jadon. It is his choice as he is the one who will be walking that particular campus," Don Burgess said.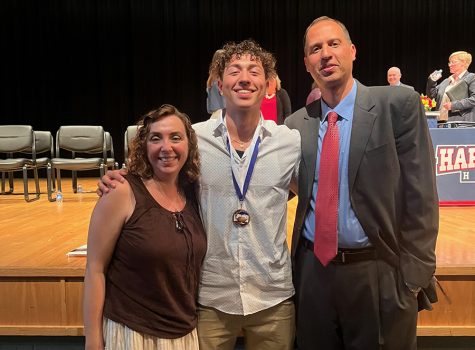 Burgess currently has two D1 offers to High Point University (HPU) and to the University of Maine (UMaine). Despite having offers, he is not yet committed to a school and is still touring colleges as he travels for basketball tournaments.  
"When I went to the beach for a tournament, I was able to see [Christopher Newport University's] (CNU) campus. Last fall I went down to High Point University for a basketball game. I've also seen campuses like [University of] Lynchburg for team camp and Robert Morris [University] because we played in Pittsburgh," Burgess said. "I'm planning to take more visits this fall and map out schools I want to see before I make a decision. I'm trying to go in with an open mind, get as many comparisons as I can to make the best decision for me." 
Despite being committed to a school being an option, Burgess' goal is to not rush the process and to make sure the school he chooses is the best fit for him as a person and a player. 
"If the right opportunity came and I knew that it would be 100% the best for me at this time and in the future, I would definitely consider committing early and go ahead and have that done. At the same time, I'm also not trying to rush this whole process. I'm trying to enjoy it as much as I can and as much as I'm allowed to. Keeping my options open is definitely something that I'm trying to do because I want to make the best decision that will lead me to a better future," Burgess said. 
Getting offers goes hand in hand with gaining exposure at camps and tournaments. Burgess has played throughout the summer in front of college coaches and recruiters in hopes of the possibility of more offers. 
"Most recently I played in an Elite Camp by Hoop Group that was at East Stroudsburg University and it was an invite only camp in August. I'm also attending a camp called the DMV Top 80. [I'm] really just trying to play as much as I can before senior [basketball season] starts. Also during the summer I was able to play with Virginia Premier, a high level team that played on the Grassroots circuit and the Hoop Group circuit. They have really gotten me some exposure," Burgess said. 
Playing in these tournaments with such high stakes and high levels of pressure can be nerve wracking for players. Burgess tries to focus on the positive and view the possibilities that come with that pressure. 
"It's definitely something that's in the back of your mind. When you walk into the gym and you see people are at the baseline and people are at the sidelines and do their normal coaching look. You see the polos, the pens in hands, notebooks out, khaki pants, you see the gear and you see a logo. Some of the schools you aren't able to identify, but you know they're there. Even though you might play a game where you think no one is watching, everybody could be watching. All it takes is one person, you never know who they know and it really is a gamble so to speak," Burgess said. 
Making a mistake in a game where college coaches are watching can throw a player off. Burgess looks to his teammates in these times. 
"
Jadon is probably the most humble person I have ever met. I think he thrives [under] pressure because it makes him a better person and player. I'm Jadon's number one fan, so I will always tell him the truth if he's playing bad or if he's in his head."
— Joel Alvarado
"I wouldn't say I've had a bad game overall in front of college coaches, but I would say I've had bad plays. Routine plays, like a layup or a play that I should have made that I didn't make at that time. It kind of haunts me during the game, but you just got to move past it and keep playing," Burgess said. "You got to take a breath and look to your teammates. They've really helped me keep pushing, they just remind me that it's okay, get the next one. They really encourage me."
Alvarado is one of the many teammates Burgess looks to in those moments. 
"Jadon is probably the most humble person I have ever met. I think he thrives [under] pressure because it makes him a better person and player. I'm Jadon's number one fan, so I will always tell him the truth if he's playing bad or if he's in his head," Alvarado said. 
On the flip side, the high of having a great game with a panel of college coaches watching is an entirely different feeling.
"It's the best feeling. When you know you played how you can play in front of people and feeling that satisfaction of satisfying the people who are watching and yourself most importantly. It's like you're playing to your full potential and you just hope that other people can see that. You got to understand that every game is not going to be your best game and every game is not going to be the worst. You just have to perform as much as you can and when you can," Burgess said. 
Playing basketball in college has always been a goal for Burgess, but he also wants to prioritize his academic and social wellbeing when choosing a college. 
"At the different levels, Division Three, Division Two, Division One and Juco, it's all good basketball. I have to find a college or a place that's the best fit for me academically, socially and athletically. If the chance does come to play basketball and if the school is a great fit for me, then I'm going to take it without a doubt. Playing college basketball is my plan, so I wouldn't say it is a must, but it is definitely a strong want," Burgess said. 
Burgess has always prioritized academics within high school, maintaining his GPA, while still working to improve on the court. These values will continue to hold significance to him as he moves on to college this coming year, as well as into his plan for after his professional career. 
"I'm taking classes at Blue Ridge [Community College] that are part of the Blue Ridge Scholars Program that help me earn my Associate's Degree while still in high school. I have those credits that will transfer hopefully, even if they are just elective credits. I hope to pursue human science or social science because I want to get into working with people and try to do something with businesses," Burgess said. "After playing professionally, I want to get into working with people and networking through the basketball field. I hope to build a sense of friendship and community within that field and try to use that as much as I can to start my career after basketball." 
Besides envisioning the perfect basketball program, Burgess has an idea of what his ideal academics and social life may look like at his perfect school. 
"Outside of basketball, my dream school would be something that's similar to Harrisonburg in regards of community. It's diverse, has some student body that's attending games and showing representation, while at the same time, it's strongly encouraged for people to be on their academics and still at the end of the day, earning a degree," Burgess said. "The perfect basketball program for me would definitely be somewhere that has a good support mechanism for me as a player where everybody is involved and interactive, the players are there for each other and you can reach them outside of basketball. Overall, just having that feeling of knowing I'm going to succeed at that school, both academically, socially and importantly, athletically, because that's what I will be there for. Having coaches who care about me, coaching you in tough ways and making you work harder than you have. I want someone who would do that for me because being pushed out of my comfort zone is only going to cause more growth for me as a player."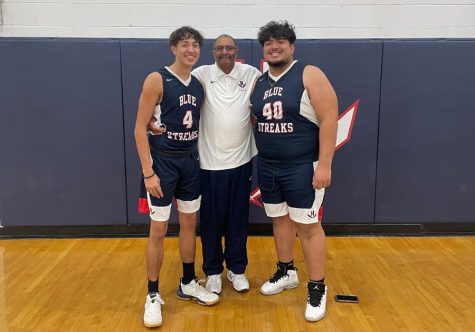 Burgess' ultimate goal is to make it to the professional level in basketball. 
"My hopes are to become a professional player, maybe here in the states, but I am hoping to go overseas to play after college. [I hope to] play and see some of the world while playing and traveling. At the same time, I've always heard growing up that the air is going to deflate out of basketball eventually. It happens to everybody at different times. I'm trying to keep making it bounce as much as I can and as long as I can. That road might look different when I get there and take me on a different path than I imagined and I can't say where or what country I'll end up in, but the goal is to be on a contract for a professional team somewhere in the world," Burgess said. 
Burgess' future plans are exciting, but for now he is focused on the upcoming season and his plans for where he hopes to lead his team. 
"This basketball season, other than trying to win as much as we can, I envision bringing the Valley District title back to Harrisonburg and improving into regionals. I hope to be able to perform better every night in every game and improve my consistency. Overall, try to have the same numbers, not trying to be a roller coaster senior year not only for myself, but for my team. As a leader senior year, it's going to be important I do that and try to make the most of it overall," Burgess said. 
Not being committed to a school currently has been a source of motivation for Burgess. It has inspired him to work harder and see what senior year has to offer. 
"It is definitely encouragement to work harder because offers will come more as senior year comes I believe. As long as I'm doing my part and putting in the work as much as I can to make sure I'm ready for that. I don't think flying under the radar is a bad thing because it means I'm still there, I'm still in the same field. I know that other people might be blown up more by the media and things like that, but I'm in the same field and I'm still working. It's definitely encouraging to say the least," Burgess said. 
Going on the journey of making it to the professional level in any sport is a process. Burgess, now just about reaching the end of this journey, has come out of it with advice to share with younger athletes. 
"It takes time. Be patient. That's one of the biggest things I've learned, just trying to be as patient as possible. Growth doesn't happen overnight. The thing is, you'll know you're growing, by not seeing it. You'll do something one day, shooting a three or making a move, and it just feels good, but you're not thinking about it because you've done it so many times," Burgess said. 
"
It takes time. Be patient."
— Jadon Burgess
In whatever path Burgess chooses for the next four years and beyond, he has built a solid support system in Harrisonburg who will be eager to help him along the way.
"Moving into the future, I'll be a fan and follow him on social media. I'll definitely try to make it to a few of his college games," Thomas said. "Jadon is a great kid. I hope he goes out there and really does whatever he wants to do in life. I'm sure he'll do that and be successful in whatever path he chooses. I'm just really excited to watch him grow even more these next couple years."