Hurst involved in dance, cross-country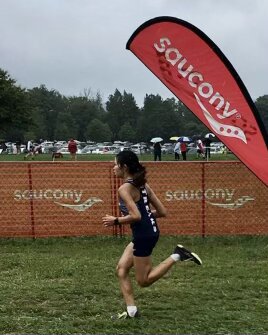 Freshman Lya Hurst is involved in many activities at HHS, including cross country. She feels  the team has improved this year. 
"We've definitely made progress from where we started. [I've improved ] my time," Hurst said. 
One thing she would like to improve in cross country is her overall time, and doing less walking while she runs. 
"[I would still like to improve on] just being faster overall, and not walking as much," Hurst said. 
Hurst is also taking Dance One this year. She likes the connection of movement between dance and running. 
"There's a lot of movement, which again is what I like," Hurst said.
Dance One is Hurst's favorite class she is taking. She has some previous dancing experience, but she took a short break before coming back to it this year. 
"I danced a little when I was younger at the Rec Center, but then I just stopped and now I'm continuing again. [I like that] we do a lot of movements and it's just a lot more fun than being stuck at a desk or something, and the environment is always great," Hurst said. 
Along with dance and cross country, Hurst hopes to participate in the musical this year. 
"[This year] I want to try out for the musical. I'm just glad it's not Spongebob," Hurst said.