Late graduation held for ten students of the 2022 class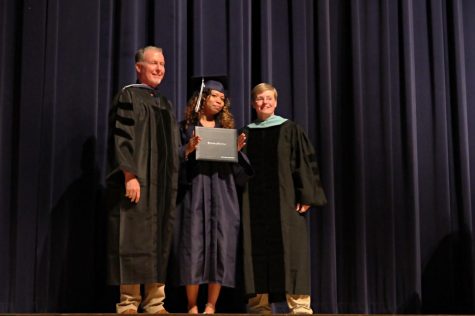 Graduation is always held for seniors earning their diplomas on time in early June. After graduation, students go back home with a diploma and a fresh start to their adult life. However, for some students, graduating with their class isn't an option. For these students, June is just the end of the school year and the start of summer school. They go on to attend summer school from 8 a.m.to 11 a.m. Monday through Thursday, to finish missing requirements for their diplomas. The goal is to graduate in August before school resumes for a new year. 
Ten students were able to earn their high school diplomas last Friday, Aug. 19. The ceremony was held in the auditorium, and families and teachers were invited to attend.
Principal Dr. Melissa Hensley, initiated the graduation ceremony by giving a speech. 
 "There's something extra special about the student who could have quit, who could have given up, [but didn't]," Hensley said.
While some may look down on late graduates, Hensley clarified that graduating late does not hold any less value than early or on time. 
"Maybe [you're] graduating early, or maybe it just took [you] a little while longer," Hensley said. 
A quality that Hensley pointed out about these graduates was resilience. While many students chose not to continue the journey of getting their diploma, these students did.  
"Perseverance makes you all special, setting a bar for others that says never give up," Hensley said. 
Due to the number of students graduating, teachers were able to give speeches about the students they knew. Tracey Calderon, who teaches GED at Summit Academy, was the first to talk about graduate Jefferson Barrientos Lopez. 
Calderon explained that Barrientos Lopez had gone through difficulties  that hindered his ability to earn his diploma on time. Despite these conflicts, Calderon watched him overcome them to reach his goal. 
"Jefferson has learned that hard work gets you what you want. He has had many obstacles in his way, but always steps up to finish. He held [a] full time Monday through Thursday, 10 hour, night shift job, for the last six months of school," Calderon said. 
While many could blame these students for not working hard enough or being smart enough to graduate on time, the teachers who spoke about them explained otherwise. 
Andrew Summers, a social studies teacher, also spoke about Barrientos Lopez. Summers explained that he was special from the first day of school. The moment Barrientos Lopez walked into class, he told Summers his dream of becoming a history teacher. 
 "He was a unique student for me…I quickly realized that before I taught him anything, he had the knowledge to talk about any period of history," Summers said. 
Summers confirmed that Barrientos Lopez would be a great history teacher in the future. 
English Language Learners teacher Laura Feichtinger-McGrath, shared a story about a student she had known since their freshman year. Kelly Manirakiza was one of the ten graduates  and had formed a close bond with  Feichtinger-McGrath through the years.
"Kelly came to us with a whole group of kids at the same time. He came into this new country, new school, new language," Feichtinger-McGrath said. 
One thing that stood out to her about Manirakiza was his composure.
"The other kids might have been shaking in their shoes a little bit, not Kelly. He was as cool as a cucumber," Feichtinger-McGrath said.  
Despite the language barrier, Manirakiza was still able to get his work done. However, Feichtinger-McGrath, said that things started getting tougher for Manirakiza due to his age. Having a group of friends that supported him was important to Manirakiza, but as he got older, most of his friends graduated. 
"His friends finished earlier than he did and I think Kelly was deflated a little on that because his peeps were gone," Feichtinger-McGrath said. 
Those circumstances made coming to school tougher, but Feichtinger-McGrath continoued to support Manirakiza. She called him every day to encourage him to come to school and even went as far as to go to his house to wake him up for school
"When he did show up, we knew that Kelly was in the house because there was joy [at school]. Kelly is joy," Feichtinger- McGrath said. "He has gone from speaking no English at all to being able to understand sarcasm in a way most students cannot," Feichtinger- McGrath said. 
Manirakiza graduated from Harrisonburg High School at the age of 21. 
The 10 late graduates of class of 2022 were:
Jefferson Barrientos Lopez
Kelly Manirakiza
Adriana Dove-Perez
Joel Escalera Cardoso
Martir Daniel Ramos
Serigo miguel Mendoza Guifarro
Daniel Luna
Sheury Ortiz Pacheco
Jorge Lozano Vidal
Samuel Stephan