Supreme Court leak spurs discussion
The fight for women to have the right to an abortion has lasted for decades, and now the right is once again being threatened. A leaked opinion draft on Roe v. Wade's case became public late Monday night, May 3. This opinion draft would overturn Roe v. Wade.
Click here to view the video discussion between junior Lena Fulton-Wright and senior Jadon Biller. 
But what did this mean? 
Norma McCorvey, who went by 'Jane Roe', was the woman at the center of the Roe v. Wade case. McCorvey was five months pregnant when she attempted to have an abortion, in 1969, but was ultimately denied due to the laws in Northern Texas. Angered and frustrated with this outcome, she sued the Northern District of Texas in the United States District Court. 
That was the start of the three-year case that would change abortion rights for all women across the United States. The case was argued Dec 13,1971, and reargued Oct 11,1972. 
Eventually, the court ruled in favor of Roe. This meant that the Constitution of the United States protects a pregnant woman's liberty to choose to have an abortion without excessive government restriction.
Despite this outcome, there is still a divide between pro-life and pro-choice Americans. When the leaked document came out overturning Roe v. Wade, there were mixed emotions, but ultimately fear for the future from women across the country. 
The unprecedented future: 
The leaked document is a draft of the Justices ruling. There is a chance that this document will never be adopted, and the court will not rule to overturn Roe v. Wade. Planned Parenthood took to Twitter, May 3, 2022, to make a statement, "Let's be clear: This is a draft opinion. It's outrageous, it's unprecedented, but it is not final. Abortion is your right– and it is STILL LEGAL." 
The Supreme Court justices are receiving disapproval from people because of the leaked document. Protesters illegally gathered at the homes of, Chief Justice John Roberts, Justice Brett Kavanaugh, and Justice Samuel Alito. The possibility of the justices changing their opinion due to public reaction is realistic, that could have been the purpose of leaking the document.

If Roe v. Wade is overturned, each state will be able to decide on its regulations for abortions. 
For Virginians, this might look very different.  Virginia Governor Glenn Youngkin is in favor of overturning Roe v. Wade.  
"I believe that the states should be able to take on this responsibility, and I do believe just like in determining what our education budget should be, in determining what our funding for law enforcement should be, how we handle our taxes at the state level — those are state decisions," Youngkin said in an interview with the Washington Post.  
Youngkin was in support of the pain threshold bill during his campaign. The pain threshold bill would make abortion a crime after 20 weeks of pregnancy.
Abortions will not be protected in Virginia if Roe v. Wade is overturned. This possibility angered many.
"
Now is not the time to be silent. Use your voice. Use your platform. Come protest."
— Kai Pariseault
Loud enough to hear: 
Protest in downtown Harrisonburg —
"I am angry." 
"I am terrified." 
"We are going back 100 years with this one choice." 
On a rainy Saturday, students walked the streets of Harrisonburg, Virginia, to protest against the banning of abortions. One of the students, Sophomore Kai Pariseault, started the protest with an Instagram post, urging his community to come out and protest with him. 
"Now is not the time to be silent. Use your voice. Use your platform. Come protest," Pariseault wrote in the caption. He wanted to reach out to his community after finding himself in a hopeless situation. 
"I was feeling helpless, I can't go to D.C., and there are no protests here and at that point, I felt like it was my job to do it for myself," Pariseault said. 
They walked around downtown Harrisonburg with their signs from 4pm- to 6 p.m., May 7, 2022. Their experience with protesting was civil, but they still received backlash.
"[There were] weird looks that definitely made me feel uncomfortable," Spotswood High School freshman Rowan Whitmeyer said.
"I had people flip me off twice and people came up to us very creepily," Pariseault said.
Despite feeling uncomfortable at times, they remained at the protest, standing up for their beliefs. To these students, the future of overturning Roe v. Wade is scarier than any of the creepy looks. 
"The scary part is that it will be the rich people who can still move and get access to abortions, but it will negatively affect the [vulnerable] people. Everyone with money can still get acess to safe abortions, the other people will not," Whitmeyer said. 
Pariseault views pro-lifers as people who only care about the unborn and not other aspects of human life. 
"Once the baby comes out, what if it's black, what if it's gay, what if it's trans, would [they] still care? No they wouldn't," Pariseault said.
Taking care of the child and mother after a forced pregnancy is also something Pariseault believes must be considered. 
"If [the government is] going to forcefully make mothers go through pregnancies they should provide health care, the Supplemental Nutrition Assistance Program (SNAP), and other things for them, but they aren't going to," Pariseault said. 
"This is extremely important, I have spent four years on Roe v. Wade. I've debated, written papers, it's so incredibly important to me as a person," Pariseault said.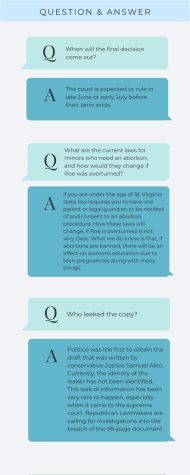 Walk out at Turner Ashby High School—
The following week, Monday, May 10, 2022, students at Turner Ashby High school (TAHS) organized a walk-out to show support for protecting Roe. 
One of the students who organized the walk-out was Senior Freya Hutton. This student took it to social media, patriculary Instagram, to circulate information about the walkout. They notified students of the time and place it would happen. Hutton didn't find it difficult to get admin in favor of the walk-out. 
"Overall, the admin have been in favor of the walkout, but I can assume there'll be some push back from parts of the student body," Hutton said. 
There was a possibility that these students would receive backlash but Hutton, among other students, believed that they could fight against the anger directed towards them and their beliefs. 
"[We had] push back from a lot of bad people, [like] misogynists, racists, homophobes, but we also have a lot of people who fight against that, myself included," Hutton said. 
The most important thing for this walk out was that others heard these students' voices. 
"Even though there will be backlash, it's important that we still make sure our voices are heard and we make an effort to change things," Hutton said. 
Freshman Emily McAvoy was one of the many students at the walk-out who felt like people in power were not hearing their voice. 
"I wish [ the Justices] could hear that this affects so many people. They need to stop thinking about their own personal values and listen to anyone," McAvoy said. 
Freshman Gracy Greenfield-Mcnaught, another student at TAHS, valued making others feel their presence when it came to their views. 
"It's necessary to let all people know they aren't alone in how they feel and others are on their side and the school is run by those who disagree with abortion," Greenfield-Mcnaught said. 
"
We're only powerful when we work together."
— Abby Dotson
Hear us marching-
"We will not go quietly." 
152 protesters marched down South Main Street, the street filled with chants, honking in support, and one common phrase, "my body, my choice." 
Originally all the protesters got together at Wilson hall at the James Madison University (JMU) Quad, where other students were taking graduation pictures beside them.
The march began at 5:00 p.m. where the leaders led the march down to City Hall in Harrisonburg. 
At the center of the march were two, young students. JMU freshman Abby Dotson, and Eastern Mennonite High school (EMHS) junior, Abby Garber. Both of these students valued one thing, allowing for young voices to be heard in issues that will affect their future. Garber is part of Generation Ratify Virginia (GRVA), a youth organization to ratify the Equal Rights Amendment (ERA).
 "The youth voice is so important to this issue. It's our freedoms, our future on the line. We need to ensure that the youth have a voice and that we can be heard. This is what we will have to live with if we cannot stop this," Garber said. 
This march was not the only focus for Garber. She is also the state director for GRVA which organized the statewide- walk out, where 5,000 students in 48 different schools participated to get young students together in support for abortion access. 
"We're only powerful when we work together," Garber said. 
She reached out to Dotson, with an idea for a march, and they worked together to make it come alive. 
The youth voice was vital for this movement, but it was not the only voice. One of the many speakers at the march was Laura Dent, a Harrisonburg City Council member. When Dent got up to speak one of the first things she said was, "I can't believe I still have to protest this shit." 
Dent was focused on voting as the number one way to bring change. 
"This is what happens when you don't vote. The extremist right wings will be elected and not only that, but also appoint judicial officers for life. That's how we got to an extreme supreme court that is overturning the law of the land," Dent said. 
Dent was not the only speaker who believed in voting to change the situation. Democrat Jennifer Lewis also emphasized voting at the protest. She is going up against Ben Cline for the sixth district. She previously lost, when only 50% of the district voted, she still encouraged the protesters to vote. Lewis was outspoken about her experience being a rape crisis counselor at a domestic violence safe house, encouraging listeners to volunteer themselves. 
With voting being a common theme, some speakers knew that voting could not be the only key to protecting abortion rights. David Schubert, who works with Planned parenthood in Maryland, had different views.
"We have to organize against this and it means not just voting but it means what we did with clinic defense. We're going to have to be in the streets," Schubert said. 
Schubert started working for Planned Parenthood in Maryland in the year 2000. At that time he was dating his now wife, who was a physician. 
His wife had come to Planned Parenthood wearing scrubs, Schubert was upset at his wife, for coming to the abortion clinic wearing something that could potentially make her a target. 
"I explained to her that wearing scrubs to Planned Parenthood is a way to get yourself murdered," Schubert said. 
Around 6 p.m., the leaders of the march started wrapping up by giving their last speeches. Dotson walked up to the rock filled entrance to the city hall building. She stood in front of all the protesters to give her last speech. 
"The one thing that we all come together on is that we are all here for choice. We are all here for all the reasons because there shouldn't have to be reasons, women don't have to justify the reasons they are making to anyone," Dotson said. 
The crowd roared in support of her words, feeling empowerment through them. 
Dotson went on to give her last thank you's to sponsoring clubs that supported this march. Including JMU College Democrats, Planned Parenthood Action at JMU, JMU Days for Girls and JMU Students Against Sexual Violence. 
Conclusion:
When the draft opinion was leaked late Monday, people across the country felt hopelessness and fear. A conversation about human rights was opened once again, and people across the country used their voice to stand up for their beliefs and rights. In Virginia, students stepped up to make sure they were loud enough to be heard. Taking on courageous leadership roles, to lead marches, protests, and conversations about a  topic that many considered sensitive.