Captains reflect on success at GSMUN XXIV conference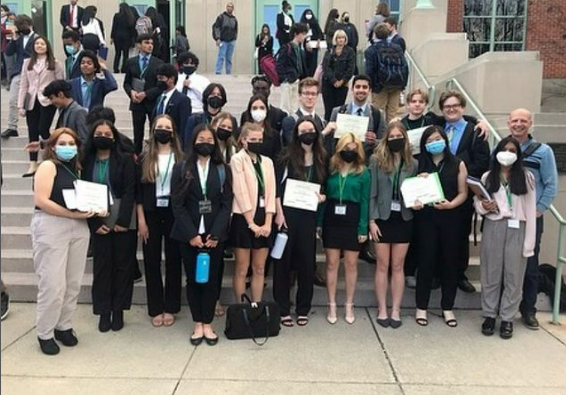 "This resolution passes!" 
These words rang through the ears of the Model United Nations (MUN) club members after a successful week of debate. From March 25 – 26, the MUN team competed at the Governor's School Model UN conference (GSMUN).
Per the rules of MUN, every student is designated a country or delegation and committee where they will debate to create and pass resolutions. MUN captain senior Ilana Mattson competed as the delegation of Japan in the Head Delegate committee.
"[The] Head Delegate [committee] was really weird, we had to go in and out of other General Assembly committees. We had to evaluate what the other committees were talking about and then combine that and decide what we wanted to actually pass a resolution on," Mattson said.
The rules of the Head Delegate committee can be tedious as most committees are assigned two topics to debate, but head delegates must be up to date on all general assembly topics.
"[The head delegate committee] wasn't set up well at all. [When we went in and out of general assembly committees] it was not timed well at the beginning. We would be there right when the charity cart got there or [when they were doing] chair evaluations, so we were stuck without any actual debate for a while," Mattson said. "We decided on two topics, which were the treatment of prisoners and [the effect of] Multinational Corporations (MNCs) [on developing nations]. We passed two resolutions on that and [my partner] and I were able to get an amendment on the MNC resolution and we co-sponsored the bill for prison reform. I'm pretty happy with how we did."
At this specific GSMUN conference, there were double-delegate partnerships, meaning two people represent one country together. Mattson was joined in her delegation efforts by co-captain junior Lydia Brown.
"I always get super nervous before conferences, so I went in wanting to have fun, but we got an award out of it which is really nice. I was really happy to do it with Ilana because it was her last conference and we work really well together," Brown said.
Mattson and Brown received an outstanding delegation award for their work as the Japan delegation.
"At the beginning [of the conference,] I felt like we could place and then in the middle I was like 'Oh no we did not try hard enough to get resolutions passed' and then after lunch Lydia was like 'We got this, let's go'," Mattson said. "I was apathetic going in. I was like 'It's just another conference' and then we got to the conference and I was excited to get out and present."
It was Mattson's last hurrah as part of the MUN team, but Brown has a year left and is thankful for the opportunities this conference gave her.
"It was a good experience because [I've] never [been the] head delegate before. Overall, [I] had a good time," Brown said. 
This year the MUN team had four captains with Brown being the only junior.
"It's definitely more responsibility [to be captain], especially after a year of competing virtually, just figuring out how to get back into the game [was hard]. [We had to figure out] which conferences we were going to do, especially because a lot of conferences went virtual or were canceled [due to] fluctuating covid numbers. Figuring that out with a great leadership team and a great club has been fun," Brown said. 
Of the 20 students competing for Harrisonburg at the conference, 12 were recognized and received awards. 
"I'm super proud of everyone. We had a lot of new people [competing] which is always fun because they don't know what to expect, but most of the time they come out of it with a really great experience," Brown said. "[They learn] good public speaking skills, and it's just nice to see everyone get excited about it because I've been doing [conferences] since freshman year and it's been a huge part of my high school experience. I love sharing that with people."