Helal navigates newlywed life
Their wedding took place December 22, 2021. As a newlywed, senior Shahed Helal's life has changed drastically in the last few years. Originally from Syria, Helal and her family have lived in the United States for the past six years. 
"I don't really remember much from Syria. After I got out of my country in 2011, I was nine years old. We went and lived in Jordan for five years and then came to the U.S.," Helal said. 
In the Muslim culture, it is normal for women to marry at a young age. Helal shares the experience with her mom who was married at 15. 
"Back then, my grandpa and grandma chose a husband for my mom. They didn't force her [to marry then], but they chose [someone] for her. She didn't know him at all before," Helal said. "They got married when my mom was 15 and he was 20. They have been married now for 23 years."
Her mom, having been through this experience before, was able to give Helal advice on marriage at a young age. 
"My mom said that at first it was really difficult because she didn't know my dad. It was kind of awkward [for her] because she had to live with her parents for 10 years when she first got married. After that, they rented a house and started their own life. [In the U.S.] it is different, you have more freedom," Helal said. "She told me it was [hard for her] but it won't be as hard for me because I  [have known him] for three years now."
"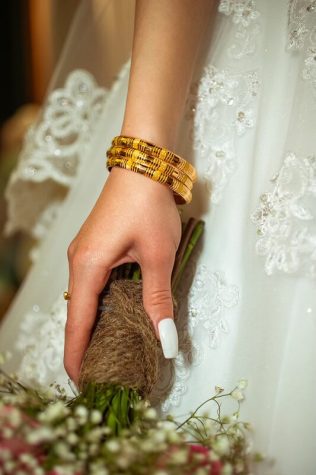 I was ready to get married, I had been with him for three years and we were tired of not seeing each other and going out by ourselves, so we decided to get married. I love him."
— Shahed Helal
In an arranged marriage it is common for the parents to choose the husband for their daughter, but Helal's parents did not choose hers. In Syria, most families choose the groom for their daughter, but Helal had the freedom to choose her husband, Muhammed. 
"I met him outside of my family. I kind of liked him and he liked me too, so we started talking. In our culture, we are not allowed to [date] or go outside with a man by ourselves [until you] get engaged. After three years of talking to him, he came to my house and asked my dad if he was allowed to get engaged to me. In our culture, you have to ask the dad first. He knew I liked him and wanted [to be with him], so he asked my dad first and we got engaged," Helal said. 
Helal originally met her husband when he lived in Harrisonburg. She developed feelings for him while they were talking for a two year span. 
"At first I just liked his behavior and how he talked. He is mature. He asked me for my number the fifth time I saw him. We started talking and he was very respectful at first and [told me] he didn't want to do anything wrong and he would ask my dad for permission. He was just very respectful to me," Helal said. 
While Helal and her husband were dating, there were many restrictions they had to abide by in order to see each other. 
"He was allowed to come to my house, but my parents had to be home. We were not allowed to go out by ourselves. We could go out but someone else had to be with us," Helal said. "He was allowed to visit [me] at home. He used to come once a week because he lived in Fredericksburg back then, which is two hours from Harrisonburg, [so] he came on Sundays to see me."
Helal is the first in her family to marry. Helal's husband is six years older than her; however, this is a common gap in the Muslim culture. 
"[The age gap] is a really normal thing in our culture. Of course he is going to be older, he is more mature and will handle things more carefully," Helal said. "He has to be the man of the house. I would not marry a 17-year-old."
After the wedding, Helal and her husband took a week-long honeymoon trip to New York and New Jersey. Now, they live together in their own house in Harrisonburg. Her husband works as a local mechanic while Helal focuses her attention on her studies. 
"The first month, [after the wedding, balancing everything] was really stressful, but now I am kind of used to it and it is getting easier," Helal said. "I have to take care of my studies first and [also] take care of my husband. I have to share a life with him and everything with him. Back at my parents' home, I was spending time by myself because I didn't have to [take care of anybody]. Now I have a house to take care of and a husband so it's hard." 
After attending high school during the day, Helal attends to her husband when she gets home.
"When you live with someone in the same house, you need to care for them. I talk to him, go out with him and listen to any of his problems," Helal said. 
Helal has not been navigating the newlywed world alone. Her husband has been supportive of her academics and future goals. 
"I am still in school and I need to finish [high school] and then go to college. I don't want children right now, until I finish college. [My husband] was really nice about it, he understood and said he would help me finish school and help me with my studies," Helal said. 
The wedding took place in Harrisonburg last December. Helal and her husband spent the months leading up to the wedding planning all of the details of the day.
"[The wedding itself] was scary of course. We planned  the wedding for five months and [held]  it here in Harrisonburg and it was awesome," Helal said. 
In the coming years, Helal still plans to attend college and earn a degree so she can work in the future. 
"The most important thing right now is looking to go to college. I already applied, but haven't heard back," Helal said. "I [want to] go to [Lord] Fairfax [Community] College. That is the most important thing. I want [to study] dental hygienics." 
Despite the fact that Helal is still in high school, she knew that she was ready for marriage and to start a life on her own with Muhammed. 
"The biggest challenge is learning to balance between marriage and school life. It can be hard sometimes. If you are not ready for [marriage], you won't know how to deal with it," Helal said. "I was ready to get married, I had been with him for three years and we were tired of not seeing each other and going out by ourselves, so we decided to get married. I love him."