Local competitive Spikeball couple operate bed and breakfast
When Becca and Joel Graham were looking for a new home in October of 2018, the Graham's were primarily focused on finding a place that Becca Graham could work as a registered dietitian. After accepting a job at Sentara RMH, the couple moved to Harrisonburg and began running the Friendly City Inn in August of 2019. 
"I work for Spikeball full time which is a remote job [so] I can work from wherever. We were looking to move somewhere nearby the state of Pennsylvania, which is where both of our families live. We were looking in Tennessee, North Carolina, Virginia and [we] followed job needs for Becca since I [have] the flexibility to be wherever. The job for Becca came up here in Harrisonburg and we decided to give it a try and we are glad we did," Joel Graham said. 
The Graham's were first brought together by Spikeball, a roundnet team sport. Joel Graham first became introduced to the sport during his years at Belmont University. 
"[My roommate and I got] into playing with a couple of guys from our dorm and we didn't have a good indoor facility to play with at the time, so we started a league that played in the basement of a parking garage on campus. [It was] a blast," Joel Graham said. 
At the time, Spikeball was not as well-known as it is today. Joel Graham and his roommate continued to pursue their interest in the sport and  look for job opportunities within the Spikeball company.
"We pitched [the CEO of Spikeball] the idea of us driving up and down the east coast in a van the next summer promoting it at beaches and he [suggested being] brand ambassadors at the university first," Joel Graham said. "[After that], we kept bugging him for more opportunities and eventually he caved and gave us an internship for a few hours a week doing basic customer support in the spring of 2013."
After continuing to work as an intern for the company, Joel Graham and his roommate were eventually able to work at events. 
"One of the first events we worked [at] for Spikeball was [a] Christian music festival called The Creation Festival in central Pennsylvania," Joel Graham said. "[Becca] and some friends of hers wandered through and we taught them to play in June of 2013. I continued interning for Spikeball and working for Spikeball part time during college. I graduated later that year from Belmont and started working full time for Spikeball. [Becca] and I started dating and traveling to tournaments all over the United States."
Becca Graham became more interested as she became involved. In the years following her first introduction to the sport, she decided she wanted to compete in Spikeball competitive events at nationals. 
"My teammate, Alli and I learned at the same time [and] we went to the same high school. We played together in 2015 and that was the first ever women's division and we got second out of 10 or 12 teams. We had just started playing competitively that year. We won the women's national championship in 2016, 2017 and 2018. We both split up and teamed up with different partners for 2019 and my teammate and I won that year," Becca Graham said. "[Then we] teamed up again and got third in the women's national division this past fall. It's definitely something we enjoy doing."
As a four time national Spikeball champion, Becca Graham continues to train at a high level in order to perform well in future competitions. 
"We have played with the club at JMU a few times," Becca Graham said. "We do some one on one drills and training and fit it in wherever we can. We recently formed a good relationship with Horizons Edge, so we were able to use some of their indoor turf facilities to practice over the winter."
For Becca Graham, she enjoys both the competitive aspect of Spikeball and the surrounding community that comes with playing the game. 
"The roundnet community is a really tight knit community and we have friends from all over the country and all over the world from traveling and competing.  It has been fun to have a competitive outlet post college," Becca Graham said. 
When Becca Graham began playing, the game itself was still evolving. This could sometimes present challenges for competitive event purposes. 
"The rules change [often] and they are still figuring out the right rule set. You are constantly having to adapt and people are having to learn new skills that did not exist before. With round-net it is still evolving and growing," Becca Graham said.
Similar to his wife, Joel Graham also competes in Spikeball competitions and maintains a high level of training. Joel Graham has experienced the positive and negative aspects of the uniqueness of Spikeball in his career. 
"Each point can be so unique and the 360 degree nature of play without sides and boundaries. There is such a uniqueness to the hitting and plays that you can make, it's fantastic," Joel Graham said. "On the flip side, that is one of the hardest things about the sport. In almost all other sports there are [two ends of the field] and each team has a side, so not having that presents some pretty unique challenges as far as defensive movement and strategy. It is a blessing and curse how challenging that can be."
Despite all of her success playing the sport, one of Becca Graham's favorite memories was her first national championship in 2016. 
"[At that time], the women's divisions were just on the rise so they were just starting to have them at most tournaments and we had 25 or 30 teams. It was a really exciting day and lots of people were watching and paying attention, which was new for the women's division. It was the first time we won and it was really exciting," Becca Graham said. 
For Joel Graham, his experience in both the business aspect of the company and as a competitor has allowed him to experience different opportunities. 
"Having been involved with the sport for a long time now both competitively and as an employee, I have had a unique opportunity the last three or four years to work with a lot of our international growth. I have fostered and empowered the growth of [Spikeball] communities around the world. In May of 2019, I was able to go and play in one of the first European tour stop tournaments in Belgium. It was a really cool blend [to see] all of the U.S. competitive involvement, my job,  the international nature and the community around the world," Joel Graham said. 
After competing for so many consecutive seasons, Joel Graham has had his share of injuries which has caused him to reevaluate his future in the sport. 
"Last year was my seventh competitive season, so I have been at it for a while. We have both had a lot of injuries. Becca has had three ACL repair surgeries and I have had two ankle surgeries, so we are a little beat up. I am feeling that pretty hard, so I am on the fence right now if I am going to compete at the same level and intensity that I have. It would depend a lot on if the right teammate situation was in front of me," Joel Graham said. 
"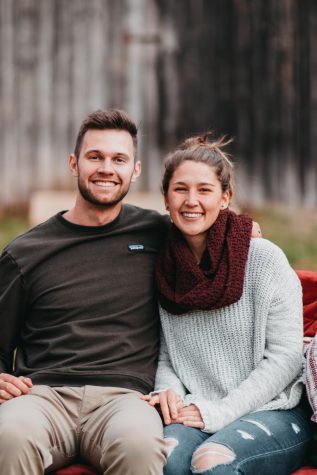 There is a really cool, thriving small business community in Harrisonburg. It is very collaborative and exciting, [so] being able to get involved in that has been a really good thing.
— Joel Graham
Since their move to Harrisonburg, the Graham's feel that they have been able to fit comfortably into the community and run a bed and breakfast.
"We love geographically where [Harrisonburg] is, we have met tons of people. We love the downtown scene, JMU and the students. It has been a good fit for us," Becca Graham said. 
As business owners, one of the most impactful parts of Harrisonburg for the couple has been the community. 
"[It's impactful] in the sense of friendships,  our church family, and those connections we have been able to make with people being so welcoming," Joel Graham said. "Also on the business side there is a really cool, thriving small business community in Harrisonburg. It is very collaborative and exciting, [so] being able to get involved in that has been a really good thing."
For Becca Graham, she plans to continue to compete this season and prepare for the first ever world championship in Belgium next fall. 
"I would love to have a go at being on the national team. I am planning to compete this season as much as I can but it is difficult with the inn being so busy on the weekends. We are working on building up more and more staff," Becca Graham said. "[Right now] we have one other full time staff member and some other people who do other part time things. We are looking to line up even more help so we can get away a few more weekends here and there in the spring, summer and fall. Competitively I would love to get another full season in and we love running the bed and breakfast but it is challenging to get away sometimes. Both are worthwhile things."
Moving forward, the Graham's are looking forward to being able to operate their business without worrying about COVID-19 precautions to be able to give guests more during their stay. 
"We have been really fortunate and blessed to be as successful as we have been despite [COVID-19] factors, but we are really looking forward to a more normal [year] in the travel and hospitality world," Joel Graham said. "We are looking forward to hiring more staff members and making the experience at the inn more of the idea of what drew us to it in the first place. It would involve more events, interactions with guests, community involvement, connecting with other local businesses and expanding our operations. Those are all things we are excited about and looking forward to but obviously it just hasn't been the right time for those."  
Both Becca and Joel Graham advise anyone who may be interested in the sport to give it a shot and open the door to the Spikeball community. 
"Come out to Spikeball tournaments, they are super fun. It doesn't really matter your skill level, there are usually different divisions and a huge part of what it is about is the community and people and making friends," Joel Graham said. "It is an awesome way to connect with other people. It is always great for us to connect with other people in the area."