Varsity cross country places second at districts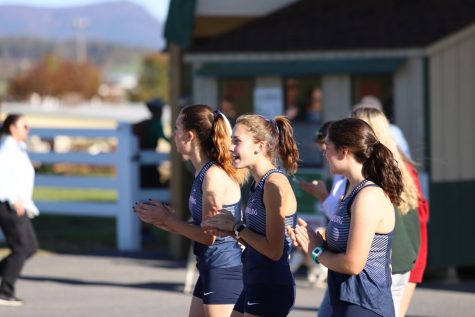 The boys and girls varsity cross country team placed second at districts on October 27 with four runners from both teams placing in the top 15. The team ran a 5K at the fairgrounds hoping to qualify for regionals next week. The meet included teams from Broadway, Spotswood, Rockbridge and Turner Ashby high schools. For both the boys and girls, Spotswood placed first with 33 points (boys) and 39 points (girls). The team with the lowest amount of points wins, the place the runner gets determines the amount of points they give to their team. If a runner places second, their team gets two points, all the points are tallied together for the final results. 
The Harrisonburg boys placed second and scored 48 points with an average time of 18:11. Junior Jack Haverty was the first to finish for HHS and placed second overall with a time of 17:46.3. Senior Micah Tongen placed seventh with a time of 17:59.4. Junior Liam Wightman, sophomore Mathew Rush and freshman Tyler Miller also placed in the top 20 in the meet. All of the boys on the HHS team ran a qualifying time for regionals which will be on November 4.
The girls also placed second overall with an average time of 22:00 minutes and a score of 51 points. Sophomore Annie Poirot placed fifth with a time of 20:57.3 and sophomore Clare Kirwan placed ninth with a time of 21:21.0. Sophomore Lena Blagg placed twelfth, freshman Eleanor Carter thirteenth and freshman Sequoia Hall eighteenth. Harrisonburg also had runners place 21st and 25th. All of the girls qualified for regionals as well and will be running again next week. 
Thursday November 4, the varsity boys and girls will compete in regionals at Albemarle High School.