Students accepted to Virginia Tech after attending fall visitation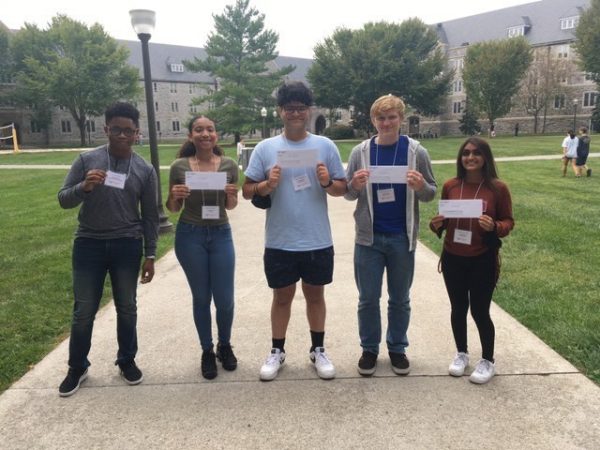 The weekend of Oct. 2-3, five HHS students attended fall visitation at Virginia Polytechnic Institute (Virginia Tech) in Blacksburg, VA. The program allowed students to stay on campus, learn about the school and eventually receive their admissions decision early. Among the students who attended were seniors Jafar Mansoor and Haile Madden. 
"The program was aimed at minorities and first-generation students and I am both of those categories, so I thought it would be a pretty good experience. I did not know that much about Virginia Tech so I figured I would go look at it. It was only $40 for the whole weekend, so I knew it was a good opportunity. The early acceptance part was a pretty good incentive," Madden said. 
For Mansoor, he decided to attend fall visitation to get a deeper understanding of Virginia Tech's programs and offerings. 
"I decided to do it because I really wanted to visit the campus and get an inside look [at] their engineering program," Mansoor said. "They had a bunch of engineering specific information sessions that were super eye-opening. Their engineering program is super in-depth and thought out. I really want to do engineering and they have a big focus on it, which makes me want to go there."
In addition to being able to look into specific majors, the students were also able to experience life on campus for a weekend and get to visit the facilities.
"We visited the living-learning centers which are different types of cultural groups on the campus. There were international students, LGBTQ+, the black experience, so those were pretty cool to look at. [We] explored the different majors and talked to students in various scholarship programs. We also looked at their food court halls and the campus overall," Madden said. 
In order for students to be eligible to attend fall visitation weekend, they were required to submit their entire application to the university by Sept. 24. Although this still took both Madden and Mansoor some time, neither senior felt as if it was extremely time consuming.
"[The application] wasn't that bad since Virginia Tech did not require any letters of recommendation. I also did not submit my Common App essay; I just submitted the four UT Prosim questions along with the basic information," Mansoor said.
Madden believes that the most beneficial aspect of the trip was a chance to see Tech's close-knit communities and experience the atmosphere first hand. 
"My favorite part was looking at how close knit the black community is at Tech because I didn't know how big an emphasis there was on any minority groups at [Virginia Tech]," Madden said. "I also liked how they put an emphasis on the first-generation students too. They even had a dorm full of only first-generation students which was pretty cool."
For Mansoor, the most nerve wracking part was knowing that at the end of the weekend he would find out if he was accepted to the university for  fall of 2022. 
"It was nerve wracking knowing that I was going to get my decision while I was there, which was stressful. I really wanted to get in and it is my top choice in Virginia. The feeling of uncertainty was stressful though," Mansoor said. 
When he received his letter at the end of the weekend, Mansoor was relieved with the result of his admissions decision. 
"They gave us [our envelopes] and told us not to open them on campus. We walked away from the big group and then I opened it with my friend Adam," Mansoor said. "My mom was super happy [that I got in], she started crying since it was my first acceptance."
Mansoor plans to focus on scholarships moving forward with the knowledge that he has been accepted to one of his top choice schools. 
"This acceptance takes a big weight off my back and I know I don't have to worry as much. I am going to work on other applications to see where I can get in.  I am going to start focusing on scholarships to make sure I can go there for cheap," Mansoor said.
Madden plans to continue to carefully consider the other schools she is applying to. 
"I am definitely going to ask a bunch of the same questions that I did at Virginia Tech because they offered a lot of insight into things I didn't even think to ask about," Madden said. "I want to see what the other schools' facilities are and what type of multicultural centers they have and opportunities they offer for minorities specifically to make sure that they are doing well and excelling in their academics."
As a first generation college student, Madden believes that her participation in the AVID (Advancement Via Individual Determination) program over the last few years has helped her navigate the application process. 
"I feel like AVID definitely helped me navigate that process because my mom doesn't know that much about the college application process.  AVID has helped tremendously with making sure I am punctual and making sure I know how to use the application systems," Madden said. "Also making sure my essays are done and providing me with opportunities for scholarships. If I was looking for myself, I probably would have not found all the opportunities I've had."
Madden advises all current juniors to start their application process early and begin to look at schools well in advance of applying. 
"If you are a junior, start your college tours early, so you can rule out what schools you don't want to go to," Madden said. "Especially with COVID-19 lightening up a little more you can book tours because you never really know if the [tours] are going to be jam-packed next year so just do it now instead of later."