Bert commits to play division one baseball for VCU Rams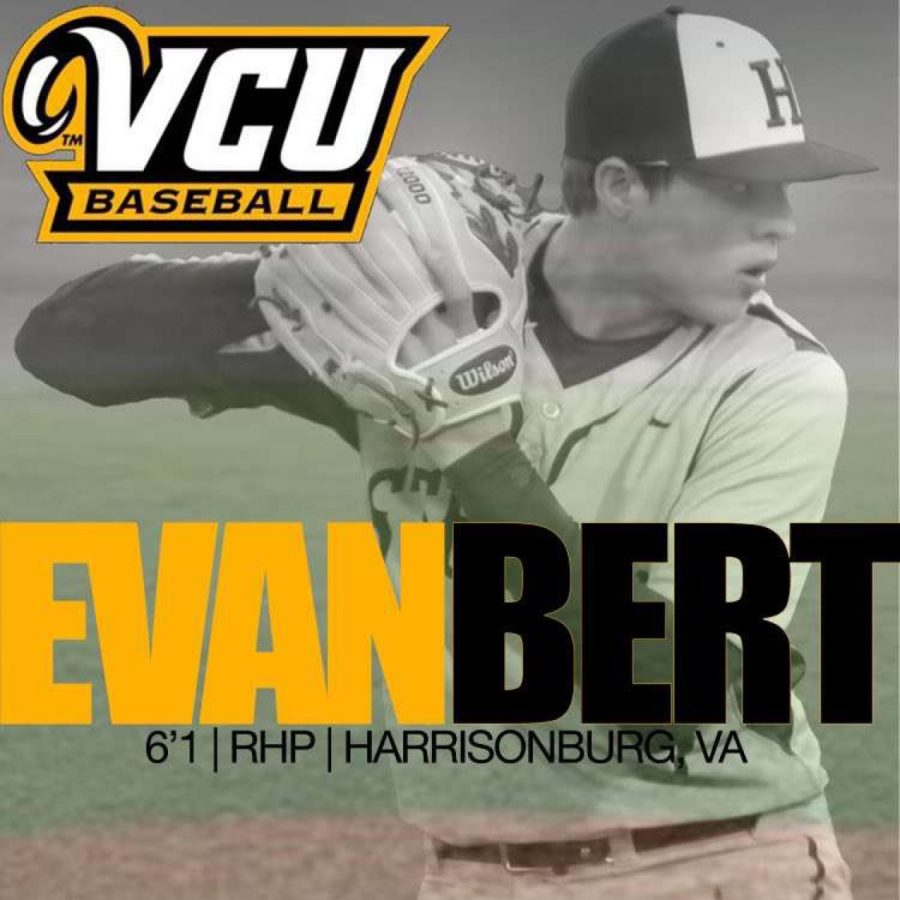 After weighing his options , senior pitcher Evan Bert has committed to play baseball at the Division I college level. Although Bert was recently officially offered by schools, his recruiting process began his freshman year. 
"[The recruiting] started my freshman year when I went to a camp [at] Coastal Carolina.  It went really well. As a junior, the coaches can start talking to you, but it all started with the Coastal coaches and then I emailed my information out from there," Bert said. "This past year [I]  went down to Florida and Georgia a lot. [I really liked] the division two and three programs so I spent time trying to get it down to a reasonable number of schools that I thought I could go to and play at."
To gain exposure, Bert prioritized attending prospect camps over the past few summers. Although these did help, Bert believes he gained the majority of his exposure from playing with his travel team, Dirtbag Virginia Platinum 18U out of Danville, Virginia. 
"I think [the camps made a big difference], but the most important thing was the travel ball tournaments. Just getting out there, at those camps you are only in front of five or 10 coaches and it's only one big school. Most of the time the teams who are invited are small, local schools. There are more coaches who come to watch at the bigger tournaments because they are there for other kids and they walk around to see everyone," Bert said. 
To give himself the best chance of receiving an offer, Bert worked with a local strength and conditioning coach to get his body in the best physical shape possible.
"I started working out my eighth grade year [because] I wasn't throwing hard.  I had a big velocity jump from eighth grade to about sophomore year, [it] was about 10 miles per hour (mph). I really focused on staying in the gym and building mechanical things. Slowly gaining more velocity now, I am not gaining as much as I was back then because it is harder once you start to throw harder but it has definitely helped going to [Mike Martin's]. I usually go about five times a week," Bert said.
After working to gain offers over the past few years, Bert recently committed to continuing his baseball career playing  Division 1 at Virginia Commonwealth University (VCU) where he hopes to major  in the business department. 
"I did not want to go super far [from home]. I had it down to three schools, two of them were in Virginia and one was in Florida. I kept thinking about it and I couldn't imagine myself going that far. When I went on the [VCU] campus visit, it definitely just clicked that it was a good place for me," Bert said. 
Since his recent commitment, Bert is focusing on developing a strong relationship with his future coaches and teammates. 
"I think [the relationship with the coach] is getting there. This past weekend I threw really well and the coaches were texting me. We have only been talking for a couple of weeks now, but I think it will definitely build over the next couple of years," Bert said.
Looking forward, Bert is most excited about the caliber of plays he will be encountering while at VCU. 
"[I am excited to] learn from the upperclassmen because they have been in big situations. They made the Mississippi state regional last year and they were a two seed in that," Bert said. "They were very strong and ended up losing to the team that went on to win it all. They know a lot [about the game] and can fight through adversity which will help me out."
While he looks forward to playing with his future teammates, Bert is also nervous about the prospect of not getting as much playing time on a bigger team.
"Joining the team and talking to the guys [is  nerve wracking] because most of them are similar to me. They have right-handed pitchers that are throwing 89 or 90mph with a good breaker. It makes me nervous thinking that I may not get as much playing time as I'm used to. I think I can work into it though," Bert said. 
During his time playing high school baseball, Bert believes that he has been able to learn from his teammates and help improve the overall team. 
"It's good for other people to play with me and me to play with other people because [we] learn from each other and try to help each other out as best as we can," Bert said. "I try to help as many people as I can and try to tell them what has worked for me and my advice to them to help get them exposed."
This season, Bert is looking forward to having a full season  and enjoying the time with his teammates during his last year of high school baseball. 
"[I am most looking forward to] the rivalry games and having a full season. The 12 game season last year was not great. I didn't throw as much as I wanted to and going into the summer I didn't throw a ton either.  We have an older team but at the same time we have a bunch of young guys coming up, so I am looking forward to it," Bert said. 
After successfully completing the recruiting process, Bert advises any other athletes to keep all of their options on the table throughout the process. 
"I would say to keep your eyes open and look at every school. I had all three divisions on my final three [list] so I could have gone Division III if I wanted to, but I ended up choosing Division I," Bert said. "I would [recommend] not blowing a coach off if they are a Division  III school and you don't really want to go to it because of the division. There are really good Division III schools out there so just [think about] your choices wisely and do a lot of research on the schools."