Marching band, color guard win grand champion title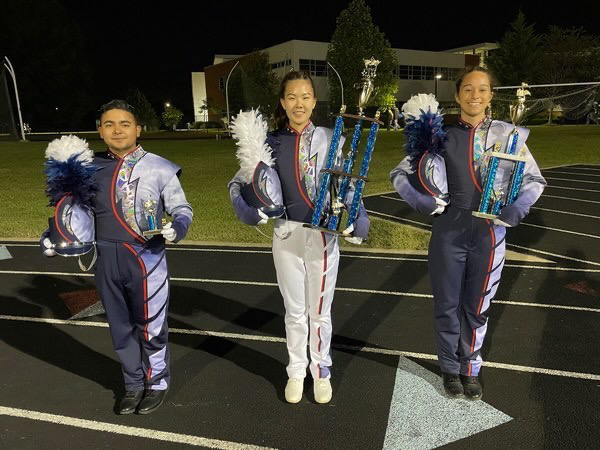 Marching band and color guard traveled to Star City Classic in Roanoke, Virginia for a competition hosted by William Fleming and Patrick Henry Saturday, Sept. 25, 2021. It was their first chance of the season to perform their show "The Main Event" after not performing for almost two years. 
Senior and assistant drum major AJ Moats was nervous to perform after being out for three weeks. 
"I was most nervous about the closing movement of our show. We've spent the least amount of time on it. It's the most recognizable theme from our show, so if it's messed up, you're really going to be able to tell," Moats said. "I was also really nervous because it was my first time playing the show in three weeks due to wisdom teeth surgery."
The band competed against Salem, the other school in the 5A class. This means that they were the second largest band at the competition, size ranges for every competition. Being in the larger classes makes competitions run a little differently.
"You compete against your class, but also every other school. For band competitions, you typically arrive at the school around two hours before you perform. In [that] time, you get dressed and walk the host sites' warm-up areas for both visual and music. From there, you walk to the gate and perform. After [the] performance, you get undressed and go back to the stadium to watch other bands. Since we're in the larger classes this year, we really don't get to see much of [the] other bands," Moats said. 
Color guard and marching band perform together at competitions and games, making up the auditory and visual parts of the show. 
"[We] always perform together. We consider guards to be part of the band. They [are a] visual illustration to the music," Moats said. 
The visual aspects of the show are one thing that Moats hopes to improve on for their next competition.
"The next time we take the field we are looking to project sounds more and really sell all of our visuals," Moats said. 
The band and color guard won the title of class 3a-5a grand champions with overall highest music and overall highest color guard at the competition. 
"With marching band, you could perform the best show ever in your eyes, but since it's subjective, the judges may sway one way or another. Taking the field with such a diverse show than what we normally do definitely has its own quirks. Our immediate reflection was that it wasn't our best performance so far, but we had done pretty well. We definitely weren't expecting to be grand champion, you never can [expect it]. It was a very pleasant surprise for us all, and we're very proud, especially coming back from 693 days of not performing," Moats said. 
Winning the grand champion title at their first competition was encouraging for the group, however now they each individually will work to improve their skills. 
"For our first competition of the season, I think we are in a very good place. We each know what we need to individually improve on. I wish that we would've been a little bit more projected within the winds, as we were overtaken by percussion at times. However, we were missing quite a few people, so it's understandable," Moats said. 
This is Moats' last year in marching band and she hopes to help get students readjusted to the in-person environment.
"My goals as a senior in band this year [are] to reintroduce everyone to the competition atmosphere again. Marching band is truly unmatched. Everything that we do this year is important to the future of the program," Moats said. "It's hard to really have solid goals for competitions, you just have to leave all you've got on the field."