New Spring Arts festival under way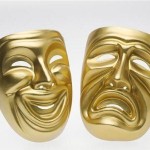 Spring Arts Festival, a new arts program that is the brain child of seniors Ama Ansah and Emmett Copeland is under way. It is a program that includes a few senior directed 10 minute plays and other arts like dancing, poetry, and singing.
Ansah and Copeland see Spring Arts as an opportunity for actors to be involved in the arts, but still have time to follow other interests. After musical ends, Library secretary Bradley Walton's spring play is the only option, theater-wise, and many people either don't get cast in that or are involved in sports instead.
"We wanted to do a spring arts thing where everyone has the opportunity to be involved and you have the opportunity to dance, to sing, play music, to act, draw some artwork, paint, whatever you want, and it gives the students in the school to show their full artistic ability, in whichever way they choose," said senior Dylan Norquest, one of the student directors. Dorrall Price, along with Ansah and Copeland, are the other seniors who will be directing their own shows.
"There used to be [senior directed plays] years ago, but then Mr. Walton started doing his spring plays. We haven't really ever had students direct since then, " Ansah said. Copeland and Ansah wanted to revive that old idea, but bring it back in new way to include all kinds of arts.
"We have a really strong Arts program at our school, so why not show it off?" Ansah said.
As student directors, judging your peers is a different experience and a challenge.
"It's really, really difficult. I also didn't expect the turnout we had [for auditions] so it was even harder," Norquest said.
The students think that the directors are doing a great job so far. "I think that they're doing the best job possible," said senior Lindsay Carpenter. Carpenter is part of Copeland's comedic play.
These shows will be performed during Spring Arts at 7 on April 13!