Homecoming court adopts gender neutral titles
This year's homecoming is the crowning of HHS' first gender-neutral homecoming royalty. Instead of kings, queens, princes and princesses, this year winners are identified as royals. According to student council officials who are in charge of planning homecoming, the change was made to increase equality for all students. Advisor of the Student Council Association (SCA) Danae Delozier, helped bring this plan into action. 
"The idea of a gender-neutral royalty, I thought about personally two years ago when I was considering how there are couples in this school who might be same sex or nonbinary. I didn't want them to feel excluded by having one male and one female as king, queen, prince and princess. Since homecoming didn't happen last year, the movement to make any changes really didn't occur," Delozier said. 
In order to continue with this, Delozier took the idea of a gender-neutral homecoming royalty to the SCA Executive Board.
"I mentioned the idea back in our planning section in August. I presented my reasons about inclusion and our respect for diversity. The board all agreed that [it is] a good progressive move, it gets us a little in the 21st century. We also took it to our administration to ask their opinion and [they] were also very supportive," Delozier said.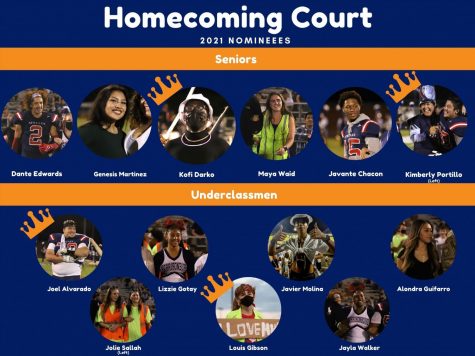 Not only is the homecoming court open to everyone, but the annual homecoming events throughout spirit week were adjusted in order to allow access to all students.
"When we went to administration, we said we would like to degenderize [the court]. The administration response was 'if you're going to do that with [the] court, you might as well do it for everything else that way you are not excluding anybody for any event'. Our administration was really the one who helped us decide to open up our flag football and volleyball tournament to anyone who wanted to participate," Delozier said.
Principal Dr. Melissa Hensley was one of the administrators who was approached with the idea of a gender-neutral homecoming royalty. 
"When [Ms. Delozier] came up, she talked to [Mr. Burley and me]. Mr. Burley and I were meeting  about a variety of homecoming things, but my immediate reaction was yes. This is the right thing to do. I think as things have evolved, we need to continue to reflect on our practices in schools to make sure that what we're doing creates an environment where all students are welcome, safe and also have access to everything we do in an equitable way," Hensley said. "I think it's important for everything we do to be open to all students. I think creating a gender-neutral homecoming royalty allows all students to have an active role in that process."
Underclassmen who won royalty were junior Joel Alvarado and freshman Louis Gibson. Senior royalty who won were Kofi Darko and Kim Portillo. Portillo was announced homecoming royalty at the football game on Sep 17. Portillo  didn't have any intentions on running as a nominee, but got nominated by a few close friends.
"I didn't believe it. I thought it was fun, my brother was more excited than I was. It was just a really nice rush. I was like 'oh shoot they said my name, cool', and then I went and performed [in the band] as soon as I got that crown," Portillo said.