Students pick up new hobbies over quarantine
Freshmen Lena Blagg, Lydia Showalter and Annie Poirot and junior Brigid Banks have picked up new hobbies over quarantine. Blagg's hobby is baking, Showalter's hobby is cross-stitching, Banks' hobby is running and Poirot's hobby is biking. Showalter's interest in cross-stitching began because she enjoyed seeing the cross-stitched wall hangings that were in her great-grandmother's house.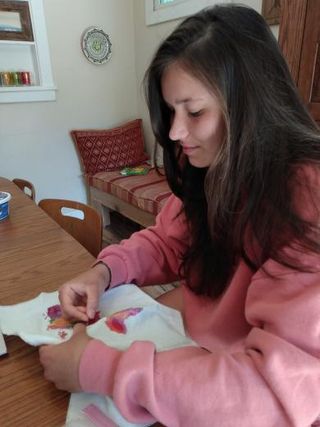 "My great-grandma had wall hangings [that were cross-stitched] all around her house. That's what really got me interested in it, and [also] my grandma would buy me cross-stitching kits and helped me learn how to do it," Showalter said. 
Showalter enjoys cross-stitching because it doesn't require a lot of focus. 
"I like that [cross-stitching] doesn't require so much concentration. I can do it while I'm listening to music or listening to an audiobook," Showalter said. 
As Showalter does counted cross-stitching, it's easy for her to get frustrated while doing so since if she messes up one row of her work, the whole thing gets messed up. 
"I do counted cross-stitch, so if you mess up one row it'll mess the whole thing up. I get really frustrated sometimes when I mess the whole thing up, but [cross-stitching] requires a lot of patience," Showalter said.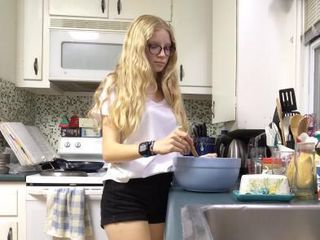 While Blagg had baked previously, she didn't do it as a hobby until the start of quarantine. With all the extra time she had, she was able to bake more consistently. 
"[Baking] wasn't really something I did consistently in the past. I just started to pick it up [over quarantine]," Blagg said. 
What got Blagg interested in baking was that she didn't have her sister to make sweet treats during quarantine. 
"I like eating the sweet treats [I make] and my sister wasn't there to make them [during quarantine], so I decided to [make them instead]," Blagg said. 
Blagg's favorite part of baking is that it is both a fun and rewarding process. While baking, Blagg can learn from the mistakes she makes so she can improve other things she bakes. 
"I like the whole process because [baking] is so rewarding. After you put in all the work, you get to eat something that you made. Even if it doesn't turn out good, it's still a fun learning process," Blagg said. 
Banks started running as a hobby three years ago as her dad is an avid runner.  
"[I got into running] about three or four years ago. My dad had been an avid runner for a while, so I started running with him," Banks said. 
Even though Banks finds running to be a hobby she enjoys, she didn't always like it. She has a memory of one of her friends telling her that they would never run, and Banks agreed. Later on, however, she ended up joining the cross country team. 
"[I have] definitely not [always liked running]. I have this funny memory from when I was in middle school and they were handing out flyers for the outdoor track team; I remember saying to one of my friends at the time, 'There's no way I'm ever running in my entire life.' Fast forward to two years and I'm on the cross country team," Banks said. 
Something that Banks enjoys about running is getting to know her teammates and coaches, as well as using it as a way to destress. 
"Personally I enjoy, one, the connections you get to make with your teammates as well as your coaches, and, two, it is a way for me to workout emotions [and] any stress I'm having from the school day or just a day in general. [Running] is a way for me to work it out because I just put in my headphones and run really fast," Banks said. 
Running has also helped Banks physically, as it's helped her become stronger and participate in other sports. 
"I definitely think [running] has helped me physically as well. I've become a lot stronger, my body, in general, has become stronger. [Because of running,] I'm able to do other things like hiking and swimming with a lot more ease than I used to before I started running. I think [running] has been really beneficial in both physical and mental [ways]," Banks said.
Banks thinks that running is a hobby that people should have. It may not be for everyone, which is why she thinks running requires you to be passionate about it and actually want to do it for yourself. 
"Yeah, [running is a hobby people should have.] It's obviously not for everyone. I've started to get a couple of my friends to run with me, and they're not exactly open to the idea and I can't blame them because [running] really has to be something that you enjoy and something you want to do yourself and for yourself. If someone's telling you to run, obviously no one's going to be like 'Woo yeah, let me do that.' It really has to be something you start and find a passion in it," Banks said. 
Poirot hasn't always been interested in biking, as she learned how to ride a bike when she was 10. She would occasionally ride her bike to school, but didn't do it as a hobby until quarantine last year.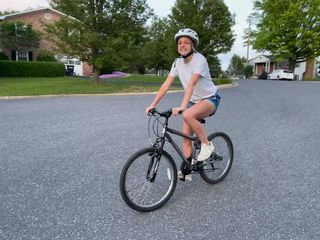 "I've never really been that into biking my whole life honestly. I didn't learn how to ride a bike until I was 10. I would bike to school sometimes in middle school but I really started enjoying it last March over quarantine," Poirot said. 
Poirot doesn't consider biking to be another sport for her, she thinks of it as a fun hobby where she still gets to move while doing less physical activity than the normal sports she does. 
"Something I really like about [biking] is it's not something I do every day. It's something other than playing soccer or running which are my usual sports. It's really fun to go fast sometimes or downhills, and it's not really like a sport for me. It's just a fun hobby where I don't have to do too much physical activity," Poirot said. 
Poirot enjoys biking near a church that's in her neighborhood along with Newman Lake located at James Madison University (JMU). 
"[My favorite place to bike is] around my neighborhood. There's this church [near my house that has] a walking trail and has a really pretty view of the mountains and the whole city of Harrisonburg. I also like to bike near the lake near JMU," Poirot said. 
Poirot recommends people to try biking, even if it might take a while to get used to, as it's a fun hobby and a way to get exercise. 
"I would say [biking is a hobby people should try.] It took me a while to get into it, but I would definitely recommend it to people. It's something fun for exercise too," Poirot said.