SCA announces winners of class t-shirt design contest
The Student Community Association (SCA) announced a class t-shirt design contest February 25. Each grade level had the opportunity to submit a design for their graduating class through a Google Form. Designs from each grade level were due by March 19 and voted on by HHS students the last week of March.  The four winning designs were announced before spring break began and were available for purchase after spring break. Junior Laura Gonzalez Dutor created the winning design for the Class of 2022. Gonzalez's design was mainly inspired by dance. 
"I like to dance and I wanted a shirt that had  graffiti on it, so that's why I [designed] it the way I did," Gonzalez said. 
Sophomore Denajah Hepner's design was the winning design for the Class of 2023. Her design was inspired by her mother. 
"Because we're virtual, people really aren't on their computers looking at their emails. I [thought], 'Oh, maybe I [can join] this [contest] because not many people are doing it,'" Hepner said. 
This idea was originally planned just for seniors, but the SCA decided to open it up to the whole community of HHS. SCA leader Danae Deloizer put this idea into action from a former meeting. 
"In the past, the senior class usually [makes] a t-shirt. At a meeting, a couple months ago, someone brought it up, so it was always in the back of our minds. [Senior SCA members] Ashley Acosta-Iscoa, Nathan Brown and Alexandra Shanholtz were thinking about holding a contest [for] the senior t-shirts, and then we all decided, 'Why not open it up to the whole school?' We thought it would be a nice way to build community and get people involved," Deloizer said. 
Gonzalez didn't expect to be the winning design for her graduating class.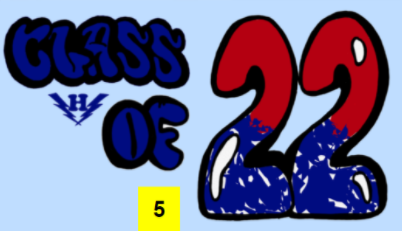 "It was nice to know, but I didn't expect to win because I thought more people would submit [better] designs," Gonzalez said. 
Hepner also didn't expect her design to win the contest. 
"I was pretty surprised, but I was very happy," Hepner said. 
Gonzalez spent 40 minutes sketching and designing her artwork. She feels like she represented some of her graduating class through her design. 
"It has the [number] 22 [on it]. It was [also] inspired by music, [and] if you think about it, and we all listen to music," Gonzalez said.
Hepner took 20 minutes designing her artwork. She feels like her design represents her graduating class. 
"My t-shirt was based off a TV show called, 'Friends.' People that are sophomores right now are watching ['Friends'] a lot, [and] a lot of sophomores like [the show] and it's on Netflix right now,"
Delozier is content with the participation and designs students submitted. 
"I'm very proud of the designs, I thought they were all very unique. A lot of the submissions we got were really cool and artistic, so I hope to do this again in the future. Now that we have done it once, people have seen some ideas of what you can do. In the future, we can improve on this idea by opening up to more designers and trying to make the t-shirts cheaper as well," Delozier said. 
The SCA will not be making profit from this contest, the money is going elsewhere. 
"The SCA is not making any money from the shirts. The money is going to the company producing them. We're not using this as a fundraiser. We're just hoping to give students a souvenir or a memento from this weird COVID year," Delozier said. 
With this event, the SCA has tried to make changes to their association. 
"The SCA, in the past, was known as the Student Council Association. We're starting to rebrand ourselves as the Student Community Association. Our main focus and goal is to try to build community at HHS through school spirit and have student voices heard," Delozier said. 
The t-shirts will be available for a while, so make sure to get one before they're gone. "We have t-shirts available for purchase through next Friday (April 30). That way we can have time to have them created and delivered to the school. If people are considering purchasing, I would recommend doing it before next Friday. If you miss [the due date], we're going to try to open the store again before the end of the year," Delozier said.