Cain commits to play at Radford University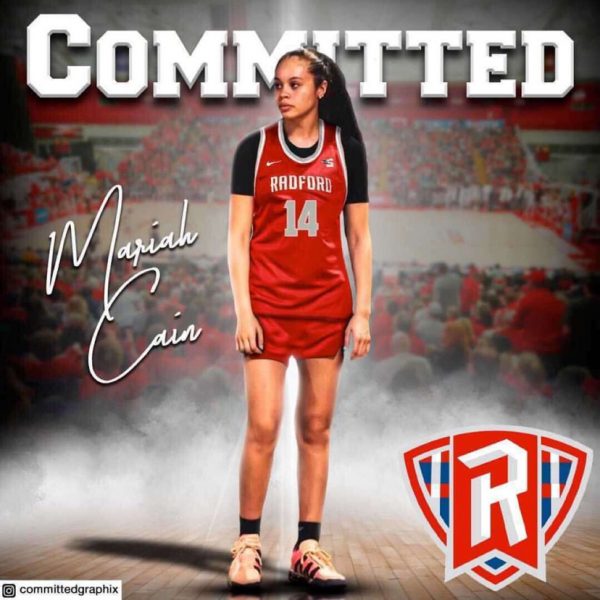 Seven months after receiving a division one offer to continue her career at Radford University, Harrisonburg High School junior Mariah Cain verbally committed to play basketball at the university, beginning in the fall of 2022. 
"What led me to verbally commit was the connection and the amount of time the coaches at Radford spent talking and communicating with me," Cain said. 
Although she has yet to play her senior season of basketball, Cain felt confident in her decision to commit to play instead of holding off to explore any other offers. 
"With everything happening the last year with COVID-19, a lot of schools have been lowering the number of recruits they are bringing in each year, so I decided to talk with a lot of my high school and AAU coaches and they recommended when I thought the time was right I should [commit]," Cain said. 
After spending the last few months continuing her communication with Radford and building strong relationships with the coaches, Cain knew that the school was the best fit for both her athletic and academic career. 
"The Radford program is a very good program athletically and academically, they also formed a strong bond with me and made me feel like family," Cain said. "The connection [between Radford coaches and I] stayed strong between us because of AAU basketball and the coaches got to watch me play the summer before the season got canceled."
As one of the newest additions to the HHS athletics coaching staff, head varsity girls basketball coach Tracy Harding knows that although she has not had the opportunity to coach Cain in a school season due to the cancellation because of COVID, Cain has great potential in the future.
"I'm very happy for Mariah's decision to attend Radford University and play basketball for the Lady Highlanders. I believe she has a bright future and will be a successful student athlete at Radford. I'm excited to see her grow and reach her potential at the D1 level," Harding said.
Due to the loss of her junior season at HHS, Cain initially felt that she was put at a disadvantage in her recruiting process. She had realized that finding ways to continue to play on various AAU and travel teams has helped her to continue to gain exposure. 
"Losing my junior season did put me at a large disadvantage. Coaches did not get to see me play all season which meant they had to rely on old film to recruit me which is very inaccurate because that was a year ago," Cain said.
Through off season workouts, local tournaments and scrimmages, Harding has gotten an opportunity to get a feel for Cain's game and what she brings to the team. 
"Mariah has been great to work with. She has worked at improving on the basic fundamentals of basketball and at increasing her strength with workouts in the weight room," Harding said. "Mariah can shoot the ball very well and has good range. She is an aggressive scorer that drives strong to the basket. She is confident in her shot and likes to have the ball in her hands when the game is on the line."
With the hopes of getting the chance to play in her senior year, Cain has set high goals to achieve for both herself and her teammates. 
"My goals for my senior year is to have a very successful year with all of my teammates since we lost a year of playing. I want to have one of the best years the program has had and make my team and teammates better while doing that," Cain said. 
As her coach, Harding hopes that Cain will continue to develop her leadership skills to ensure the success of the team in their next season. 
 "My hope is that Mariah continues to grow as a leader for this team. She will lead by her work ethic, her attitude, and by her desire to win. I know she has individual goals that she wants to accomplish in her senior year and I believe she can fulfill those," Cain said. " I want Mariah and all the girls to set the bar high. I want them to challenge themselves and set individual and team goals. I want them to win a Valley District Championship and advance far into post season play."
After verbally committing to Radford, Cain will keep up her communication with the Radford coaching staff and plans to fulfill her commitment to the team. Cain also plans to pursue a career in the Health Science field. Although the decision is exciting, Cain is relieved she has committed to play and wants to enjoy the rest of her high school experience.
"I am looking forward to continuing playing the sport I really love on a higher level of play while getting a college education," Cain said. "It was a big decision I had to make in a small amount of time, but it is finally over and I can't wait to play my senior year with all of my teammates and then play in college."