Seniors work at Virginia Mennonite Retirement Community, deliver food to elderly
The Virginia Mennonite Retirement Community is a retirement institution for the community of Harrisonburg. According to VMRC's website, they "strive to be a community of hope, meaning and growth where people can age well and live fully." During this time, many teenagers have started working at this residential living area. Seniors Hayden Kirwan and Emma Lankford have recently been hired at VMRC and take part in the dining staff. 
"During [the pandemic], our job is to deliver meals. [We] package the meals and deliver them to the residents [living] there. We're going [to] reopen the dining room soon, and [that will give us a chance to] be [in] more of a waiter position once the vaccines are able to be given out," Kirwan said. 
Packaging the food requires extra care, so Kirwan and Lankford each have a set of rules to follow while they package these meals. 
"We get to work, and then we start packaging up the food that isn't hot. When the hot food comes out, we add that to the bag. [After that], we take it around to the residents rooms and clean up at the end," Lankford said. 
Lankford has started working at VMRC since September of 2020. She has enjoyed working there ever since.
"In my time there, I really enjoy getting to talk to residents and spending some time with them. Since the pandemic began, they don't really get to see anyone. There's some days when you're the only person that they see in their day. It's [also] really cool getting to talk to people and [listening] to their stories," Lankford said. 
Despite being new to the job, Kirwan has also enjoyed his position and the community he works at. 
"So far, it's been a really great work environment. It's really nice to interact with residents and to keep a smile on their faces," Kirwan said.
Lankford started working at VMRC through her mother. 
"My mom works as an administrative assistant in Park Place. Back in late August, right when school was about to start, I was thinking about getting a job somewhere. [I wanted to] start making some money to help pay for college. Since my mom works at VMRC, she [told me], 'There are a lot of kids your age that are on the dining staff, so maybe you should give that a try,' so I did," Lankford said.
Kirwan's kindness and helpfulness helped him get interested in the dining staff at VMRC.    
"Back in late November, I [saw] that VMRC had posted a job [application]. I knew a couple of people in the [dining] department and other departments already at VMRC. I heard [that] it was a great work environment and getting to help the residents appealed to me," Kirwan said. 
Before Kirwan's job at VMRC, he used to do other activities to raise money for himself. 
"This is my first official job, but throughout high school, I mowed yards in the spring, summer and fall to make some extra money," Kirwan said. 
Lankford's first real job was at VMRC, but she used to work as a swim coach. 
"I previously worked as a junior coach for swimming with the Westover Waves swim team, but that was a lowkey job over the summer, even though it was a paid job," Lankford said. 
According to Lankford, the easiest part of her job is the pre-service. 
"I'd say the easiest part of the job right now because I think that's going to change a lot when we actually open up and start doing in-person service. [Pre-service] is where we are bringing up the receipts for people and putting out their order requests on tables to start setting out [the] food," Lankford said.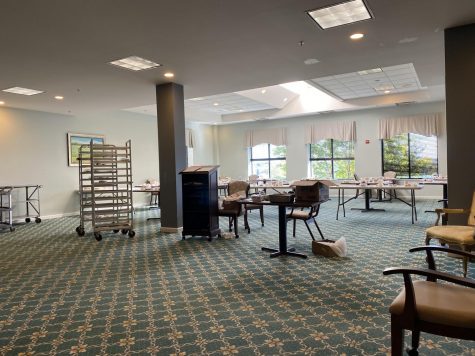 On the same side as Lankford, Kirwan agrees the pre-service is the easiest part of their job.
"There's really not that much to that section. It's really just figuring out what food [goes] in which container and learning how to read the receipts so that you can put everything in its correct bag," Kirwan said
Despite the dining room being closed for now, Kirwan and Lankford are worried they'll forget most of the residents' names once they open up.
"It's kind of hard [remembering people's names]. During [the pandemic], we only [get] to see [the residents] very briefly. We don't get [the chance] to put a face on the name. Another [challenge we might encounter] is operating the system to make the receipts. I think as we go back to full service that would definitely be a learning curve," Kirwan said. 
Even though the job may be difficult at some times, Kirwan still has his favorite parts of the job.
"I really like the people that I get to work with; it's a good team. My favorite part [so] far is getting to interact with the residents, even if it's briefly. Seeing that they're excited to see you and putting a smile on their face is a good feeling," Kirwan said. 
Lankford has enjoyed listening to the residents' stories in her time there. She finds each one of their stories very interesting. 
"Hearing all the stories that the residents have is so inspiring. One of our residents has a World War II documentary made about him. Another one of our residents is Liza Koshy's grandfather. There's another resident who was in the FBI, and all these residents have unique life stories to tell. They've lived so much longer than we have, so it's really interesting to hear about," Lankford said.  
Throughout these times, COVID-19 has had an impact on many jobs. The pandemic has dining staff since they don't get to serve the residents in person. 
"We are operating on a delivery system instead of an in-person dining room, which is how it's usually done. [COVID-19] has impacted the way things are done [in my department]," Lankford said. 
Balancing his school work and his job has been a challenge for Kirwan. 
"It's definitely a challenge to put another thing on the plate of a busy homework schedule. So far, the shifts haven't been too long and the nice thing about the COVID-19 schedule is that there is a little bit of downtime while you're waiting for the cooks to finish preparing the food. There is some time to finish homework at the job," Kirwan said. 
Lankford has had a hard time balancing her busy schedule as well. She has questions for herself to help her balance her time. 
"[I have to] decide what needs to get done today and what I can do until tomorrow. [Having a job] forces you to be productive with the time you have," Lankford said. 
Applying at VMRC isn't really a skill intensive job, so anyone could work in Lankford and Kirwan's position from their point of view. 
"It's a great place to work [at] overall. A simple piece of advice [I would give is to not] be afraid to make mistakes. I [remember] doing my first delivery and got lost for about five minutes, but that's just part of the  learning and growing experience," Kirwan said. 
Lankford also has a piece of advice for anyone interested in VMRC
"When you get a job, there are going to be things that you have to give up. You'll have less time to hang out with your friends or less time to do homework, but working at VMRC is a rewarding job. I definitely think that as a first job, I couldn't have made a better choice. I would encourage anyone that would want to apply to try it since there are so many people there that are happy to help," Lankford said. 
Leave a Comment