Freshmen stay motivated to exercise during pandemic
Many individuals began to work out during quarantine, but not everyone had the motivation to continue throughout the year. Freshmen CJ Hulleman, Lucy Ludwig and Abel Rodriguez are some of the many students who continued with their motivation to keep working out. Since the start of the pandemic, Hulleman has been working out to stay active throughout the day.
"I [didn't want] to sit [on] my chair for several hours a day. With online school, I was sitting all day and wasn't moving around that much, so I wanted to get up and get moving," Hulleman said. 
Ludwig began to work out because of a prior knee injury. She wanted to get back to playing soccer and volleyball. 
"If I wanted to get back to playing at the ability I was at before, I knew I would [have] to put in the work to be able to do [so]," Ludwig said.
Ludwig tore her ACL meniscus playing soccer in March of 2020. 
"After about two weeks, I didn't feel [my knee] anymore. I started to work out as much as I could before surgery because I needed to be able to [walk and run.] My surgeon wouldn't do surgery on me until I was able to do stuff on my knee," Ludwig said.
Despite the setbacks from her injury, Ludwig was able to continue with her recovery and sports fairly quickly. 
"I got surgery on April 30 and it went really good. There was a minor mishap [where] my nerve block spread to other parts of my leg and I couldn't move my feet, but other than that, [everything] went [really well]. [My leg] healed super fast and super well, so I got approved to play [and] I'm back to playing," Ludwig said.  
Rodriguez started to work out to stay healthy and keep his metabolism balanced. 
"My metabolism went way out of whack. [With working out,] I could keep it in check and get used to a slower metabolism," Rodriguez said. 
Hulleman mainly does cardio for his workouts, but he also includes other types of exercises. 
"I mainly [run, but] occasionally I will do some biking. For about a month or two, I did more ab and weight training workouts," Hulleman said. 
Ludwig focuses on core and lower body workouts since they're important for the sports she plays.
"[The] main [ones] that I try to [work on] are core and lower body [workouts.] I play soccer and volleyball [and these types of workouts] are important [for these sports.] I have to be able to keep up with my strength," Ludwig said.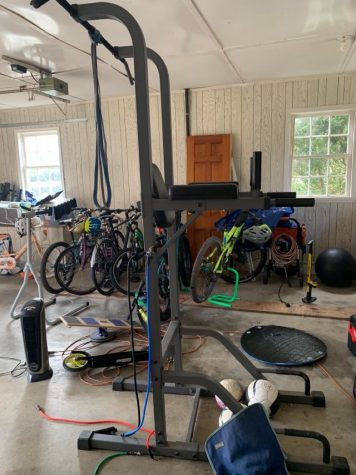 However, Rodriguez has focused on bodyweight workouts throughout quarantine.
"I stick to bodyweight [workouts,] so [I do] pull exercises, push exercises, leg exercises and ab exercises. I rarely do cardio, but I do [when I can]," Rodriguez said.  
Hulleman has a special smart watch he uses all the time while he's out running or walking. 
"[I have] a GPS watch that can track how far I'm going and [count my] pace," Hulleman said. 
To work out, Ludwig uses some of her special equipment she has at her home.
"We have weights and adjustable weights, five, 10 and 15 pound dumbbells, a 25 pound kettlebell, some resistance bands, a TRX, a stationary bike and we have a power tower. [On the power tower,] I can do pull-ups and some core and tricep work," Ludwig said.
At home, Rodriguez also has some gear he uses for his workouts.
"I have a few dumbbells, and I'm hoping to get a pull-up bar to get more serious about [my workouts,] but that's in the future," Rodriguez said. 
During his workouts, Hulleman feels tired and doesn't really enjoy working out. Afterwards, though, he feels amazing and good about himself.
"I don't really enjoy [working out] because it's fatiguing and I'm tired [most of the time.] Afterwards, [I still feel] tired, but [it feels like] a good tired," Hulleman said. 
Ludwig feels the opposite during her workouts, feeling satisfied both during and after most of her workouts.
"I usually feel really satisfied because I know that I took time to help and make myself better. I have to work out to be happy. After I work out, I get super happy, and I feel super relaxed. Something that I've grown to learn about myself is that I'm happy when [I] put in work for myself," Ludwig said. 
Rodriguez also sometimes feels tired during his workouts. He takes one minute breaks throughout his workouts so he doesn't over work himself. 
"It depends on how fatigued I am. Sometimes I feel like [not working out,] but I do it anyway," Rodriguez said. 
Hulleman has noticed changes in himself since he started to work out. 
"I've gotten more muscle definition and overall have more energy [than I used to]," Hulleman said. 
Even though Ludwig wasn't working out for specific changes in her physical shape, she still noticed an increase in her muscle strength, especially on her lower body while working out. 
"I've been able to see that my legs are looking a lot stronger, and I'm looking a lot leaner. I've been able to do certain things and not get [as] tired [as I would] last year. [Working out has] helped me sleep better and [do better] with school," Ludwig said. 
Rodriguez has lost weight since starting to work out, which is something he's proud of. 
"[I lost all my] skinny fat and [became] fit. Overall, [I've just been] less fat [since I started with my workouts]," Rodriguez said. 
Like some people do, Hulleman tends to work out in the afternoon. 
"[I work out] between 1-3 p.m. [I] occasionally might [work out] in the evenings. Once a week for my long runs, I get up at 6 a.m. and run early in the morning," Hulleman said. 
Ludwig prefers to work out after school, since this time almost always fits best for her.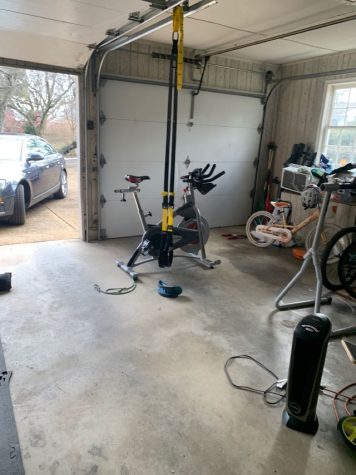 "[I work out] whenever it fits best for me [which] is usually after school. Today, I worked out early in the morning at about 8 a.m., but it is usually after school. [It really] depends if I'm going to the gym or if I'm swimming or if I'm doing stuff at home that day. [For example,] if I'm going to the gym, I usually go at 1 p.m., then at 2 p.m. [I go] swim, and I tend to work out at my house at about 4 or 5 p.m.," Ludwig said. 
Similar to Ludwig, Rodriguez works out right after school most of the time. 
"[I work out at] about 1 p.m. [which is] right after school finishes basically. [I] sometimes [work out at] 3 p.m. when I'm feeling too lazy," Rodriguez said. 
Most of Hulleman's workouts consist of running. 
"The variations of my workouts [are counted] in how far and fast I'm running. I mainly [run] between two or three miles, but I've been upgrading my mileage, so it's been changing," Hulleman said. 
While Hulleman mainly runs, Ludwig's workouts are all mostly lower body and strength training workouts. 
"I do [more] strength training [workouts.] I try to strength train at least three times a week, but I usually swim or do cardio two or three times a week," Ludwig said. 
Rodriguez focuses on a variation of push-ups for his workouts. He feels that they're pretty good and help him gain more strength.
"[I usually do] pike push-ups, regular push-ups and archer push-ups. Once [I'm able to do them, I'll do] one hand push-ups. [I also do] bicep rolls, side planks and [regular] planks. [I don't do] crunches, they're pretty bad," Rodriguez said. 
Hulleman mainly runs for his workouts because he is part of the cross country team. He started this extracurricular activity in fifth grade.
"My parents made me [join cross country] and I enjoyed it, so I did it [again] in seventh grade. It's a really great experience because of the friendships you build within the team, and it's also a great place to run and exercise," Hulleman said. 
Cross country has helped Hulleman stay in shape throughout the years.
"It definitely has [helped me stay healthy] because I'm not really staying active outside of [cross country]," Hulleman said. 
Ludwig has also started extracurricular activities throughout her lifetime. She began playing soccer when she was three years old. She also began her volleyball journey in seventh grade.
"My dad loved soccer growing up, and I wanted to be just like him. [I started] playing all the sports that he did [when he was younger.] I started playing volleyball because my friends [asked me], 'Lucy do you want to play volleyball?' I said, 'Sure, why not?' [I ended up making it on] the team because I had really good serves, and I had a good attitude about [them]," Ludwig said. 
Ludwig also has stayed healthy and in shape because of her sports. 
"[Sports are] a really fun way to exercise because I'm doing it with other people and that's the way I love [working out]," Ludwig said.