Varsity boys cross country wins District Mini at Broadway
Wednesday, March 3, the cross country team traveled to Broadway High School to compete in a District Mini meet. Due to COVID-19 regulations, all of the regular season cross country meets for the teams in the Valley District only include three teams. In their first meet at Rockbridge March 3, HHS competed against Broadway and Rockbridge. In this meet, the team competed against Broadway and Turner Ashby.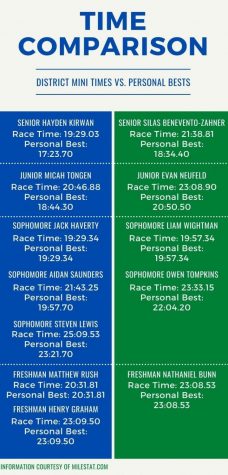 During the first meet at Rockbridge, only ten runners on the boys team competed. However, due to updated COVID-19 regulations, twelve runners were allowed to compete at the Broadway District Mini. The runners who competed were seniors Hayden Kirwan and Silas Benevento, juniors Micah Tongen and Evan Neufeld, sophomores Jack Haverty, Liam Wightman, Aidan Saunders, Owen Tompkins and Steven Lewis and freshmen Matthew Rush, Nathaniel Bunn and Henry Graham.
During the race, runners on all three teams wore masks at all times to minimize COVID-19 exposure. The course consisted of two loops around the campus of Broadway High School. Standout performances include Kirwan (second place), Haverty (third place), Wightman (fourth place), Rush (seventh place) and Tongen (eighth place) placing among the top ten runners. Overall, the team placed first overall with an average time of 20:02.22. See more times in the side infographic.
The HHS cross country team will be hosting the next District Mini meet at Thomas Harrison Middle School. It will also be senior night for the HHS senior runners. East Rockingham High School and Spotswood High School will be the other two teams competing.