Downtown business owners reflect on impact of COVID-19
Manager, Kevin Rogers discusses increase in sales at SBC over the pandemic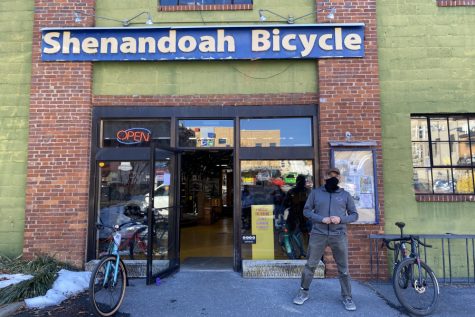 Manager Kevin Rogers of Shenandoah Bicycle Company (SBC) located downtown reflects on how business has changed over the past year due to COVID-19. 
In the beginning of the pandemic, when everything first shut down, SBC shut down for a few weeks as well. Since then, they haven't had to shut down or change their business practices. 
"We closed for two or three weeks, just to kind of get a feel for what was going on and then we put some protocols in place. [We] just [wanted] to take our precautions to make sure we're doing this right," Rogers said. 
Compared to other small businesses downtown, SBC has seen an increase in sales since the beginning of the pandemic. 
"[The amount of customers] has increased, probably by about 30% to 40%. Overall, the cycling industry [increased] because of the pandemic. It's the one thing that everybody realized [about cycling] shortly after the pandemic and just activities in general got locked down. With that, there was a large increase in cycling activity, so we saw an increase in that business," Rogers said.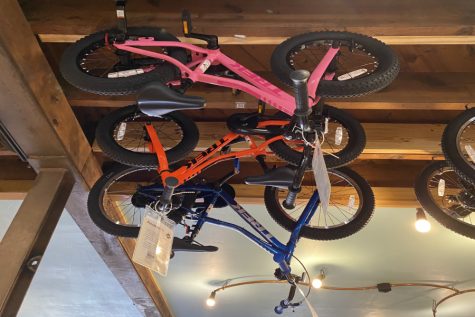 In the future, Rogers is expecting business to decrease as the pandemic comes to an end. This is because people will be able to go back to their pre-pandemic workout activities. 
"[Things will] change [in the future], so it will not be as busy or as active as it has been this past year, because there were a lot of folks that basically did it out of necessity. Everybody was like, 'What do I do? I can't go to the gym, I can't go watch my sporting events. I can go out, walk, but I can't go so far, hey guess what, I still know how to ride a bike, I can get on a bike and ride forever all the time,'" Rogers said. 
However, now that the pandemic has introduced many people to biking, Rogers feels their sales will be up overall with a larger market to sell to. 
"Business will still increase at a higher level than before simply because now there's much more [of a] market. There are more people who have been introduced to cycling, that maybe didn't use cycling as a regular form of activity or exercise recreation and now they've been exposed to it in the past year. Now they're like, Wow, this is awesome, why not stop riding my bike and we [can] keep riding the bike, with that, we will see an increase which we're already seeing this year. It's already busier than it was last year at this time of year and the previous year. It was pretty chaotic for quite a few months, very, very chaotic, and not from the standpoint of what was going on in the world, just simply because everybody wanted bicycles. Everybody wanted to fix bicycles," Rogers said. 
The summer months were some of the busiest for SBC, whereas summer was pretty slow for other small businesses downtown. 
"Around May through September, that entire time period was extremely busy," Rogers said. 
SBC has not had to do many things differently this year with advertising; the biggest change was following all COVID-19 protocols.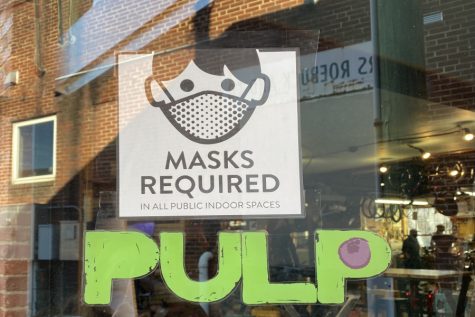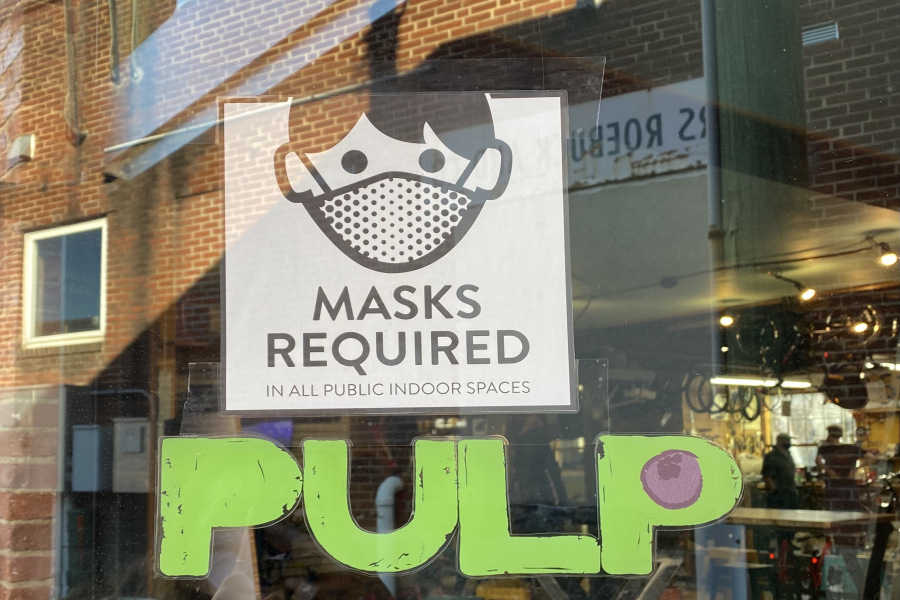 "The only thing we've done [differently] is following all the protocols placed by the state of Virginia, for indoor capacities, facemasks, cleaning and things like that. We have not changed anything as far as our advertising, we do use the same things we've always had, which is our website [and] our social media outlets," Rogers said. 
The community has kept S running in a large aspect. From the new interest in biking during the pandemic to supporting small local businesses. 
"Support from the community [has kept us going], understanding the value of the type of business that we have and the services that we provide for them. So without a lot of support from the community [we wouldn't be where we are now] in that respect," Rogers said. 
Owner, Irina Dovganetskiy reflects on changes in sales at With Simplicity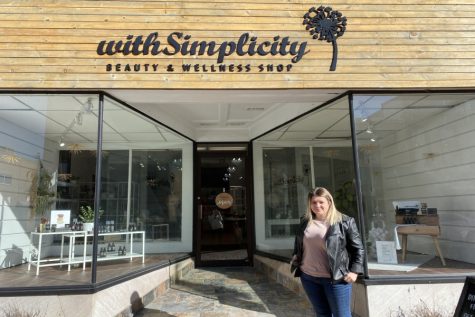 Since the pandemic started about a year ago, a lot of everyday, normal things have been swapped with safer alternatives. Daily occurrences in life have been completely demolished from people's lifestyles and others are just morphed to look different. Some examples are, going from leaving the house to go to school everyday, to going into a room in your house and opening your laptop, having to wear masks in stores, and being more cautious about your surroundings and who you are around. 
Irina Dovganetskiy, owner of the store With Simplicity has experienced similar problems as a handful of other local shop owners have during this time.
"One of the first things [we did] when the pandemic started was we closed for two months. We were able to kind of redo the store a little bit," Dovganetskiy said. 
When the pandemic first started lots of businesses including With Simplicity closed for an amount of time during last spring, to adjust to the new changes and for the owner and staff's safety.  
Dovganetskiy noticed a lot of changes in how their products sold including doing a lot more online orders and pickups.
"We definitely focus more on our online sales. One of the biggest things we've noticed is even local people feel more comfortable and do more local pickups, so people could order online and we bring it out to them or they could just come by and pick up their order versus spending more time shopping in the storefront," Dovganetskiy said. 
The other thing that changed in her business was the type of products they were selling more of, because people have adjusted their needs. Instead focusing on those things that are more necessary than lipstick. 
"Prior to COVID-19, makeup was our number one [seller], post COVID and this year, our skincare kind of skyrocketed, so it does so much better because people are taking care of their skin a little bit [more] versus makeup since our faces are covered. Lipstick sales have dropped," Dovganetskiy said. 
Along with working more with skincare, because people started to focus more on that, Dovganetskiy explained that they also focused more on eye looks because that is shown more when someone is wearing a mask. 
"We've definitely done more skincare and promoting more skincare. We have a three step routine, cleansing, toning and moisturizing. We did just come out with a new product for moisturizing as well, called Blue Dew. We just focus more on skincare than makeup looks or makeup looks that are focused on the eyes. They've just recently done makeup for different eyes just because now that's all you see the majority [of the time]," Dovganetskiy said.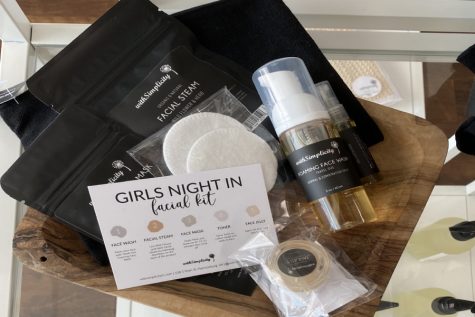 Due to COVID and new protocols and safety restrictions every business had to adjust accordingly to have the safest experience possible while still bringing in income and providing the products for the customers. They had to stop putting testers in the front of the store and they no longer did makeovers which was usually offered to anyone who walked into the store, for safety and sanitation reasons. 
"We aren't able to have [makeup] testers up front where people could help themselves, so we try to have it all close if somebody wants we could help them and give them a little bit of things to try, but we no longer have displays of testers where people could try. We also don't do makeovers which we were pretty big on, when people walk in, we would offer them a makeover and that was one of our fun things, is we love just doing makeovers on people so we no longer do that and we just try to give them swatches that they could color match themselves," Dovganetskiy said. 
Dovganetskiy worked with JMU's XLabs and created an alternative solution to her problem of not being able to set out testers but still have customers test the makeup products.
"We were also able to work with XLabs at JMU, and they were able to create an Instagram filter where you could try makeup [on] virtually. So if you wanted to try lipstick you could go and get one of the filters and kind of try it on that way without coming into the store to shop," Dovganetskiy said.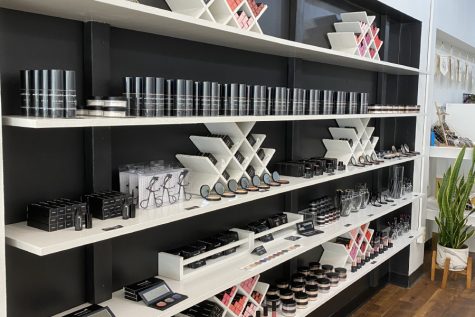 A big change lots of owners have had to make during this time was to have more of an online presence since sometimes the storefront wasn't an option, and they needed alternatives to keep them in business. One way that Dovganetskiy keeps her online presence was they used their marketing team to do some campaigns online. They also showcased their products in an appealing way on their Instagram page and a blog. 
"They've done some campaigns online. We have a marketing team. We have one full time employee and one part time employee that completely just takes care of our marketing, just because now that we need that good online presence to be able to be open," Dovganetskiy said. 
Some of the patterns Dovganetskiy noticed with sales and, she noticed when the sales were good overall and when the sales were not as good.
"So far this year the worst was probably like June, July, August I think just those summer months. The worst were periods of time where were closed and then summertime is slower anyway, with students being gone, so summertime was the worst time for us. [Fall time was] when holiday seasons starts picking up. This holiday season was one of our best holiday seasons, so it's been a really good thing. Usually [during] wintertime it kind of slows down, but it's been very steady after the holiday season, but our holiday seasons, we just have like a big rush and big sales for a couple of months and now we're kind of slowing down, but we're getting ready to pick up again," Dovganetskiy said. 
To keep business afloat, lots of local shoppers and veterans of the store ordered their products online to keep supporting local businesses.Here are some of the ways the community helped With Simplicity.
"I've talked about the XLabs where they did the filters that were through Bricks and Clicks and the grant that we got, so that was very helpful and they covered the costs for the students to build the program. We also got another grant from this city to keep our doors open. The city has been very helpful," Dovganetskiy said
Owner, Sara Christensen reflects on how the pandemic has affected The Lady Jane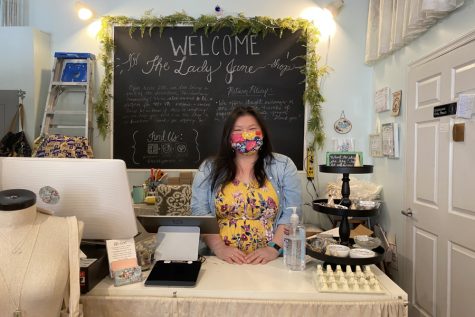 Several small businesses in Harrisonburg had to close due to the pandemic. However, for The Lady Jane owner Sara Christensen, she did not have to close her gift shop in downtown Harrisonburg. She has done her best throughout the past year to adhere to safety guidelines to keep herself, her employees and her customers safe through this time. 
Christensen experimented with different ways of selling items in safe ways. She did delivery, curbside pickup and then eventually, when it was safe, she allowed some customers in the store. 
"Back in March, when the shutdowns first started, I decided to close the store to in-person shopping. We went completely online, and we were doing curbside pickup. I was doing contactless delivery to people's homes within 10 miles of downtown, and then I was shipping a lot, even [to] local people," Christensen said. 
When the store was able to open again, Christensen had to make decisions on what capacity would be safe, due to the store being so small. She even rearranged the displays so that people could be inside without being so close to each other. 
"We opened back up in July of last summer. At first I was just doing appointments, so people could go online; it was a free, sign-up kind of thing. They'd sign up for a slot for 20 to 30 minutes, and they could bring up to four people; so I was picturing someone with their house mates or family. We did that for a couple of weeks, and then when we opened up to just nonscheduled shopping. We kept our capacity limited to five people at a time. Then, when things kind of started to get a little bit better, we increased that to seven and that's where we're still keeping it. Technically, I think the state mandate ended quite a while ago for half capacity, but that's kind of what we've been sticking to. Every hour, we wipe down common surfaces. We've got alcohol wipes. We have sanitizer at the door and then at the counter. Then, we just try to encourage social distancing, so I've tried to rearrange the store a little bit so it can be six feet apart," Christensen said.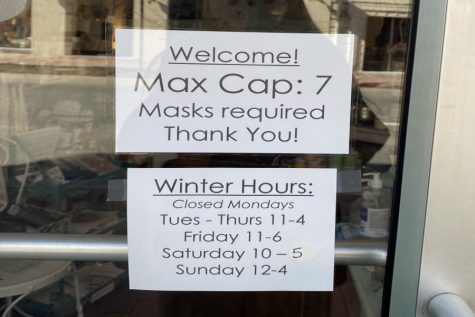 Before COVID hit, Christensen did not have a website set up that customers could order through due to the store being so small. Because everyone started to shop online, she eventually made one and has gotten a lot of business through it. 
"Before this, I didn't have an online store. I had a website, but it was pretty much just like how to contact us, that kind of thing. So, that's been totally new and it's done really well.  When we first were closed, I was only doing like certain items [on the website] because I was adding it kind of as we went. Now that I've gotten that kind of foundation of the website, it's easier to update, so now I have more like 65% of our inventory available online, versus in the beginning it was like 5%," Christensen said. 
The Lady Jane was one of the only businesses downtown that closed for a long period of time back in March 2020. Christensen has had to kind of play catch up to make up for all the lost time. She also struggled not being around customers like she was used to; she didn't know what people needed or would want to buy because her inventory regularly changes.
"Being closed for about almost four months was a huge change. For the first time, I wasn't getting interaction with people, so it was really hard to know what people needed. Keeping track of inventory got kind of tricky because we were basically using the shop kind of [as] a shipping station. That changed things a little bit and then when we reopened, I realized, of course, the needs that people have. You know, what people needed during the pandemic was a little bit different than what people are asking for so we started stacking more like crafting things you could do that would just be honestly pandemic related. A lot of cards, things like that, were just kind of encouraging things. [COVID and being closed] changed the way I ordered [and] definitely changed the way I operated the shop," Christensen said.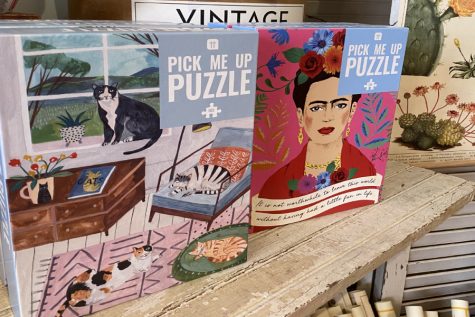 She also struggled once the store opened again, with staying strict with the capacity, even when the store had a lot of business. 
"The holidays were really hard because we were so busy downtown which was amazing, everyone was really trying to support local businesses, but with the number of people in the shop being so limited, it was really hard. I was at the door or one of the other girls at the door and we were having to count people, so it's been really different now that the holidays are over. We're starting to see a lot of people getting vaccinated, which is really exciting. I'm hoping that by summer, we'll be able to take the capacity off completely and we'll still be doing masks and things like that, but hopefully I'll feel a little bit better about [having] as many people in the shop," Christensen said. 
Being busy for the holidays was also a blessing for Christensen though. 
"Thankfully, being open again in August through Christmas—basically through December—we were able to catch up quite a bit. If you looked at last year compared to 2019, that's a big difference and our sales definitely dipped quite a bit, but I'm really hopeful for 2021. The fact that we're still here is such a gift, so I'm trying to just think ahead and not worry too much about the past," Christensen said.  
Not being in-person and having to close so suddenly left some merchandise not accounted for. Christensen has tried to be sensitive about pricing due to some people being on a stricter budget right now with the pandemic. 
"Last year at this time, when we were closing it was so abrupt for everybody that we did end up with some merchandise and things that I had to mark down because there wasn't a need for it anymore. I've definitely done more sales than I normally do, just to try to keep things moving through and try to keep the inventory fresh, but I actually haven't really adjusted prices. I've tried to find some things maybe better [or] more affordable because I personally know that we're all on a tighter budget right now. I haven't increased prices on anything. A couple of our local artists have adjusted their prices a little bit based on supply [because the] entire chain was really interrupted. So they adjusted their prices a little bit and I always just try to respect that and do whatever they feel comfortable with," Christensen said. 
Some big businesses have had to let some employees go due to limited budgets. Christensen is really thankful that she didn't have to go through that process.  
"I was really fortunate in that when COVID hit I just had one employee, and I was able to keep her on and her hours were like, working from home, or she ran the shop, when it was closed. So I didn't have to let anyone go. I did actually end up hiring more help for the holidays, [though]. At one point my previous employee moved to Richmond, and then I hired two new people for the holidays, and that was really nice because I was able to offer them some new income. I was really lucky in that you know some of the restaurants and places that have big staff had to let a lot of people go, but I didn't have to deal with that," Christensen said.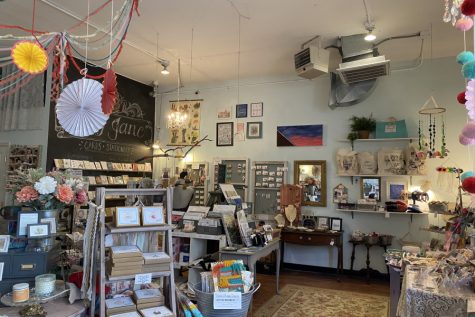 The Harrisonburg community has been The Lady Jane's biggest supporter. People that have moved away from Harrisoburg have even reached out to support them. 
"Aside from being super supportive, like moral support and getting tons of messages, I think people have really gone out of their way to share about local businesses on their social media. People repost our things all the time or share about if they ordered something online they'll post when it comes in [and] open it up, [it's] really fun to see that piece. I would say, though, we've had people really go out of their way to shop, from the store for Christmas, birthdays, different occasions, even though it's not as convenient or easy all the time because our hours are a little bit different right now," Christensen said. "If you do curbside pickup, that's pretty much [just] me or me and one other person, so we can't do same day delivery and things like that, like bigger companies can, but people have been really patient. A lot of our customers that moved out of Harrisonburg have been ordering now that we have the website, so I've been shipping a lot of things to former customers, which means a lot to me. It's like even though they're not here in this community, they still care a lot about Harrisonburg."
Not only has the community been an incredible support system through social media, but also through giving, to keep the business afloat. That was something Christensen would have never expected. GoFundMe even did a grant that they took advantage of. 
"A really big wave last spring and summer [was] people buying gift cards; later, we participated in a GoFundMe. GoFundMe offered a matching grant. I believe it was $500. So, if we could raise $500, they would match that. I was really blown away because I agonized about it because it felt so strange to ask for help in that way, but I finally after a couple weeks of sleepless nights thinking about it, I finally did and was [just] like we'll see what happens. We raised over $3,000, which was so humbling. I had never done anything like that before, but it's not like [people] are shopping to support you and then they're getting something in return, it was just so selfless. I think that really kept me going, even when things felt really bleak or discouraging. I have such an amazing shop community of people and [I] want to be there for them as long as I can even if it's [right now when you're] not sure what's coming next. With COVID, we were all expecting it to be a shorter time period, but of course it's been a lot more than we anticipated it to last. This time last year, it was like, oh, maybe [it'll be back to normal] in a couple of weeks," Christensen said. 
Now that the pandemic has been going on for almost a year, many families are learning how to safely get back to life. This includes going back to stores in a safe way. Christensen has experienced that in recent months and is so thankful for the business and to be getting back to a new kind of normal. 
"I think [business is] definitely [picking up again]. January and February are a bit of a lull naturally in the year because there's not a lot going on. Once we get into spring, we'll have Easter and then we'll have graduations, and then we'll have Mother's Day and then, tourism season starts kind of in the late spring, early summer for people coming to stay at Massanutten. I would say things picked up. The students are back on campus at JMU and EMU and Bridgewater, and so we see a lot more students again, because they had gone home after Thanksgiving break and not come back I think until the end of January. It was a little bit quiet in January, but things are picking up and I just hired a new employee, because our hours need to increase again which is exciting," Christensen said. 
Leave a Comment