French Club adjusts to virtual school year, holds monthly meetings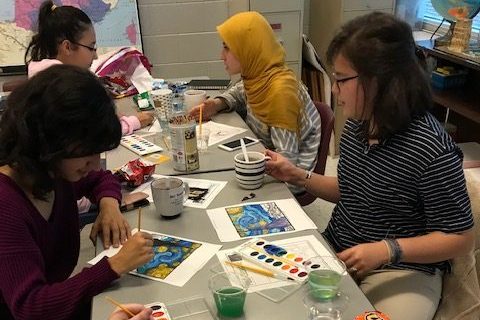 Despite the irregular school year we've had, the French Club continues to hold their monthly meetings. French teacher Sally Young and club president senior David Beck have hosted virtual movie viewings and culture days this year.
"We've been doing virtual movie and show viewings. We've [also] been doing culture days where you present about French culture and traditions, and [we] also have little quizzes that go with that," Beck said.
Last semester, the French Club participated in a nationwide trivia competition. 
"The other month we did a trivia competition that was nationwide with the high school French society," Beck said.
Due to the many competitors, they didn't place in the competition.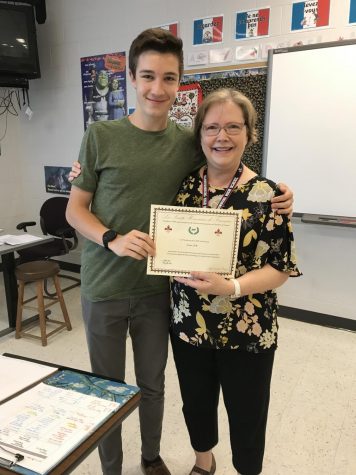 "There were so many competitors across the United States who excelled in their knowledge of the francophone culture. This is one reason we're trying to tackle the culture stronger," Young said.
Compared to last year, the French Club has changed a bit. COVID-19 has impacted the club and caused their event choices to be limited. They've had to work around this obstacle. 
"[COVID-19] has made [the club] a little smaller which is good and bad. [There were] more food and hands-on crafts [last year.] I really enjoyed the hands-on stuff and board games last year, so it's kind of a bummer to not have that. I still really enjoy putting on the monthly meetings," Beck said.   
In the past, the French Club has also hosted seasonal activities and meetings for its members. 
"Last year,  I really enjoyed our Valentine's Day meeting. We did some crafts and put together some cards for people, so that was pretty creative. A lot of people showed up for that one actually," Beck said.
Another seasonal event the French Club has held were their Christmas gatherings. 
 "For a few Christmases, we would meet together and find the classroom that had the kitchen next to it. We would cook things and watch a movie in French, so that was a lot of fun," Young said. 
The French Club already has most of their plans for next year planned out. They're going to try to include more French culture in their club.  
"[We will] probably [do] what we have done in the past. We try to promote because we don't really do a lot of culture in [the club, so] we really try to promote the acquaintance of the culture of these francophone countries," Young said. 
Once they can meet again in person, the French Club hopes to be able to host activities including arts and crafts, and inviting guest speakers.  
"We have had speakers in the past who have come to speak with us. [They] sometimes [speak in French,] but  oftentimes [they speak in English],"   Young said.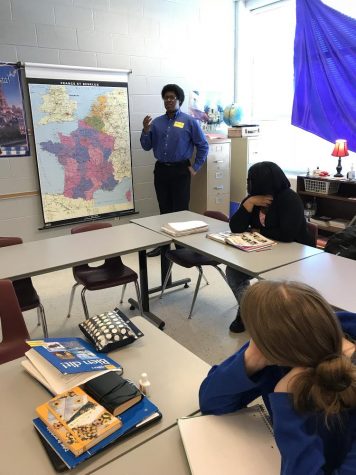 The French Club has also helped Beck's personal growth.
"I started French as a freshman and then got more involved with the French Club, so it was a nice continuation of my French education. It was also nice to have a leadership position and have a say of what happens in the high school a little bit," Beck said. 
Young has also felt growth in herself by being a part of the club. 
"Well, [the French Club is] about being with people, and I think anytime you're with people you're going to learn something. It's always interesting to learn more perspectives," Young said. 
Due to distanced learning, the French Club has a new way of contacting each other and planning the events. 
"It's just been a lot of contact through email where we dedicate a date of each month to our meeting. From there, we just plan through email what we're going to do," Beck said. 
Beck has learned a lot in the French Club. He has his own principles he goes by while being the president.
"I've learned a good deal of being consistent with dates and times and being able to lead during [our] meetings," Beck said. 
While being club president has given Beck more leadership opportunities, it has also been a challenging duty for him to take on. 
"I have more stuff to do [now.] Outside of school, [I do cross country] and have a lot of homework. This year, [I've had] a lot of college applications [to fill out] and balance [time] to get to the meetings and prep for them," Beck said. 
Young is more than excited with how the club has turned out this year, and is happy with how things are running.
"I'm especially happy that David is really good at advertising. He always has a brochure made up so that I can show my classes. He's always dedicated and reliable," Young said.