Hidden Rocks hike proves family-friendly, fun
My family and I are big hikers and always have been. We've gone on about every hike in and around Harrisonburg that you can think of. Though Shenandoah National Park has great views and many choices, Hidden Rocks in Hone Quarry is the best option when looking for a fun, family-friendly day out.
This hike is a 2.4 mile out and back trail with a 374 foot elevation gain. It is rated moderate on https://www.alltrails.com/. For younger kids, however, you may not want to ascend all the way to the top. For the first part of the hike, there are many streams that cross the trail. It leads you to a pretty waterfall that kids can enjoy and play around, then heads upward and gets fairly steep. For adults, this is a great and short workout that leads to a pretty view. Most adventurous children could easily complete it as well. There's even a short rock scramble towards the end that kids can climb. I recommend going in autumn because the view is complemented by the colors of the changing leaves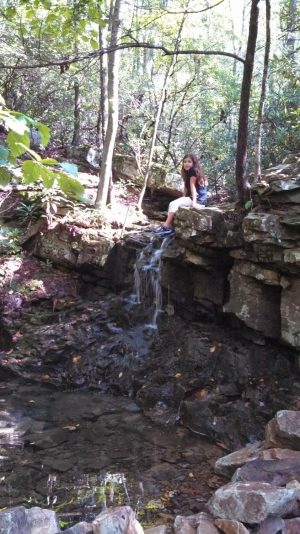 .
This is also a great hike for your dogs. Hidden Rocks allows pets, but they must be leashed. If your dog enjoys swimming, there's many chances to get its feet wet on the way. When you arrive at the waterfall, there are several chances for your dog to splash in the water. My dog does not like water; however, there are ways to easily avoid it if you or your dog feel the same way. On most streams, there are rock walkways that lead you across the water and onto the other side of the trail.
From Harrisonburg, Shenandoah National Park is about 45 minutes away. The distance can be longer as well if you've chosen a hike far along the Skyline Drive. If you get car sick, choosing a hike way up in Shenandoah may not be a wise decision. The roads are very windy and steep. Hidden Rocks is located in George Washington and Jefferson National Forests. It is specifically in Hone Quarry and takes about 20 minutes to get there from Harrisonburg. Not only is it much faster to get to, but there are also no windy roads.
This is one of my favorite hikes in Harrisonburg which says a lot based on how much I hike. I'm not the only one who feels this way either. Freshman Sophia Pimentel Yoder has gone on this hike multiple times and enjoys it.
"It was really pretty and a fun hike. It wasn't too exhausting and the views were [gorgeous]," Pimentel Yoder said.