King finds unique ways to stay connected to friends during pandemic
The COVID-19 pandemic has stopped families and friends from getting together, but junior Olivia King has found creative ways to stay connected to her friends. Through goodies, letters and participating in birthday parades, King has been able to stay in contact with people.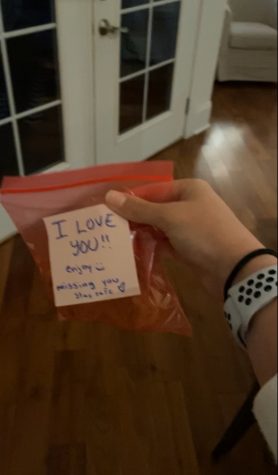 "At the beginning of quarantine I would send letters to a few of my friends,but now I like giving little goodies to them. [I've made] mostly baked goods [like] cookies, banana bread and one time a whole cake," King said. "One thing I have really enjoyed is for many family friends birthdays, we would drive by their house and honk and blast music from [our] car. Some friends did it for my sister and it was like a parade down our street. It's been a good way to say happy birthday and we care about you, but safely."
King found it to be a challenge to stay in contact with her friends, at the same time it was also something that strengthened some of her relationships.
"[COVID-19] has made it harder to stay in contact with friends. It's not like I can just talk to them during school, it has been more [difficult]. I actually think it's helped me communicate more with my friends and pushed me to talk to different people," King said.
The pandemic has also given King a different perspective on her friendships.
"I have been able to stay in contact with friends and it's made me realize that even though I don't talk to people everyday, [it] doesn't mean I don't want to be friends. I text and FaceTime people a lot [and] I also like to do social distanced things with my friends," King said.
King and her friends have not only sent goodies and letters back and forth, but have also begun socially distanced get-togethers that include activities such as painting.
"I normally just have social distanced hangouts or go on walks in the park [with friends, but] now I've started to socially distance paint with my close friends. I really enjoy that because it's a stress reliever and I get to see my friends more. My family [also] has this thing called Fire Friday where we invite friends over for a social distanced campfire," King said.
King first got the idea to send gifts to friends from an old friend that had been writing letters and baking goodies for King even before quarantine began.
"I [first began] writing letters because an older friend of mine had been sending letters to me every week for most of my life and I really envied that of them. The baked goods came about because I had a lot of free time and I tried to bake, but I'm not the best baker so they weren't always great. The person who sent me letters also delivers cookies, so she has had a big influence on me over quarantine," King said.
King has been sending her own goodies and letters in hopes of brightening peoples days during quarantine.
"I like sending gifts to people just to show them I care about them and miss them. I also hope I can put a smile on their face. I believe it has strengthened [bonds] and kept me in contact with my friends over quarantine. It's just a little reminder that I'm still here for you," King said.
Quarantine has left a big impact on King and her view of social interaction.
"Quarantine has impacted me by making me cherish little encounters I have with people, as simple as running into old friends at the store. [It has also made me realize that] being alone is not that bad, since I'm home alone for most of the day," King said.
Leave a Comment