"Among Us" becomes popular video game during quarantine
Video games have been a part of people's lives since the first game "Pong" came out in late 1972. As video games have evolved throughout the years, many of the first popular games were in arcades, but now new technology, home consoles and PC gaming have risen to popularity. In recent times a video game "Among us" has gained massive popularity, quickly becoming one of the most watched games on the streaming platform, Twitch and is now one of the most played games in 2020.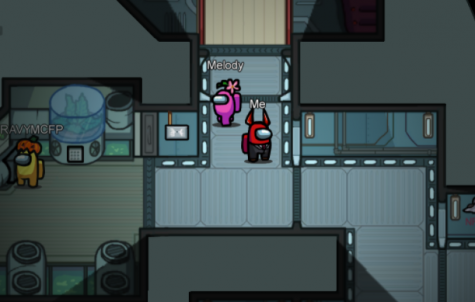 Among Us has been out since June 15th of 2018, but since the beginning of 2020, Among Us has had a peak in the number of players playing increasing from 271 in January to 438,524 in September on the steam version alone according to Steam Charts. Freshman Alejandro Berrios began playing in 2020 when "Among Us" started gaining traction.
"I think with quarantine people were trying to find party games like "Fall Guys" or "Among Us" where they can play with their friends and have fun. ["Among us"] started getting traction on streaming and Youtube and then everyone started playing with each other," Berrios said.
The characters in Among Us also bear resemblance to the characters of another hugely popular game Fall Guys, The characters that you play in both games look similar to beans or tic tacs with a mask over their faces. In addition to this, Among Us was developed by the indie game studio, InnerSloth.
During August of 2020, InnerSloth studios had also released the Henry Stickmin Collection, which was a collection of all of the past games of the Henry Stickmin series and additional content. Freshman Jack Rooker started playing "Among us" when the game was gaining traction, he enjoys playing with his friends when invited.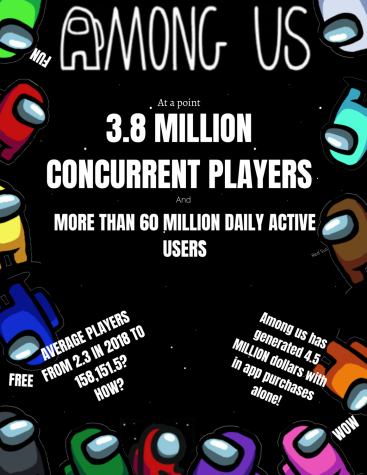 "Among Us was made by the same guys who made Henry Stickmin, I think that's part of the reason why it got popular. It's that people gain interest in the studio again and it also kinda looks like Fall guys," Rooker said.
Among Us creates an element of mystery as you are tasked with finding the imposter while they work in secret. Freshman Emanuel Flores-Lobo downloaded Among Us on the app store earlier this year and has been enjoying playing in his free time.
"If you're into mysteries and using detective skills [Among Us] is a fun game to play," Flores-Lobo said.
Among Us is free on both Android and IOS and is sold for $5 on Steam it is also a cross platform game which means players from both platforms the game is played on can play with each other. However, with the Steam version you are given more customization options than mobile users.
"On the surface level 2 or 3 dollars would be a fair price, but the game is so amazing paying even 5 or 10 dollars is would still be a fine price," Berrios said.
Among Us is an online sci-fi murder mystery game that aims for the game to be expreienced with many other people. Freshman Ashley Huang downloaded Among Us when her friends had asked her to play earlier in the year when the game was gaining popularity.
"I think [Among us] can be both [casual and competitive], but I'd say it Among Us leans more towards casual play rather than competitive play," Huang said.
Among Us is described by many as a casual party game, but it also requires some practice and skill to excel at the game.
"Among Us rides a very thin line between casual and competitive play because there's no score you have to keep. it's not like any game that's like an E Sport nowadays, but I feel like there is a certain amount of skill involved with it." Rooker said.