Corriston adapts to new changes for upcoming musical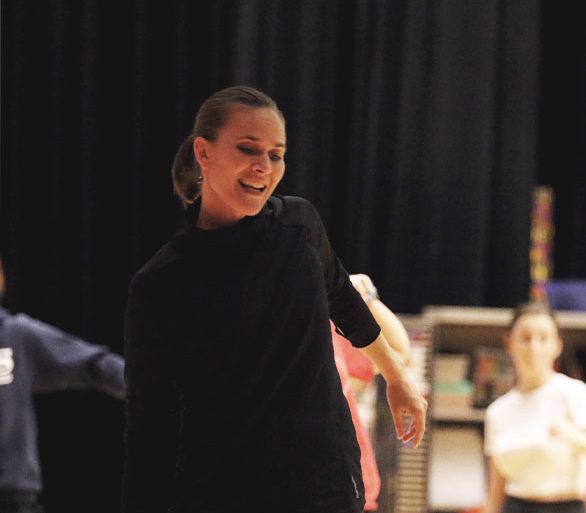 The energy created by a packed auditorium of friends, teachers and families on opening night is an experience that, this year, will be felt through a screen. As restrictions are put in place and gatherings continue to be restricted to small numbers, the drama and arts departments have been forced to take a new route for the 2020 musical, 'Elf the Musical.' Dance teacher and choreographer Amber Corriston has taken a large role in the process of arranging how the production will work.
"The plan right now is to have a virtual musical. This doesn't mean [that] everything will be filmed virtually, but the end product will be a film that will [then] be released in mid-December for families to be able to view and purchase tickets for," Corriston said.
By finding new strategies and ways to communicate, the team has created different opportunities for students to be able to rehearse safely.
"Because we are obviously not able to be in the auditorium, rehearsals will be mainly virtual with some in person. Obviously, our marching band has been doing a really good job of having socially distanced rehearsals, so we are lucky enough to have them on our team and following all of the same protocols," Corriston said. "A bulk of the work will be virtually, and Google Classroom will be used a lot for sending out material for students to practice on their own. It will look a little bit different [because] usually they do all of that together, but [now] they will be able to have material at home to rehearse with."
As the choreographer, Corriston has not only had to find ways to contact students, but also instruct them in learning choreography all over a computer.
"The dances are all prerecorded. That was the first step; I pre recorded everything slowly breaking things down but they had videos that they've been able to use to rehearse with. I also had workshops that students were able to come to so that they could hear somebody say the same information. Sometimes it's just easier to learn it in person," Corriston said.
In addition to working with dance for the musical, Corriston also owns a dance studio where she teaches lessons. Both of these experiences have helped her develop her skills with teaching classes.
"I'm doing everything for the dance studio online and it works surprisingly well. Google has its challenges and it's definitely more glitchy than using something like Zoom, but it works and you can dance in groups. For rehearsal, I can put them in groups, so I can make three groups and only the people that are dancing have their camera on so we can watch each other and learn from each other. It's doable, [so] it feels to me that I've figured all that out," Corriston said.
Although she is able to teach the steps relatively easily, Corriston has plenty of obstacles that have been enhanced by having to teach online.
"The biggest struggle that I have is being close enough to the screen to give good feedback, [all while] dancing at the same time. My setup in my basement connects my computer to my TV so everybody goes up onto my TV [and] the squares are much bigger, it does not work at all with just a laptop to teach dance. [Another hard thing] is them being able to ask questions quickly, because again, they're away from their screen. I can't see a chat, when I'm teaching [it] doesn't come up big enough," Corriston said.
While the ideal situation would be immediate communication between students and teachers, Corriston recognizes that it isn't always possible.
"It's a struggle for schools in general, for teachers, for clubs and for students [to] know what's going on. During this time we want everybody to be able to know what's going on, but I also know that it's overwhelming and everybody's not reading through every email that's sent out as much as we would love for that to happen," Corriston said.
While the obstacles are large and complicated, the choice of this year's musical has created an easier overall picture for Corriston than in years past.
"I was really daunted by Hairspray and the year before, Legally Blonde, because they were so dance heavy. It was non stop dancing, which is a scary endeavor as a choreographer, [but] this year it's not as dance heavy," Corriston said. "I'm daunted by the fact that it's filmed and what that can be, but by watching things on my phone and online, it's really inspiring and there's cool things that you can do with the camera that you can't do in person."
Senior Cecilia Thomas is thankful for having the opportunity to dance even though there are restrictions.
"This year the choreography has to be smaller because we're all dancing in our own homes, but it also has to be designed in a way that would work in person if we do get to do any distanced, in person dancing," Thomas said. "There is also a lot less dancing in this show in general so we have to make the most of the dancing we are doing."
Thomas finds that the new friendships that are gained from participating in the musical are still able to happen, even through a screen.
"I really miss the energy of having the whole cast together, and acting with real people in general, since now it's virtual rehearsing, [but my] favorite part about [the] musical in general is that you get to work with [and] get to know some really cool people," Thomas said.
By having the performers closer on a screen, Corriston has been able to experiment with new types of choreography.
"We have eyebrows choreography. We use our shoulders and we use our eyebrows, and you would never use your eyebrows on the stage in the big theater so there's things to play with that I don't even know how to play with [yet]. I'm really excited about that because it's always nice when [we, as teachers and choreographers, are] learning in the process too. It just makes [teaching] more exciting for us," Corriston said.
Although the overall production is intimidating, Corriston looks forward to creating memories that will never be forgotten as well as finding new and creative ways to do something that she loves.
"I'm really excited. We're all a little bit nervous, you don't know what it'll be [like] and we're all learning through the process. None of us are professional videographers and I don't have a lot of training in how to work for film, but I think it's exciting because in the process [we can get lots of ideas]. We always value student feedback in the moment and we love hearing from students [throughout]," Corriston said. "We'll try something brand new that we will never forget and they will probably never have a musical that looks like this one."