Shelly joins community as ELL teacher, distance coach
If one encountered new English-language learners (ELL) teacher and distance coach Abigail Shelly during her first months in Harrisonburg, they likely would have noticed a "yes ma'am" or a "no sir" as part of her mannerisms. Hailing from Mississippi, this is one of the major cultural differences Shelly found between her home state and Virginia.
"I would get in trouble when I would do that with people's parents [here], but in Mississippi, I would get in trouble if I didn't do that. It would be extreme disrespect," Shelly said.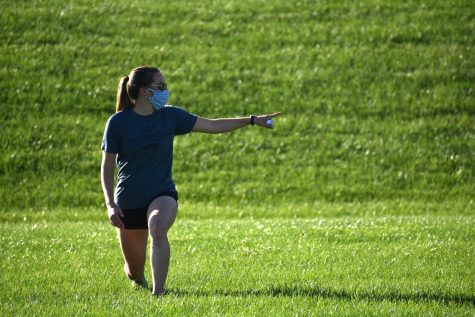 Attending college at Eastern Mennonite University (EMU) was different from her childhood in Mississippi, but because her parents are from Ohio and Pennsylvania, she wasn't completely used to a southern household.
"It was really interesting to grow up in the South [because I have] family roots outside of the South, but also [because] that was my culture," Shelly said. "It was interesting to get to know people [in Mississippi] who were a lot different than me in beliefs, but it also prepared me to move up here [and] to go to EMU where people also had different beliefs."
Both of Shelly's parents attended EMU, and there were numerous reasons why she knew it was also the college fit for her.
"I knew that [EMU] was a lot different from Mississippi, and I think I was kind of ready for that. I also knew that I wanted to go into education and run cross country when I went there. I actually didn't apply to any other colleges because I was like, 'This is where I want to be.'" Shelly said. "I love the mountains, too, [so] I think in terms of what drew me to EMU, [it wasn't] just my parents, but also the mountains."
Shelly entered EMU with the intention of majoring in education, but she found in college that she had multiple interests. After changing her major a few times, she settled on an interdisciplinary degree that eventually led her to her career today.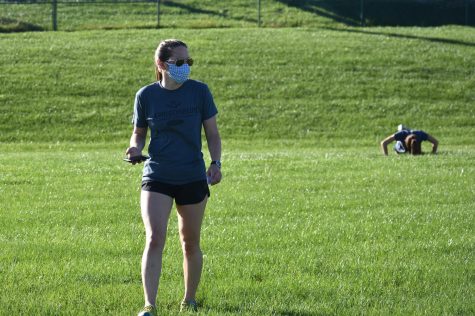 "I didn't want to just be geared toward specifically education. I got a liberal arts degree with education… [and] a focus in sociology, theology and linguistics," Shelly said. "That's what led me to do ESL (English as a second language) education. I wanted to do ESL [in] Harrisonburg because of the population that's here and the incredible people that work with the population."
After finishing her student teaching this past year, Shelly joined HHS as a faculty member this fall as an ELL teacher. While most of the school has gone virtual this semester, Shelly only teaches one online class because ELL classes are some of the few taught in the building.
"I have been really lucky to see my students in person. They are absolutely incredible and are teaching me a lot," Shelly said. "Teaching is really meaningful. I'm realizing more and more that a lot of people who are coming out of college right now feel stuck in careers and are having existential crises. If you ever want a meaningful career, I'm learning that teaching is very much that."
Not only is Shelly joining HHS as a teacher this year, but she is also joining the cross country and track teams as an assistant coach. Shelly has much distance running experience, as she was a Mississippi all-state athlete in high school and a Division III runner and triathlete for EMU. While the transition from high school to collegiate running was both intense and humbling, the change of running attitude was also one of the best parts.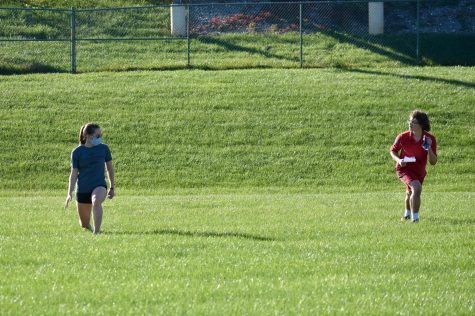 "In my high school, I [was] the lead runner, but in college, [I] barely made varsity my first year. It's definitely a whole different level of intensity," Shelly said. "One of the best things I think for me was getting to be with girls who all were there for running.
In high school, it was fun because you got to be with a bunch of different friends, but [it felt like] running was [more of] a chore for people. For me, to be around people who genuinely love the sport was something new and really good."
Shelly started out as purely a cross country and track athlete, but she started competing in triathlons once it became an opportunity at EMU. Not only did she receive NCAA All-American honors in this sport, but it was also what drew her to coaching.
"Through triathlon, I was able to work with quite a few really solid coaches, and [my] season ended up going really well," Shelly said. "I saw how much of a difference a coach can make."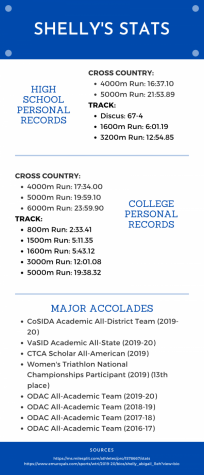 Shelly joined the HHS indoor track coaching staff for the 2019-2020 season. She worked with the distance team and traveled with them to state invitationals at Liberty University. Though there were only three girls running distance events, then-freshman Kasey Thompson, sophomore Kate Kirwan and senior Sarah Deloney helped Shelly feel welcome at HHS.
"Where I grew up, I did not have an indoor season, so I had not seen that at the high school level. It was really cool to see a place as big as Liberty . It seems very professional that these high school runners are getting to run [there], which I think is a really cool experience," Shelly said. "[Thompson, Kirwan and Deloney] were the core three. In terms of girls distance, I really appreciated getting to know [them]. They are super kind and super sweet."
Shelly currently has her eyes on training and qualifying for the Boston Marathon in addition to competing in future triathlons. As of now, she is leading off-season strength workouts for HHS runners to both promote engagement and community while keeping the distance team in shape. As Shelly acclimates to her new teaching and coaching positions at HHS, she looks forward to working with students and athletes through their hardships.
"I think what I've learned with both language learning and cross country is that [they] are both two incredibly vulnerable things. You're very much putting yourself out there. [I'm] getting to experience that with people and…[take] what I've learned in my years of running and [get] to know people through that way and coach them through that," Shelly said. "[I'm also] reminded [of] what [vulnerability] is like as a high school student; [students] balance so much."