New college adviser Du, offers life experience, knowledge to seniors
Imagine applying to college with little guidance from your parents, who didn't go to college themselves. That is the reality for many students in our area. Virginia College Advising Corps College adviser Anna Du went through the same first-generation college application process.
Du attended George Washington University (GWU) and studied international affairs and Chinese language and literature. Her journey to GWU was different from others, as she found out about the school late into her junior year at Chancellor High School in Fredericksburg, Virginia.
"I didn't really have a dream college. Everyone always knew [of] UVA [and] Virginia Tech. Those were kind of like the general dream colleges that everyone aspired to. I didn't really know any other [options]. There were lots of out-of-state [schools], but I didn't really think that those were in my reach per se," Du said. "I went to this Chinese language summer camp, and someone who was admitted to George Washington came to talk about it. That's how I found out about it."
Thankfully for Du, the college application process wasn't very stressful, but it still was complicated.
"My college application process, I would say, wasn't pretty. It was not simple. I don't think it was super stressful [because] I didn't want to put too much stress on myself. Of course it was stressful, because I didn't really know what was going on," Du said. "I was a first generation university student. My parents didn't know what was going on. I did like the school counselors at my school [because] they did a really great job of explaining the process and explaining financial aid and scholarships."
Du grew up in a bilingual world; one where she spoke Mandarin Chinese and one where she spoke English. This experience helped prompt her to study Chinese Language and literature in college.
"I grew up speaking Mandarin Chinese, or rather something pretty close to it. There's always variations within [the language]. When I was growing up, there wasn't a very large Chinese American community in Fredericksburg. I always felt I was different growing up; it felt like I was in two worlds. I [didn't] only speak Mandarin Chinese [it was] actually not fully Mandarin Chinese [all of the time]," Du said.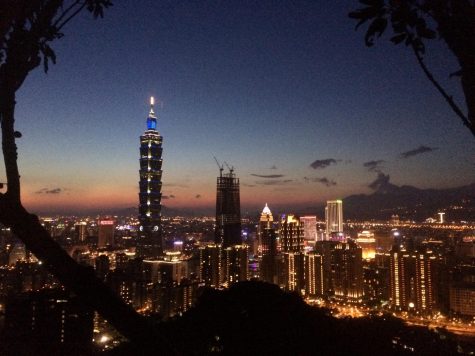 During and after her four years of college, Du travelled by herself around China to better understand her own culture.
"I've done some solo traveling, and I love it. It can be scary being [in] any country that you're unfamiliar with. You may not understand the language, [but] in my case, when I was in China, I did understand the language to an extent. It can be scary and frustrating, but for me, it's really exciting to figure out how to navigate," Du said.
In college, she found acute differences between high school classes and those offered at GWU, despite taking AP classes in high school.
"College classes are super different. I remember when I was in high school, and one of the teachers in my AP government class said, 'You may think that you're in a college level course as an AP student, but this is not the same.' It's different because, in high school, you get your hand held, and [the teachers] tell you what to do. They don't tell you how to study in college. You're given all this information, but you're not really instructed in [how to understand] it. You have to discover how you can absorb that information and grasp it," Du said.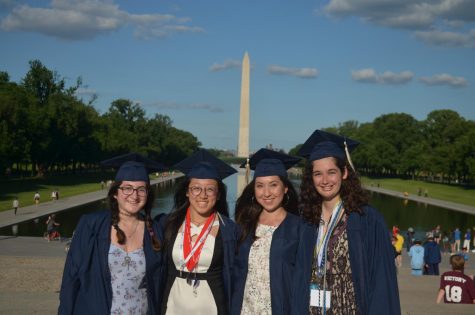 After graduating from GWU, Du knew she wanted to go into the Peace Corps but was concerned that she wouldn't be able to, because of scheduling conflicts.
"I thought I was going to have to graduate a semester late because I took a gap semester to do a full time internship. It ended up working out where I just didn't do [the] minor that I had planned so I graduated on time," Du said. "By the time I had decided to graduate on time, the application cycle for certain Peace Corps departure dates had passed, so I ended up applying generally and being placed under consideration for the country of Georgia. I ended up going to Georgia but that had a departure date in April of the following year, so I ended up being a summer activities leader for English First (EF), a language and cultural exchange company in DC. It was so fun."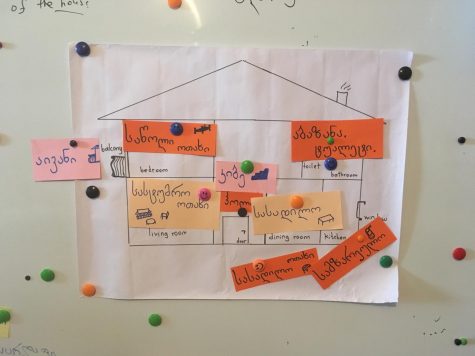 Upon arrival to Georgia, Du and her fellow volunteers had to complete intense language and cultural training prior to service.
"Peace Corps volunteers go through three months of pre-service training. We had language training for four hours every day, except on Sundays. After the four hours of language training, we had lunch together [with] host [families], so we would take turns going to each person's host family and then go into technical training [at] a central location. There are two tracks [in Georgia]: there was education and individual and organizational development, which is working with businesses and nonprofits. For us in education, we would do teacher training," Du said. "I actually taught in two schools which is really unusual. One of my schools was [about] 30 kids, and the other one was about 140."
Du had completed 11 out of the usual 27 months of service before the COVID-19 pandemic became serious enough to evacuate her and her fellow volunteers. She thought about applying for a new Peace Corps position, but ultimately decided to look for AmeriCorps member positions in Virginia.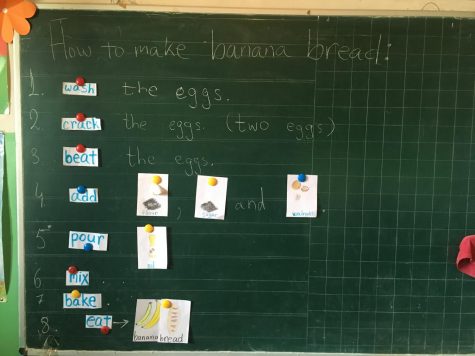 "My service in Georgia was actually cut short; it was a really weird experience being evacuated [and] coming to my parents' house. People really didn't know what was going to happen with the Peace Corps. I toyed with the consideration of applying to a new Peace Corps position, starting over. As time went on, and as the pandemic has been [getting worse], I kind of started looking into other options and I thought about AmeriCorps," Du said. "I found a Mandarin speaking position in Brooklyn, New York, working with one to three year olds to promote early literacy. It seemed like a great position but the pay was very low at $12,000 a year. I came across a website that was specifically for AmeriCorps positions in Virginia and I saw this college adviser position."
The position that Du now has as our college adviser wasn't open for hire when she found the job listing online on the website with AmeriCorps positions in Virginia.
"I looked at the description, and I was like 'Wow this is perfect for me.' I've [had] all of these roles, responsibilities and I love, love, love advising students about college. Then I noticed that the application cycle had ended," Du said. "What I ended up doing was I emailed the contact person in the description, and I told him 'I'm really interested, but it seems like I missed the application date. Is there any chance that you guys might still be hiring?' He responded to me an hour later on a Sunday and [said], 'We have one position that we're just starting to hire for.' It worked out."
Du wanted to stress that she is here for everybody, even those planning to go into the workforce or vocational school after high school.
"My title is college adviser, but I don't want people to be swayed by that. Maybe people aren't thinking about college. I'm here to help people realize that college is an option; it can be an option for everyone. You can consider college and other paths. I can help you with whatever post-secondary plans you may have," Du said.