'Elf the Musical' holds workshops in preparation for auditions
Despite COVID taking over in-person learning, the annual HHS musical has not been canceled. It is continuing with new plans and direction. The chosen musical is "Elf the Musical," which was based on the popular 2003 movie starring Will Ferrel. It follows Buddy the Elf, a worker for Santa in the North Pole, and his adventure on finding his real dad. This Christmas story will be the next show to hit the HHS stage; however, due to safety measures, the musical will be performed in a new manner. Rather than the show being live, it is going to be filmed and distributed during the holiday season in December.
For this process, students will be learning much of the musical virtually. These rehearsals would initially start from 3-4:30 p.m. on weekdays. Certain size roles have a certain of days they are required to be there. Smaller roles will be at rehearsal less than bigger roles. These virtual rehearsals would have to be kept short and require students to work more on their own at home. There is the possibility of small group, socially distant in-person rehearsals. These rehearsals would be for students and families who are comfortable with it. As the rehearsal process starts to get closer to day of filming, the rehearsals would become longer and more intensive and more of a commitment. Ideally, the musical would be done being filmed before Thanksgiving and will be edited until the holiday season. "Elf the Musical" director Ken Gibson wants students tand families to be ensured that rehearsals would be done in a safe manner.
"Hey, I'm scared and feel like I would not take a chance unless it is well executed and sound. In addition, we're all in this together and we rely on the student's commitments to these things, as well, outside of rehearsal – how they comport themselves and are mindful of their commitment to the process and this Elf community," Gibson said.
Preparation for the auditions for "Elf the Musical" are already underway. This week has featured vocal, acting and dance workshops, where students can learn some of the music in the show, some of the choreography in the show and ways to prepare for their monologue. There are still a few workshops left for the week. There are two vocal ones: one on Thursday, Oct. 1 from 3:00-4:00 p.m. and one on Friday, Oct. 2 from 4:00-4:30 p.m. There is one dance workshop and that is on Friday, Oct. 2 from 2:30-3:00 p.m. There are two monologue workshops: one on Thursday, Oct. 1 and one on Friday, Oct. 2. Both are from 2:00-2:30 p.m. To join these workshops, students can enter the code hhsmusical on the GoogleMeet website. Not only that, but students can join the musical Google Classroom through the code a32jnwk. The Google Classroom features information, material and other resources to help students prepare for auditions. Everyone is open to audition for the show. Gibson wants to invite as many new and returning students to audition for the show.
"We are all doing this for the first time and your contribution will be part of your story and ours. Musical is a time to build connections and at no point in our lives have we needed to forge those connections more than now. I think we have the real possibility to build a pioneering family that will intrepidly and safely navigate a new chapter (hopefully a small chapter part of a massive text) in HHS history," Gibson said. "It's you, [the] new folks to musical, that get me the most pumped about doing this."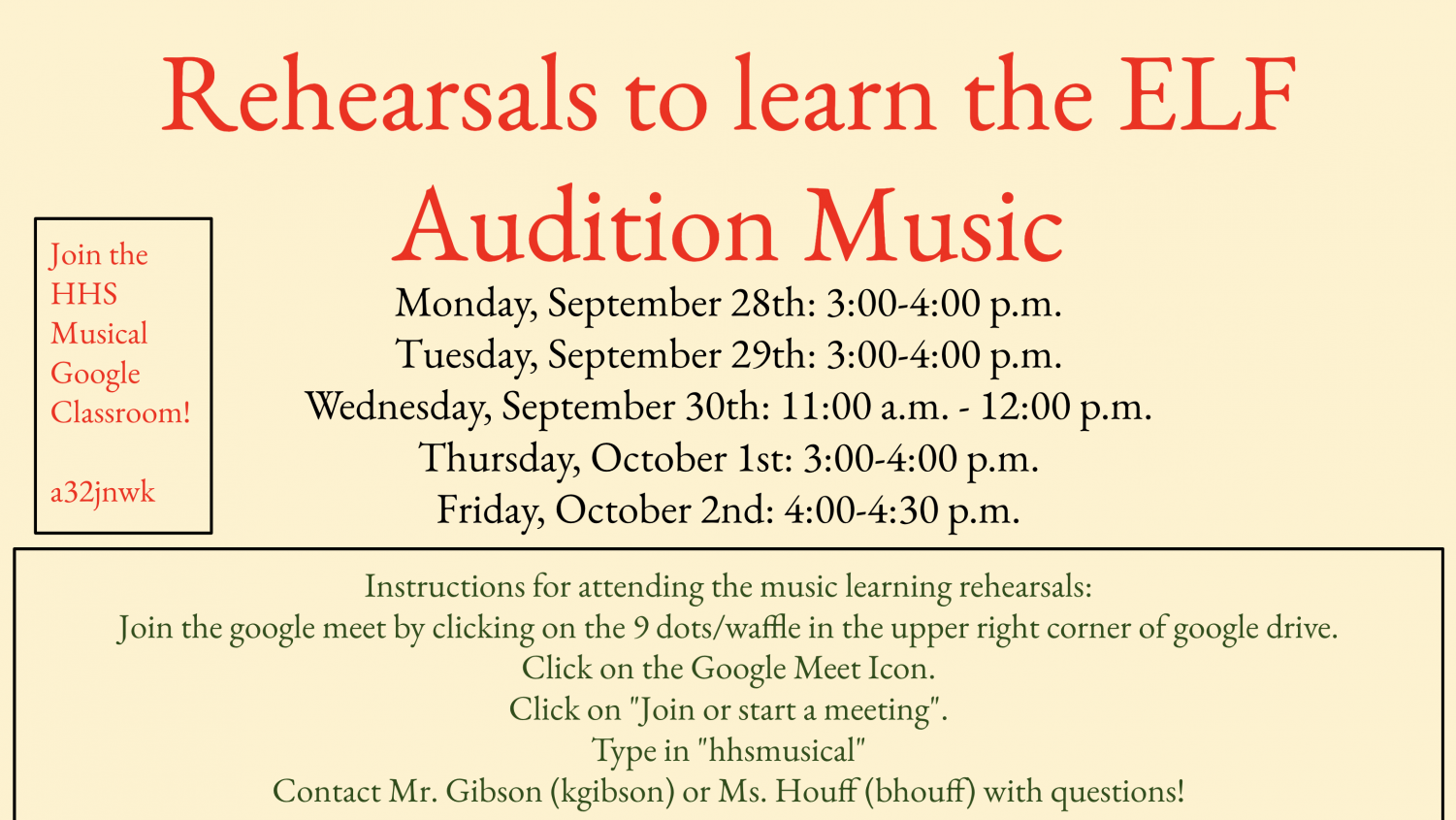 Auditions will be held next week from Monday, Oct. 5 to Friday, Oct. 9. Students have the option of either doing their audition live through Google Meets or by submitting a video for each portion of the audition criteria. One way of auditioning will not be better than another. Monday, Oct. 5 will be the only day of live auditions. Recorded auditions are required to be submitted on the Google Classroom by Tuesday, Oct. 6 at 8:00 p.m. There are assignments and instructions in the Google Classroom where each video will be submitted. Wednesday, Oct. 7 is when callbacks are posted. That is followed by callbacks being held Thursday, Oct. 8 and cast list being posted Friday, Oct. 9. Gibson's tips for auditions is for you to be yourself.
"Be you, and be real and speak clearly. Check in with the camera, not the screen. Take your time in [your] monologue. Let the space between the words tell the story when applicable. So many folks fill the void with speech, but sometimes you have to act. A one minute monologue is not one minute of speech I think you might have to do a couple of takes to get the vibe you're after; but, don't be too hard on yourself. Love yourself," Gibson said.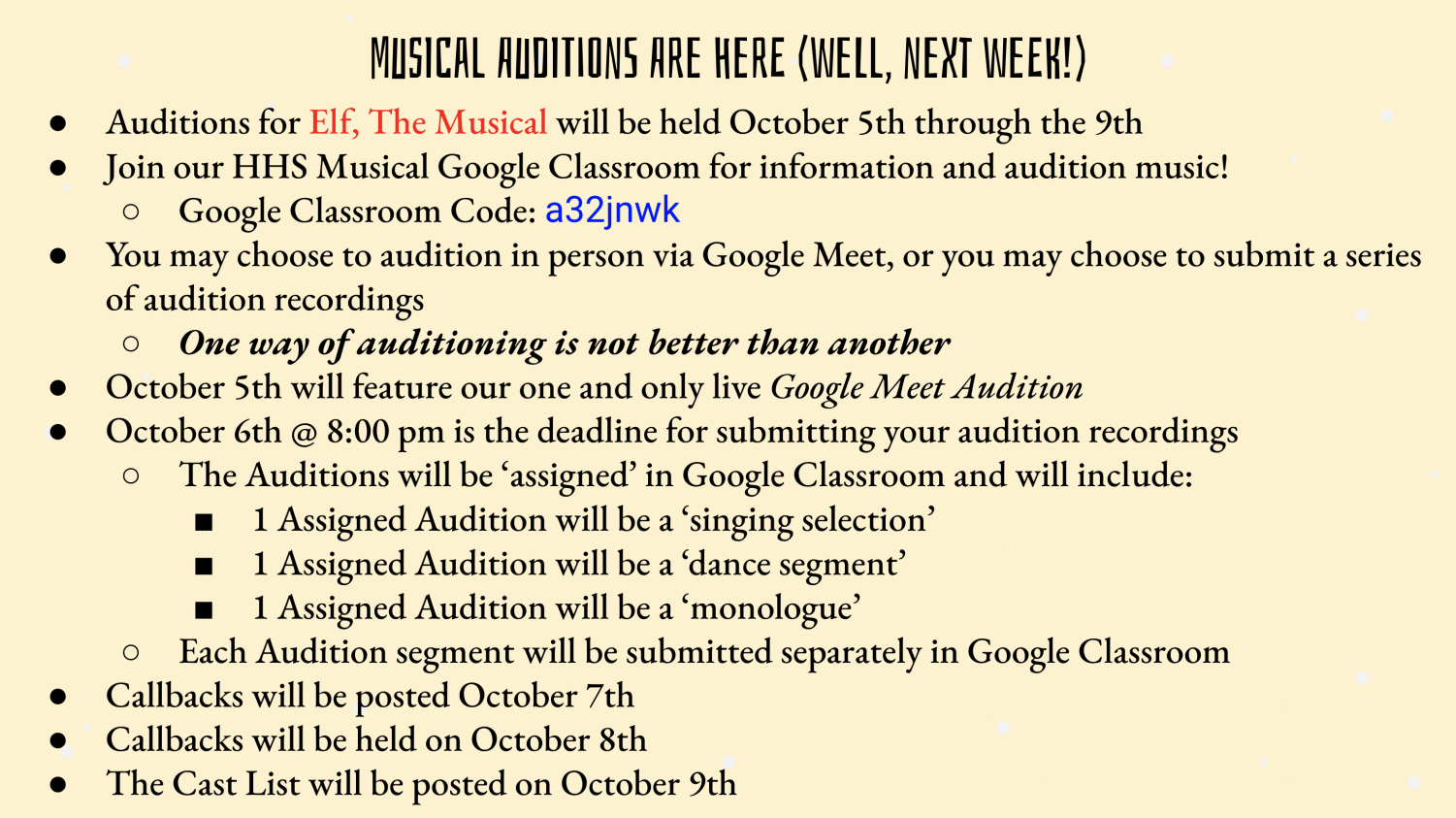 On-stage roles are not the only part of musical. There are also opportunities for tech crew, support crew, props, set building and the editing of footage. This team is essential to the entire production running smoothly, thinks Gibson."Tech is going to be different no doubt. We will delegate to individuals and families the creation of props and set pieces that will be delivered to the school. Does anyone want to help with the editing or cataloguing of the footage? I still need support crew – Stage Managers, props people, sound editing, etc. Like the old JFK quote with a twist, 'Ask not what your Musical can do for you, ask what you can do for your Musical,'" Gibson said.