Banks explores love of photography through local photoshoots
At the age of seven, junior Brigid Banks could be found outside in her backyard with her iPod taking pictures of leaves in her garden. Although over the years, Banks has improved her style and camera choice, she continues to feel the same passion about photography as she did in the first grade.
"My favorite part of photography is probably just being able to create and take pictures for people and being able to show them to them and [have them react like] 'wow, that's great'. It's definitely really gratifying to be able to take a picture and have someone love it," Banks said.
Banks began to focus more on portrait shots as opposed to her original pictures of nature after purchasing a Canon EOS Rebel T6. As the monotony of the COVID-19 quarantine set in, she decided to take advantage of all her free time to begin doing more photoshoots in a safe way.
"I was doing a couple photoshoots before the pandemic hit but I really got into it more when the pandemic started. Everyone was so bored and I was really bored and so I just decided to do social distanced photography so that everyone could get out of the house a little bit," Banks said.
Due to the outbreak of COVID-19 around Harrisonburg, Banks found herself having to change up the way she would usually run her photoshoots.
"My approach has changed now because, obviously, I have to be six feet apart and I have to wear a mask and when we are walking around the other person has to wear a mask as well," Banks said. "I couldn't guide them as well. [For example,] being able to move their arm if they needed it."
To get the word out about her photography, Banks created an Instagram account with a link to her personal portfolio. By using Instagram, people could easily contact her to schedule or ask questions about a photoshoot. Not only did Banks use her social media platforms to expand her clientele, but she also found inspiration from other creators like herself.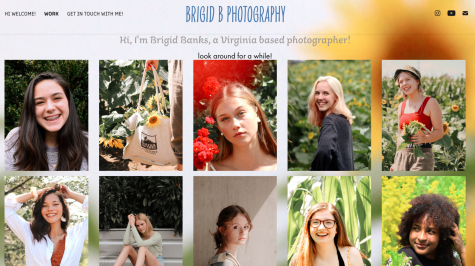 "I find my picture inspiration mostly from photographers I follow on Instagram. A lot of them are local in Virginia but some aren't. The majority of it I would have to say I got off of Pinterest because I have a whole photography board where I just save little sections of each picture inspiration if I have a specific photoshoot that day," Banks said "If I have a sunflower photoshoot, the night before I'll go in and I'll make a section for that and find poses for that. Because [taking pictures] in a field would be a lot different than taking them downtown."
Through her photoshoots, Banks has been able to improve on her social skills as well as her photography skills.
"[I've worked on the] ability to push myself past my comfort zone of socializing with people because I'm a very extroverted person when I'm [with people I know] and I'm able to talk to you; however, I feel like this has definitely pushed me to be more extroverted just in general and really be able to make conversation with people I don't know," Banks said.
Banks recognizes that the conversation aspect is an important part of portraiture, by keeping the model loose and comfortable for a better end product.
"Some things I do to try and make people more comfortable is to try and make them laugh. I just tell them to do anything crazy, anything they can think of for five pictures or five snaps of the camera and that will usually loosen them up a little bit because they'll start laughing at themselves which is always good because laughter is probably the most genuine thing you can capture in a photograph," Banks said.
Juniors Rose Trainum and Maren Mcgehee both experienced a photoshoot with Banks and appreciated the feeling of support throughout the shoot.
"She's really good at making it feel really natural and very encouraging. You get the sense that she 100% knows what she's doing so then you feel comfortable in that environment. She's very confident in the choices she's making so you feel more confident," Trainum said.
Although Mcgehee felt uneasy at first, she found that pushing through the nerves would result in a better finished product.
"It feels kind of uncomfortable having your picture taken and sometimes the poses feel unnatural but when you do what she says it turns out really well on camera. And even when it's awkward you get good pictures out of that because you start laughing and that's kinda what she wants," Mcgehee said.
For Trainum, the photoshoot was a social event that was fun even before she began taking the photos.
"The last time I did it we went to the sunflower field and it was fun because we were doing the pictures where we would have to walk through the flowers and it was full of bugs so we got all these great pictures, but taking them was an adventure. When we go places we're always walking around and that's really fun," Trainum said.
Although both girls had different relationships with Banks before the shoots, by doing them, it allowed Trainum to form a new friendship and for Mcgehee to reconnect.
"I have just recently got to know Brigid. I knew her before the photoshoots, but we had just hung out in larger groups of people and never one on one hangouts. Doing the photoshoots with her just helped me to get to know her better," Trainum said.
For Mcgehee, another photoshoot with Banks was something she was now used to.
"I've known Brigid since like 5th grade so I think I was probably one of the first few people she asked to do a photoshoot with which was from like a year ago maybe. It's really fun to get to hang out with her like that. I haven't hung out with her as much recently. The photoshoots really are fun to do with a friend and it kinda helps you to reconnect when you're not as close," Mcgehee said.
After all the work is done, Banks enjoys the feeling of providing something for her clients to admire, but also for her to be proud of.
"[I get] the gratification of having something I love be loved by other people which sounds super conceited, but it just makes me feel like I'm doing something good even though I'm just having fun with it and really just playing around and trying to advance my skills on it," Banks said.