COVID-19 changes atmosphere of Valley Scholars program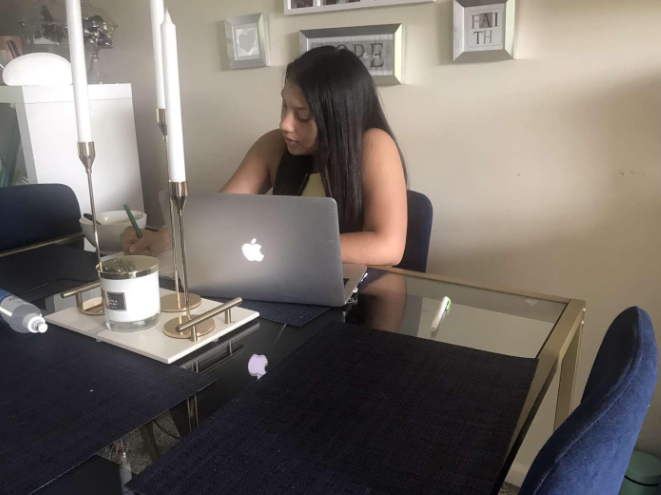 When James Madison University first began the Valley Scholars program, their goal was to create a future for first generation college students. Students from local middle and high schools are accepted and remain in the program for five years before earning a full ride academic scholarship to JMU.
As a Valley Scholar, students are expected to attend all program days and weekly meetings in addition to maintaining their academics. Because of the virus, many Valley Scholars events have either been cancelled or postponed.
Sophomore Genesis Martinez, a Valley Scholar in cohort four, is still adjusting to the changes to the program. The students can no longer participate in program days on campus, which shows the compassion of the Valley Scholars staff in Martinez's mind.
"The program days being cancelled during the pandemic have brought me less stress," Martinez said. "It makes me happy knowing the program takes measures to make their scholars safe regardless of the accomplishments and requirements we have this year."
Each year the Valley Scholars students complete a showcase project to present to their families, Valley Scholars staff members and other supporters of the program; however, the pandemic has postponed the annual event.
"The showcase program day has definitely improved each year, and I believe the moral motive behind the showcase is great," Martinez said. "It sets the tone for some scholars who aren't as comfortable with public speaking and allows us to speak about issues or situations we find that need to change."
This year specifically, Martinez was looking forward to the showcase project because she was planning on presenting on an issue close to her heart. Although the showcase is still planned to happen, the date has been postponed.
"My showcase project was on the publicity on latinx racism. I was excited to talk about it to fellow scholars and sponsors."
In addition to the showcase being postponed, all on campus program days for Valley Scholars have been cancelled. The program, however, is still requiring the students to participate in virtual lessons. Additionally, when school was in person, HHS students in the program were required to attend weekly academic meetings after school. With school being held online, the weekly meetings for Valley Scholars are also being held virtually.
Summer programs are another part of being involved in the Valley Scholars program. Rising juniors and seniors have the opportunity to choose between programs at JMU or go on a camping trip. Martinez, who will be a rising junior this summer, was looking forward to seeing her Valley Scholars friends this summer.
"[I miss] seeing my friends at program days," Martinez said. "It's no secret that I have a very close friend group from Valley Scholars and it's sad that I cannot see them."
Although her third year in the program is not as exciting as the previous two years, Martinez is thankful to be a part of Valley Scholars.
"I believe this program is one of the most beneficial not because of who is able to attend the showcase, but how us as scholars are able to present ourselves and communicate to other people," Martinez said. "With program days such as [the showcase each year], I take advantage of educating not only myself and my peers, but also the attendees."