Coronavirus causes Kharel to lose senior tennis season
April 1, 2020
With the closing of HCPS due to the rapid spread of the Coronavirus, all spring sports practices are cancelled until further notice. With that, it is likely the seasons are ending altogether. When senior Raghab Kharel heard of the news, he was devastated.
"I was super bummed because I didn't play a single match this year," Kharel said. "The team was so good this year and we were definitely going to go to states."
Like all the other seniors, Kharel is losing his final high school season and, thus, will never have the chance to play high school tennis again. This affected Kharel in particular because it would have been his first season on the latter, which is something he has been working towards for the last three years.
"I was gonna be competing for the team every game for the first time," Kharel said. "Last year, I was only on the latter when somebody was missing. I put in so much practice off season and it was gonna be my chance to represent the school every week and now I can't do that. It's really sucky."
The halt to the season also means Kharel loses his place as a leader on the team, which, with the combination of being an upperclassman and earning a rank on the team, he had finally reached.
"This year I was a senior so it felt like a lot of people were looking up to me and now I don't have that," Kharel said.
Despite the numerous negatives, Kharel is trying to find light in the situation by appreciating the years he did have on the team, and, more specifically, the bonds he has made with his teammates.
"There's been many things to cherish from the three years I've been on the team," Kharel said. "Most importantly, the relationships I've built with the players. Tennis is a great way to meet people from all grades, demographics and backgrounds."
Beyond his athletics, Kharel has been able to reflect on school as a whole and the importance of appreciating the time you have in high school.
"Everyone takes school for granted, but, without school, we wouldn't have anything," Kharel said. "We wouldn't have friends or extracurricular activities, which are the things that make us better people. We wouldn't be anything without school, so it's important to make the most out of the moments you have."
For Kharel, this is not the end of his tennis career. He hopes to continue his playing through casual play with friends, and ultimately compete at the club level in college.
"When [Coronavirus] settles down, I'm going to go out and hit," Kharel said. "All of my friends like playing tennis. It's just a really fun sport. I'm gonna definitely try to do club tennis at Virginia Tech next year."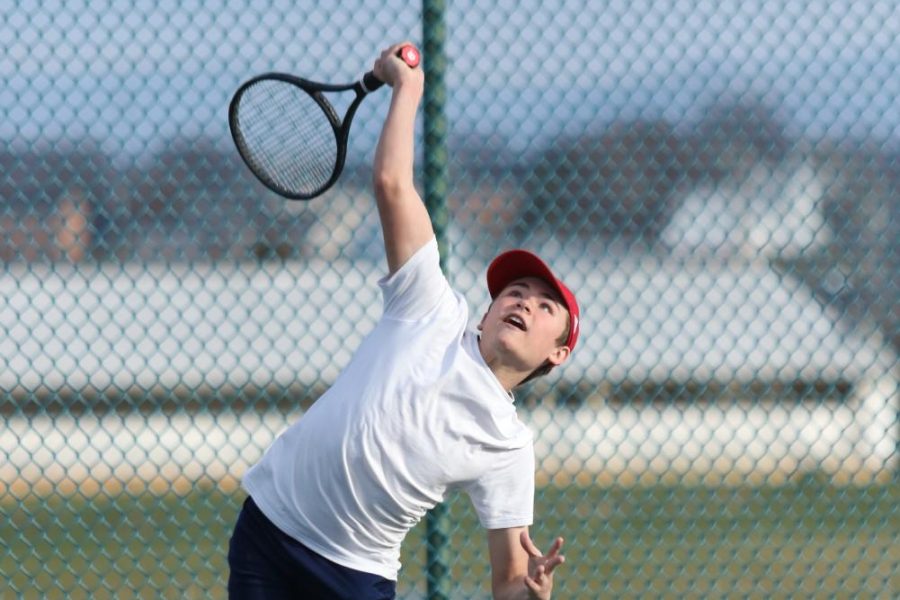 Beshoar reflects on tennis season cut short
With Ralph Northam's announcement of having all public schools closed, it has caused for the spring sports at HHS to end at well. Despite this, freshman Corey Beshoar still tries to keep his tennis skills up to par for next year.
"We are unable to hold official practice due to the cancellation of school, however the team is still practicing together outside of school," Beshoar said.
Although the team is not able to play, Beshoar takes this very positively.
"I feel like this is a great opportunity to play with different people," Beshoar said.
Beshoar may be happy that this could give him the opportunity to play with others, but he is also beginning to become annoyed at how much this is affecting tennis and his outside life.
"I am pretty annoyed with the coronavirus because of how it affects tennis, but also because I can barely leave the house or hangout with anyone," Beshoar said.
Since the team was not prepared for this shut down, the team believes that it will be difficult to get back into the routine for next year.
"I don't think anybody was really prepared [for the shut down]; however, we did attempt to do out of school practice, but due to social distancing, lots of people are forced to stay home most of the time, including me," Beshoar said. "I can still play, but only with a selective few, and I can't touch the same balls they do."