Lauv illustrates modern expression through second album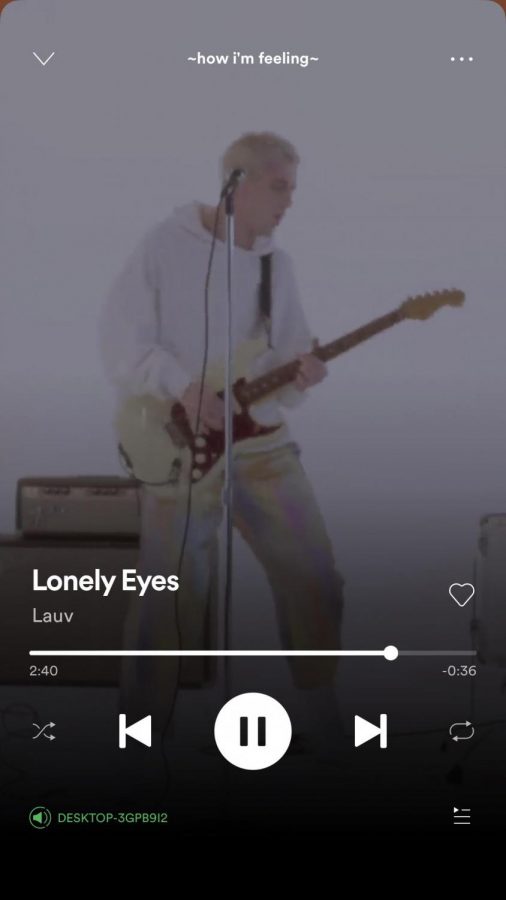 Sid Tandel, Photography Editor in Chief
March 22, 2020
After teasing the album for over 13 months with the initial release of "i'm so tired," American pop-artist Ari Leff, or Lauv, finally released "~how i'm feeling~" on March 6, 2020. While most know Lauv for his song "I like me better," his newest album is far less known, yet in my opinion, far better. Lauv uses different characters for specific songs throughout the album to convey his different feelings about each song. He created six different characters: purple (existential Lauv), blue (hopeless romantic Lauv), green (goofy Lauv), yellow (positive Lauv), orange (player Lauv) and red (spicy Lauv).
Lonely Eyes:
Lauv's third song of the album is far and above my favorite. This song shows how Lauv is unable to connect with anyone except for one girl who has the same "lonely eyes" as himself. Although the general lyrics for the song are inherently wistful, the song is incredibly upbeat at times and absurdly catchy.
Feelings:
"Feelings," the seventh song on the album, was written from the blue, hopeless romantic Lauv. Lauv shared on Instagram, "I wrote "Feelings" when I unexpectedly fell madly in love [with] someone and I was trying to convince them to dive in with me. I'm single now but the song will forever remind me of the most in love I've ever felt." Fans of "I like me better" will also love "Feelings" because of the similarity in both the lyrics and chorus.
Canada:
The eighth song of the album, "Canada," was sung from the standpoint of yellow, positive Lauv. The song came about from a Twitter trending topic that said "studies show if you're looking for the best quality of life you should move to Canada." "Canada" is slow at times but picks up speed towards the end and uses Lauv's yellow character to convey a feeling of hope. The song, although slower than most on the album, is incredibly well written and has meaningful lyrics.
i'm so tired:
While "i'm so tired" was released a little over a year ago, it was tactfully placed after his initial release of the album "I met you when I was 18" which romanticized a past relationship hopeless romantic Lauv had. "i'm so tired" is a great song when you are, in fact, tired of love songs and features Troye Sivan who has a similar, mellifluous voice to Lauv.
Tattoos Together:
Written from the perspective of yellow, positive Lauv, the 16th song "Tattoos Together" is about getting tattoos with your significant other to remember each other in the case of a falling out. On an interview with MTV Music UK, Lauv stated "Tattoos Together" is a literal story about a time when I was dating somebody and I think we'd been together for about two weeks and I literally got a tattoo with her, a matching tattoo, and I don't regret it because it's really cute… but it was definitely an impulsive decision." This song is more upbeat than most others on the album and is incredibly catchy.
Invisible Things:
Although "Lonely Eyes" takes the cake as my favorite song on the album, the 19th song "Invisible Things" is a very close second. Lauv uses the line "It's the invisible things that I love the most…cause everything else comes and goes" to show that it's the non materialistic things that he loves the most in a relationship. This song is, in my opinion, the second best song on the album for it's catchy chorus and significant lyrics.
Modern Loneliness:
Following "Invisible Things" for best songs on the albums comes the third, "Modern Loneliness". "Modern Loneliness" is the last song of the album with the most meaningful lyrics and summarizes the album as a whole. Purple, existential Lauv, sings "Modern loneliness..we're never alone, but always depressed" to write about the more modern way of being sad despite being constantly surrounded by friends.
Many listeners of Lauv simply know him as the one-hit-wonder who released "I like me better" but Lauv is so much more than that. "~how i'm feeling~" is incredibly catchy throughout all of the songs and has impactful lyrics. This album is a 9.5/10 and I would recommend it to anybody.