"Hairspray" cast creates 10/10 experience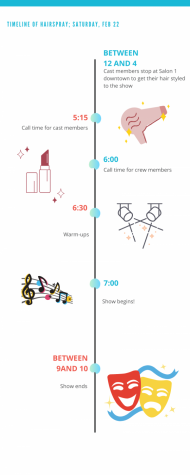 In the weeks leading up to show week, the school was abuzz with talk of this year's school musical: "Hairspray". As many know, this year's musical was special because of it's immensely diverse cast, showcasing Harrisonburg's own diversity. For many reasons, I didn't know what to expect. I had heard that it was a good show from the cast and was expecting it to be enjoyable, but the show I saw was far beyond my expectations.
I have attended quite a few Broadway and professional shows, and in my experience, the biggest difference between those shows and amateur ones is the set. As soon as the curtains rose and I saw the set, I knew that this show was going to be amazing. It not only looked like elements straight from the movie, it also looked visually appealing, too. 
Along with the set, you could see that there was an extreme attention to detail. From the director's note to the cameraman who would move across the stage filming the Corny Collins shows and switching lenses, there wasn't a single missing detail. 
Although everyone in the show did a phenomenal job acting, I do want to highlight a few characters that really shined throughout the entire show, with the first being, of course, Tracy Turnblad played by Kate Cummings. Her performance as Tracy highlighted her exceptional acting, singing and dancing skills, making the audience feel as if they were in Baltimore in the 1960s experiencing the show in real time. One of my problems being in the back of the auditorium was that I wasn't able to hear some of the show, but when Tracy was on stage, that was never a problem. 
Edna Turnblad and Wilbur Turnblad's chemistry was contagious as well. Both actors played their parts beautifully. I mean, did you know Edna was played by a boy? You couldn't tell unless you read through the playbill. Penny Pingleton and her mother were also another highlight of the show, with both playing their parts as if they were in the original "Hairspray." And wow, Link Larkin was just the dreamiest. Finally, Motormouth Maybelle and Little Inez created a sense of community, something I had never experienced from one of our musicals before. Their acting invited you to see how it would've been if you lived with them and fought for civil rights with them. 
Alas, I am at a loss of words because everything in this musical was perfect. With the set that looked like it was right out of the Broadway show (or even better) and with the show stopping acting, I could confidently say this is the best musical I have ever seen performed in Harrisonburg High School's auditorium. I would 100% recommend this show to others (if it were still running) and see it again. Rate 10/10.