"Heubner" takes 2nd place at VHSL states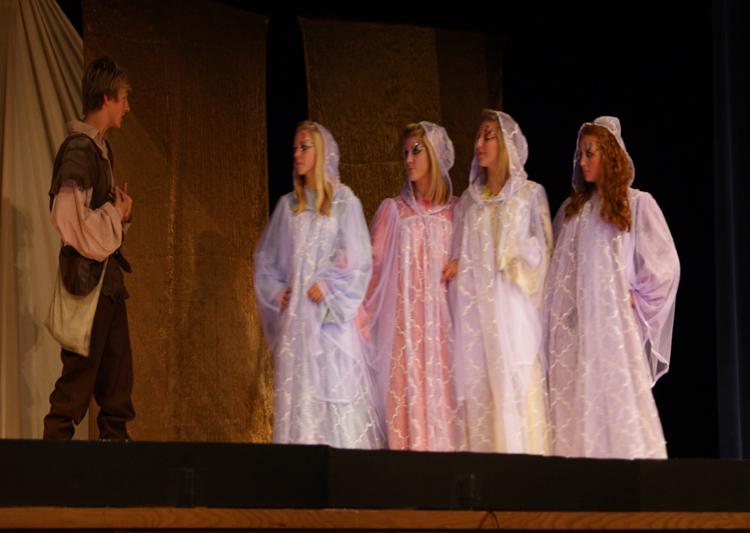 Harrisonburg High School's One Act troupe won second place in the VHSL state competition with their play Heubner The Reluctant. The competition, featuring eight schools from around the state, was held at  Monticello High School in Charlottesville, Virginia on December 6th.
Senior Maddy Skiba, who was the spotlight operator, is very happy about how the competition turned out.
"It was great. I wish that we had placed first, but we won second place so I'm not going to complain," Skiba said.
Local high school Turner Ashby took first in States. At the district competition, they took first with HHS coming in third. At regionals, TA got first and HHS was awarded second. The schools have been side by side through the entire process.
When asked if she was bitter about TA winning first, Skiba replied with good sportsmanship.
"No, I'm not bitter about it. TA didn't rub it in our faces even though they placed higher than us at each competition. They're  good group," Skiba said.
Skiba also believes that the cast and crew gave it their all during their last performance.
"I have no regrets for the last show. I think we gave it our best," Skiba said.
Senior Emmett Copeland, who was the lead role of Heubner, won a best actor award along with six other students from across Virginia. He also won best actor awards at district and regional levels. His sister and One Act costume mistress, freshman Phoebe Copeland, is proud of him. There was, however, one part of his performance she would have changed.
"I think that Emmett wanted to cut his hair, but he had to wait until after the play. I think that distracted him, but I'm proud he won that title," Copeland said.
Director Stan Swartz, is also very proud of what the cast and crew accomplished at the competition.
"[The competition] was great. There were 95 to100 AA schools [total in the state of Virginia] and placing as high as second is an honor and an accomplishment. The kids have worked very hard, and I'm happy for them, " Swartz said.
The last time One Act went to states was 2008. The troupe performing then placed fourth in the competition.
"[The placing] is so subjective. It depends on the play, the actors, the judges, and just the mood the actors are in. Sometimes you have good day, and sometimes you don't," Swartz said.
The competition on December the fifth proved to a be good day for One Act though, as did the whole season. The cast and crew of the play won awards at all levels of the competition from districts to states and placed high in all of their performances.