Ogundipe gets accepted into MIT, waits for other decisions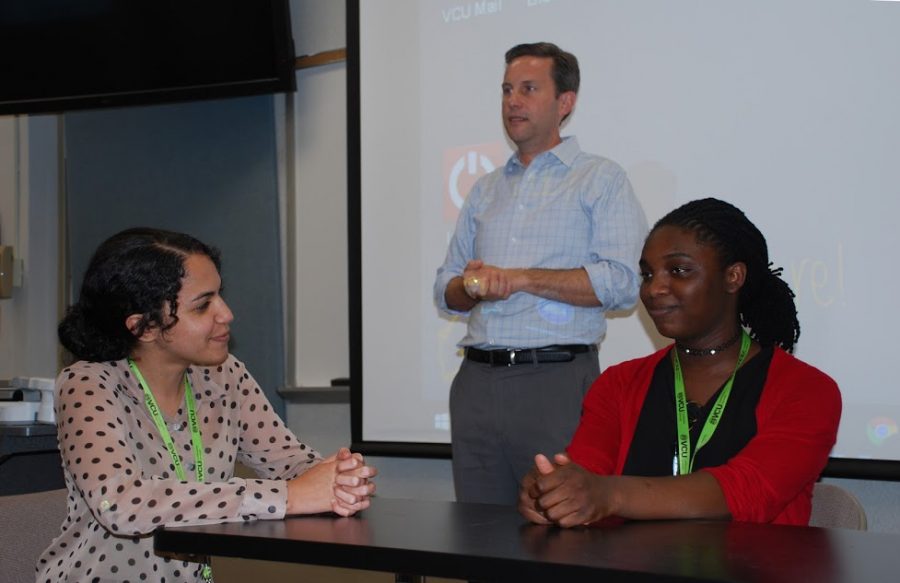 On average, a senior applies somewhere between seven and ten colleges, according to College Vine. Senior Safiyyah Ogundipe applied to 20 colleges, with some of the most prestigious universities in America included on her list.
"I applied to a lot of schools. I wanted to cover my bases with most of the Virginia schools, and then I thought I would just throw it out there for the Ivy Leagues and more prestigious schools because you never know," Ogundipe said.
Recently, Ogundipe was accepted into the Massachusetts Institute of Technology (MIT). With an acceptance rate of 7.9%, this was a surprise for her.
"I absolutely did not think I would get [into MIT]," Ogundipe said.
MIT's application process is different than other colleges because instead of using a third party for application submissions, they use their own specific application and algorithm with unique requirements.
"They don't use the Common app or the Coalition app, they have their own specific application. They allow you to list four extracurricular activities as well as things that you've done during the summer. For my extracurriculars I listed that I was SCA treasurer for two years, that I was a Key Club member and Key Club co-president. I think I said Model UN, and [volunteering at the hospital]. I had to kind of decide because I have a lot of extracurriculars," Ogundipe said. "Over the summer I also listed volunteering over at the hospital, as well as a trip that I took to New York and New Jersey because they said I could list trips. I listed that I got into and did the Summer Residential Governor's School for medicine and health sciences. I also then volunteered at another place at a children's museum two or three years ago."
Along with the section to add your extracurriculars, they also include a notes section where you can elaborate on other achievements and your activities mentioned.
"I talked about my awards. I elaborated more on what I did in the Summer Residential Governor's School. Out of all of that, I think that my extracurriculars showed leadership. They could kind of see what my lab experience and focus was," Ogundipe said. "Most of [the essays] were 150 or less than 250 words. They were very short, some of them were like, describe your hobby and so I tried to describe my hobby in a creative way. I mentioned that I like to cook, and I just played around with words and metaphors and stuff, so I tried to make it creative."
For Ogundipe, MIT's application did not take a ton of time to complete, as she started early knowing she had many colleges to apply to.
"[The application process] was not terribly long, although I did start it relatively early and I kind of just took my time getting through it as I was also doing other applications, but the application itself did not take too long."
If she is to attend MIT, she has an idea of what she'd like to major in, taking advantage of their exemplary engineering programs.
"They have biological engineering which is similar to what I want and they also have a biomedical concentration under their chemical engineering as well, so I might look into both of those," Ogundipe said.
Although MIT is ranked as the second hardest college to achieve an A in, according to Yellow Hammer News, Ogundipe feels ready for the challenge.
"I mean I knew [that going to MIT] was going to be a challenge, but I think if they accepted me, I can rise up to that," Ogundipe said.
Ogundipe is still waiting for decision letters from a few other high profile universities, so she isn't completely set on attending MIT just yet.
"I really like Columbia. I like the setting of Columbia in New York. I also like how their curriculum is formatted with the core curriculum, that about a third of your classes, all of your students take together," Ogundipe said. "I took a tour of it before and I just really like the campus and such. [I'm] also [waiting for] Johns Hopkins, which isn't an Ivy League, but it's also a prestigious school. They have a really good biomedical engineering program."
The most stressful part of the college application process for her was completing all of the applications and making sure everything was sent to the colleges before their due dates.
"[The hardest part for me was] just trying to get it all done, like I said I applied to about 20 colleges, some of them I did early action, others I did regular decision. I still have a few more to go before this regular decision deadline, just trying to balance all of that with school and making sure all of the SAT scores got to each school. It was a bit stressful, but when you get the acceptance letters, it's definitely worth it," Ogundipe said.
When she first started applying to colleges her first choice was the University of Virginia (UVA), so she now has more schools to choose from.
"I just wanted to widen my net. When I first started this journey, UVA was kind of my target school. That was kind of where I was picturing myself going. I wanted to just open myself to other options. It's always good to have choices," Ogundipe said.
Ogundipe offered some advice to the junior class right now for when they start applying to colleges.
"The junior class right now, you guys are just so impressive. You guys might not feel it because you are all competing against each other, but you guys are just a lot higher up than where we were at your age. I wouldn't worry too much about what your extracurriculars are, what your grades are. I would just say to go for it, if I can get into MIT I feel like there are lots of kids in this school that could get into prestigious colleges if they only widened their outlook farther than Virginia," Ogundipe said.