McLeod finds STEM Academy rewarding with opportunities, experiences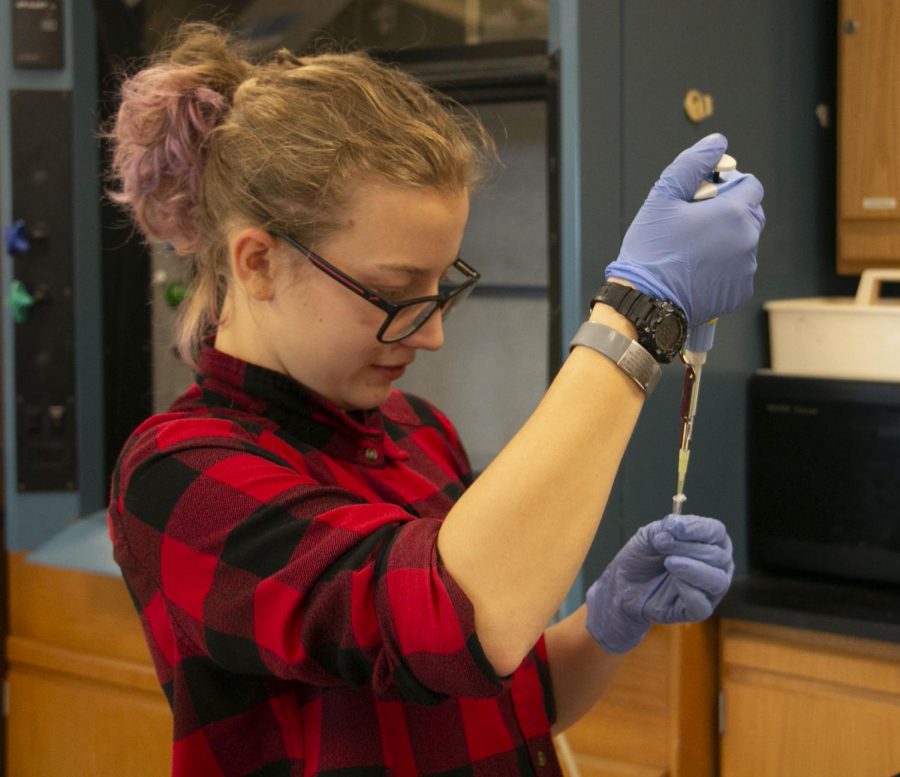 The STEM Academy at Harrisonburg High School offers many classes and opportunities. While applying and being accepted is in itself an accomplishment, continuing to be part of the program all four years during high school will give you an experience full of hands-on classes and opportunities. One senior, Jadelin McLeod, has been a part of STEM since middle school, when she first joined the program.
"I like [STEM], it gives me a lot of opportunities that I otherwise wouldn't have," McLeod said. "I really like engineering, because it is project-based and instead of sitting and doing lectures, you get to work on projects."
But during her time at middle school, McLeod contemplated not being part of the STEM Academy at HHS because the middle school program was not as self-guided as she'd like it to be. However, after talking to some high-school STEM students about the academy, she changed her mind and decided to continue doing STEM.
"It has become a whole lot more self-guided and I think that that is how the program is structured, now that I am a senior, the classes are more 'here is the environment, go do things, we kind of trust you enough not to die,' and that's been really nice," McLeod said. "And if you don't want to do research or outside projects, it's not a requirement. But if you do, which I always have, it allows that opportunity to do stuff outside of school and do your own research."
Some extracurricular activities offered by STEM include Summer STEM, as well as different events like STEM-inars and field trips. While these are very hands-on experiences, STEM classes also involve hands-on classwork almost daily.
"I'm taking Biotechnology which is really fun because it is, again, mostly lab based and it's a small class," McLeod said. "[DE Engineering] is [also] fun. Right now we are doing TARC, which isn't my favorite, but it is a good project… We build giant rockets and shoot them and you try to get a really specific goal. It is a really interesting challenge, I just personally don't like rockets that much."
One of the main focuses and highlights of being a senior in STEM is the capstone project, where the students get the time to focus on something they are interested in and further their knowledge. McLeod, however, had a hard time focusing on just one topic for her capstone project.
"So, I am in a bit of an odd predicament where normally you only choose either a mentorship, outside research, or [you could pick] DE Engineering or one of the AP science classes like AP Biology, AP Chemistry or Biotechnology," McLeod said. "I'm doing it all… because I like to not think about the consequences of my actions and over plan things, but it's interesting, and I think this year my main research focus is going to be on using piezoelectric fabric to make clothing that can generate electricity."
Piezoelectric materials are not a new discovery, dating back to 1880. However, they were usually used in manufacturing processes. Using them in clothing is a fairly new idea, which many universities are researching, with only a couple working products already finished.
"I'm reading about [piezoelectric fabric], and it's pretty complicated, there are a lot of things I didn't realize like.. you have to manufacture it yourself, which requires a whole lot of chemistry, which I don't know," McLeod said.
Research projects are one way that students can focus on a single topic, but they don't always have to be about a serious problem or ground-breaking discovery. Last year, for example, McLeod made a sample of chain mail and then tested the mechanical properties of it. This flexibility is something that she really likes about the STEM program, which has played a big part throughout her high school years, teaching her many things also applicable in the real world.
"I've liked the variety [of STEM], it exposes you to a broad array of topics like your normal sciences, but then you also [have] engineering, there is a healthcare track, and computer science, which is really cool." McLeod said.