Shulgan drops track to further snowboarding skills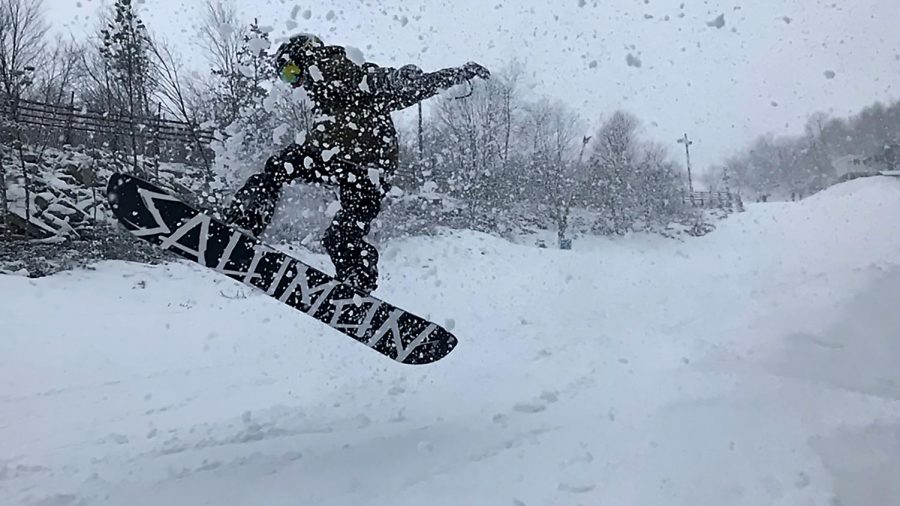 "The best feeling in the world is the adrenaline rush you get from speeding down a hill on a snowboard. It's like no other."
After running indoor track during the winter last school year, junior Thomas Shulgan has dropped track in order to strictly focus on snowboarding.
"When I was really young, my parents got me started skiing because all my cousins were starting it, and my parents wanted me to try something new. A few years later I switched to snowboarding just because I saw it on YouTube and thought it looked way cooler. [I've had] a lot of fun and am glad I made the switch. I've been snowboarding for three years now and have loved it ever since," Shulgan said.
Snowboarding and skiing have been sports in the Shulgan household as both his brother, sophomore Daniel Shulgan, and sister, HHS alumna Ella Shulgan, participate in these winter sports as well.
"Since me and Daniel are both really close in age, we go up a lot together. Since he skis and I snowboard, it's really cool to see the differences in what we do. Ella works at Massanutten, and she snowboards as well, so it's always fun going as a family. Our younger brother Liam who's seven also sometimes comes up with us but since he's so young, most of the time we aren't able to do much with him," Shulgan said.
Similar to other athletes, Shulgan has his own goals for his snowboarding season.
"Recently, I've been able to land a 360 degree turn which is something that I've been working towards for a while now, and it's finally paid off. A really ambitious goal for this year is to try to land a front flip. I'm not really sure if I'll be able to work my way up to that yet but I'm going to keep trying," Shulgan said.
Last winter, Shulgan and his family travelled to Vermont to ski and snowboard as a family.
"[We] snowboarded at Killington, one of the largest east coast ski resorts with my family for two days. There were a ton of challenging, fun slopes and it was a massive upgrade from what I'm used to at Massanutten," Shulgan said.
While Shulgan snowboards during his free time, he also works at Harrisonburg's nearest resort, Massanutten. Shulgan prefers the mountain environment compared to a standard workplace one.
"I've always wanted to work at Massanutten, but I wanted to wait till I had my permanent license. I've always loved being on the mountain, and working there gets me money and pays for a pass while I'm somewhere I love," Shulgan said. "I'm an attendant in the rental shop, so basically I fit people for skis and snowboards. I work roughly 15 hours a week and just love being there."
Many athletes have a struggle they must work past. For Shulgan, it's silencing the worried voice inside his head.
"Everytime I snowboard, I try to push myself to go faster, take that risky jump or even try that unreasonable trick and try not worry about getting hurt," Shulgan said.