Washington has love for wrestling, loves helping younger athletes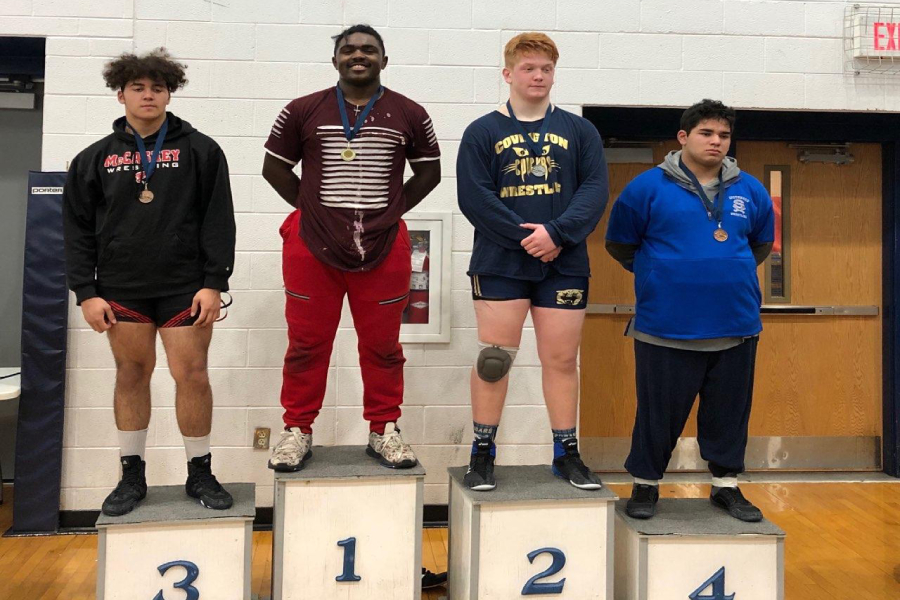 Junior Attwone Washington has wrestled for five years now. Ever since family and coaches got him to try the sport, he's never stopped and isn't planning on stopping anytime soon.
"Turner Ashby's old head coach and then my seventh grade football coach and my family [got me to try wrestling]," Washington said.
Now that Washington is a junior, he enjoys watching the younger athletes grow and get better throughout the season.
"[My favorite part about being on the team is] supporting the younger kids and just wrestling. It's my heart," Washington said.
Before wrestling, Washington played football. Both football and wrestling focus on very different aspects, according to Washington. Washington feels that in football you don't have to worry about staying in perfect shape as much as wrestling. It is good to be bigger in football to be able to make tackles; however, that does not have the same benefit in wrestling.
"You will fold [if you're not in shape]," Washington said.
At practices, the main focus is sprinting and other similar exercises to keep the athletes endurance up and keep them in shape. For Washington, practices are not easy.
"[It's] tough, especially when we're sprinting. What I do to get ready is I put my music in and then I just go about my stuff and [try to] get [some] alone [time to get my head in the right place]. But, as a team, we usually warm up, stretch and then we drill a little bit, like our top, bottom and neutral. That's how we get ready as a team," Washington said.
The wrestling coaches do not only focus on the physical aspect of wrestling, but on the mental necessities as well.
"Billy Bower and Smoot [are my coaches]. Bower coaches me mentally and helps me during the in seasons. Smoot helps provide mental and physical support towards me and [helps with] getting me to my tournaments [and] helping me get to practices," Washington said.
The team becomes fairly close over the course of the season. They consider themselves brothers and they work to help and encourage each other to be their best.
"Everybody on the team [is friends]. [But], we're not considered friends, we're family. Once you're on the team, you're family, you're a brother. [Encouraging each other at matches and practice] is the best part," Washington said.
Through his hard work, Washington made it to states this year and is continuing to work hard to reach his goals.
"My sophomore year, I won Sophomore States [and this year] I got to qualify for the first time [and I am] going to VHSL States," Washington said.
Washington thinks you must really have a place in your heart for wrestling to succeed. Doing it just to be popular or to get the win is not going to get you anywhere. He shared some advice for anyone considering joining the wrestling team or starting to wrestle.
"Prepare to run. [Also], it's going to help you mentally. It [helps you to just] have fun. Don't just do it to have fame because you will fold," Washington said.