Bryant leaves lasting legacy on more than the sports world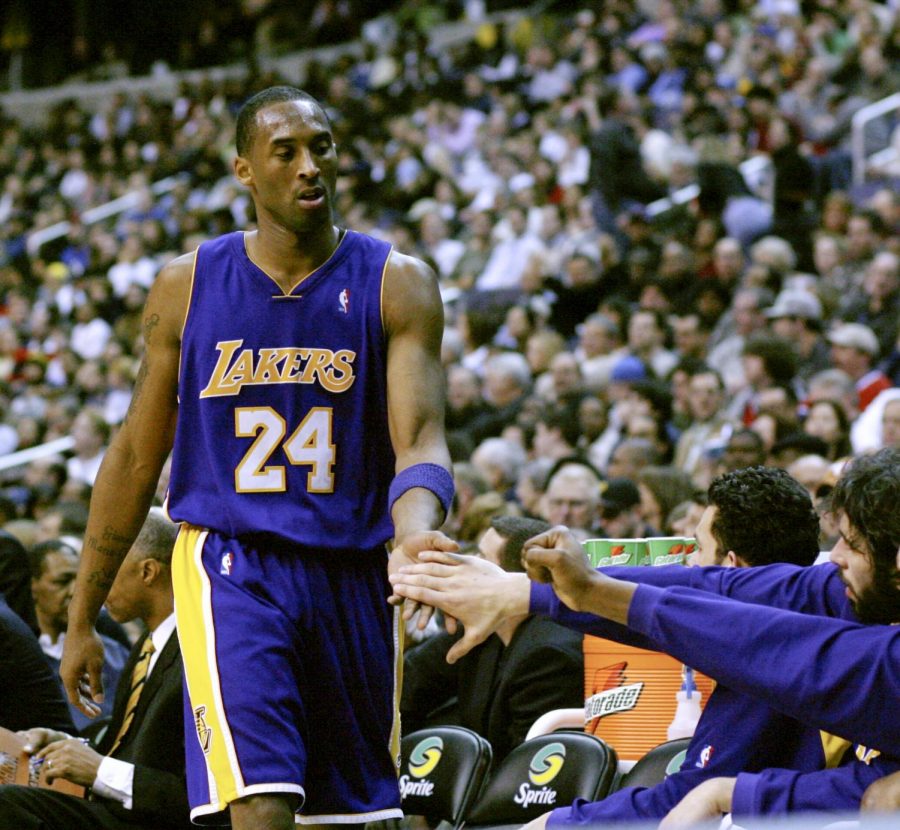 There will only be one black mamba. There will only be one person who wears No.24 and No.8 in Lakers purple and gold. There will only be one player that strived to make himself and everyone around him better at all times, in every way possible. There will only be one, Kobe Bryant.
On Sunday Jan.26, millions of people received word that while on their way to an AAU basketball game, 41 year old Kobe Bryant, his thirteen year old daughter and seven others, had died in a helicopter crash in Calabasas, CA. The news sports world, but across all social media platforms and news networks. Bryant not only impacted many people through his various accomplishments in sports, he also had a huge impact off of the basketball court.
Bryant, a 5x NBA champion with 15 All-Star game appearances, four All-Star game MVP awards, two NBA finals MVPs and a single regular-season MVP award, Bryant certainly left his mark on the basketball world. Bryant was recently passed for third place on the NBA all-time scoring list by one of his good friends, Lebron James. Bryant, who was also a major factor in the USA's "dream team" represented the country in the 2008 olympics and was able to help bring home two gold medals in his international career.
Off the court, Bryant added to his list of accomplishments by earning an academy award for best short animated film and the sports emmy award for outstanding post-produced graphic design. In 2015, Bryant wrote "Dear Basketball," a farewell poem to his sport which announced to the world that he would retire at the end of the 2016 NBA season. By 2018, the poem turned into an Oscar winning short film. Also, Bryant produced the ESPN+ analysis show "Detail," and his book "Mamba Mentality: How I Play the Game," which was published last year.
While he earned over $680 million dollars over his 20-year NBA career, Bryant focused on much more than his personal finance gains. Bryant was the father of four daughters and was a big supporter of women's basketball. Bryant and his daughter Gianna often attended WNBA and womens college game (particularly the Oregon Ducks and UCONN huskies) in their free time. Bryant tweeted about the games he was at, showed support for the women and even helped coach the players to improve their game. He praised the WNBA and spoke of a time where his daughter Gianna would someday hopefully reach the professional level. He worked closely with his daughters team and was always looking to help her improve.
For various reasons, many people were affected and saddened by the death of Bryant, his daughter, and the other seven people on the helicopter. A wide variety of celebrities including Kanye West, Jennifer Lopez, Kevin Hart expressed how truly sorry they were to hear the news. The sports world's biggest figures such as Michael Jordan, Lebron James, and Shaquille O'Neal also were deeply affected by the loss of one of their teammates, and friend to many. Fans of Bryant himself and Lakers fans took to the streets of Los Angeles to show respect for the fallen legend and his daughter.
On and off the court, Bryant was one of the most impactful players and one of the most impactful people that the world has known. While Bryant and his daughter are now gone, they will not be forgotten and his legacy will live on among many because again… there will only be one, Kobe Bryant.