Hospital mentorship offers Campillo, Arteaga insight into future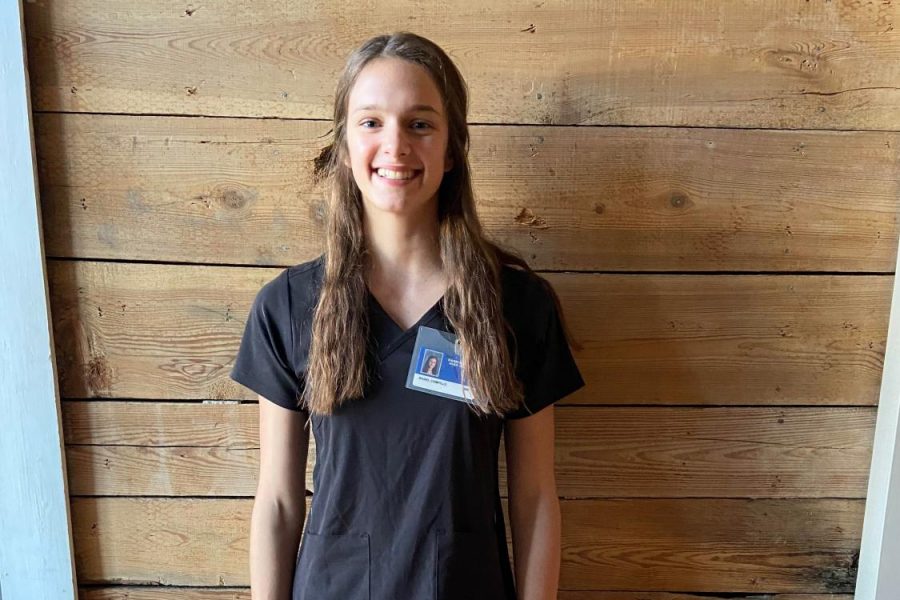 High schoolers and hospital scrubs are not a common combination. However, junior Isabel Campillo suits up in scrubs every Monday night for her mentorship at Sentara Rockingham Memorial Hospital (RMH). With an interest in medicine as a career, Campillo contacted RMH at the beginning of her junior year to set up a mentorship in the Labor and Delivery Unit.
"[My mentorship] makes me more excited to go into that field and it helps me see what kind of degree I would want for the job position I want to have," Campillo said.
Each day in the Labor and Delivery Unit is different. Campillo normally spends her time checking in on patients in labor with her mentor, but on occasion, a patient will give birth while she is there.
"I usually get there [and] get assigned to the nurse. Then, we check in on the patients," Campillo said. "The first day I got to see two births. Last time I saw a C-section."
Like Campillo, senior Jenny Arteaga is also shadowing at RMH, but her mentorship is much different. Arteaga is mentoring in the vascular clinic under Dr. Jason Moore.
"I usually go [to the hospital] two to three times a week [for] about four hours a day…when I'm in [the vascular] clinic, we see patients for ulcers [or] any sort of vein or vascular problem," Arteaga said. "I get to see patients [with] the [doctor], but I also see procedures in the clinic. I've learned how to read radiation and stuff like that. That's what my typical day looks like. On other days, I go down to the wound clinic, or I sometimes see surgeries depending on the day."
Most of both Campillo's and Arteaga's mentorship routine involves learning by observation, but occasionally Dr. Moore allows Arteaga to work directly with patients.
"[I've had the opportunity to] remove sutures. That's one of the coolest things I've probably done," Arteaga said. "A lot of the stuff I do is very much just looking, [but] the doctor trusts me enough to do that. [It] was really nice to know that I have that trust in my mentor and that I was able to do something and learn it hands-on."
At the moment, Campillo isn't sure if she wants to go into nursing or attend medical school and become a doctor. Arteaga, on the other hand, has a very specific future goal in mind.
"I want to become a surgeon. That's my biggest dream. [A] cardiovascular [surgeon] was what I was intending to do," Arteaga said. "Right now, I'm shadowing a vascular surgeon which is very different, but also extremely interesting to me and something I'm definitely considering."
Before Campillo and Arteaga attend college and make decisions that will impact the trajectory of their future, mentorship offers them the opportunity to gain insight on their potential career.
"I decided to do a mentorship because I felt like I was kind of craving that experience," Arteaga said. "I wanted to be out there in the real world with what I want to do with the rest of my life and experience that and make sure that's really what I enjoy doing."