Miller finishes first collegiate cross country season, begins indoor track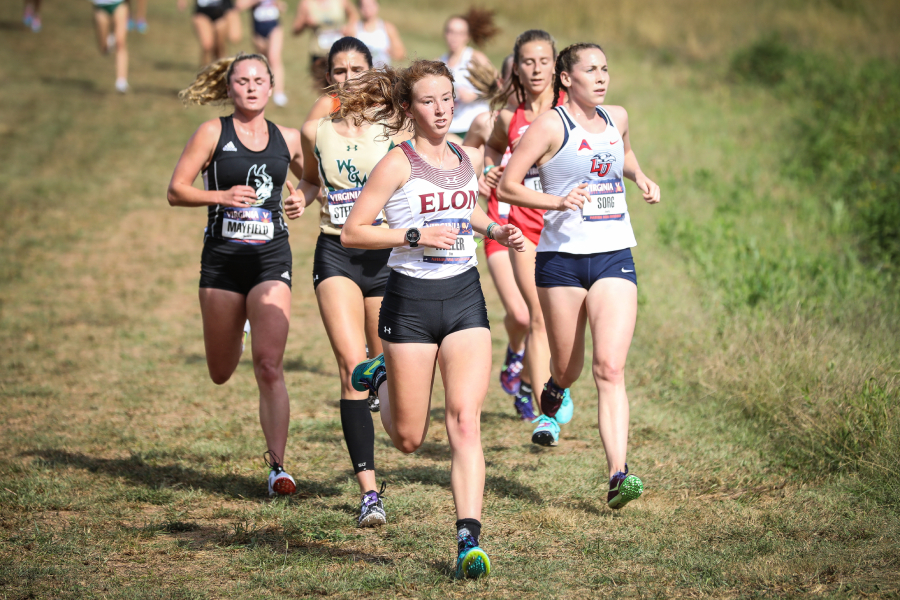 When 2019 graduate Hannah Miller packed up her spikes and spandex and drove to her new home at Elon University in August, a cross country "culture shock" was in store for her. Miller went from running in high school with a small group of girls of all different skill levels, to pacing herself with a large team of some of the best distance runners in the nation.
"A lot of the girls on the team came from [high school] teams that were really big [that] would go to New Balance Nationals or win states together. Even though I come from a slightly larger school, our cross country team was always really small," Miller said. "There have been a lot of things I have to get used to, such as running in large groups [and] doing workouts in groups. I never really did that in high school."
However, this big team aspect made Miller's transition from high school to college much easier. She didn't just have teammates, but an automatic group of friends.
"We had training camp together, and we hung out and had meals together," Miller said. "By the time all the other freshmen moved onto campus, we were part of the move in and orientation team because we kind of knew our way around by that point. It made it a lot easier to make friends."
Not only was the style of practices and workouts a major change for Miller, but her training has become much more intense. Her mileage has increased in both number and speed, and she has a stricter schedule.
"My mileage has maybe close to doubled [since high school]. During the high point of [this] cross country season, I was running about 50 miles a week," Miller said. "It's [also] a lot more structured which I kind of like because it makes it harder to skip stuff. It makes you want to complete [a practice] because you can check it off your log."
For Miller, keeping up conversation with her teammates helps the miles go by faster.
"A lot of times [we] tell stories. Since none of us knew each other in high school, there are a lot of stories to tell," Miller said. "We'll [also] talk about things that are going on at school."
Miller normally sees her teammates twice a day for practice, and she attends classes in between.
"A typical day would be waking up at 7 [a.m. and leaving] the dorm at 7:15. Practice starts at 7:30, and we have an abnormally long warm up. In high school, I never did that…we take half and hour to do a variety of stretches and that kind of thing," Miller said. "Then, I go on my run [and] walk to a dining hall [after] and get breakfast. Then, I come back and shower, and I'll have a day of classes. When I'm out of classes I'll either have a second practice, so I'll have to go to weight training or the gym, or sometimes there are some days where I don't have any running later in the afternoon, so I'll do homework [or] go grab dinner with friends."
Last semester, Miller took an environmental science class and enjoyed it so much, she decided to major in it.
"Right now, I want to major in Environmental Studies, [and] there are three different [types of Environmental Science] degrees at Elon," Miller said. "I'm trying to figure out what focus I'm going to take. I'm really excited about it, though, because everyone tells you to find the classes you enjoy and choose that for your major."
Miller finished her cross country season with a personal best of 23:03 for the 6 kilometer run. Over her winter break, she is preparing for the next season: indoor track. Her practices are becoming more personalized as opposed to cross country since not everyone is running the same distance anymore.
"As you move into indoor track, you split up into a lot more individualized specific groups based on what events you're racing," Miller said. "A lot of the middle distance girls will do shorter and faster workouts [and] extra strength, whereas the distance girls will increase their mileage."
Miller ran events such as the 1000m run and the 1600m run in high school, and she envisions herself as running similar and slightly longer events in college, like the 1500m or the 3K.
According to Miller, distance running requires much physical and mental strength, but her teammates both hold her accountable and make the practices easier.
"Overall, I think honestly it's less scary than I expected going in…even though I have to wake up pretty early in the mornings, I'm getting to see my closest friends," Miller said.