4×800 boys indoor track team qualifies for nationals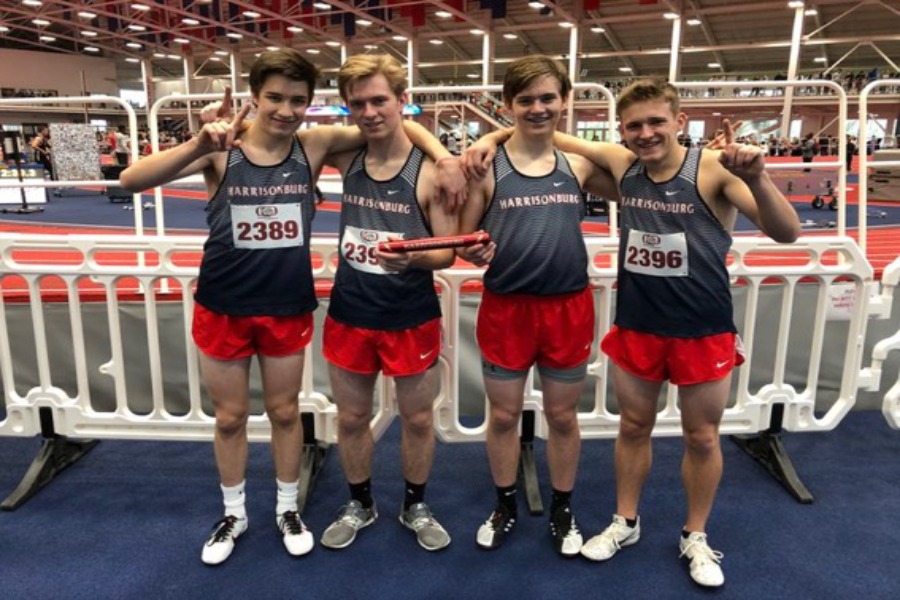 Saturday, Jan. 12, the indoor track team journeyed to Lexington, Va., for the VTCA Winter Classic at Virginia Military Institute (VMI). There, the 4×800 boys team broke their own school record and qualified for nationals. The team placed third with a time of 8:06.63. The 4×800 team consists of seniors Michael Hulleman, Tucker McGrath, junior David Beck and sophomore Calvin Hulleman. Beck feels proud of the goals their team has achieved.
"[Qualifying for nationals] is an amazing and very validating feeling. Nationals is the big goal for many high school track teams. Making nationals as a 4×8 team was something we established as our goal for the season. To be in shape and to run that time at this point in the season only gives us high hopes for what's to come," Beck said. "[Breaking the school record] was definitely a good feeling, but that's not our focus. The focus was on hitting the qualifying mark and we did what we needed to do. Breaking the school record again is nothing small, but we knew we needed to do that in order to qualify."
While preparing for nationals in New York City later this year, the 4×800 boys team still need to train for states at the end of February. Currently, Beck and the team are going to be changing their mindsets to help with both competitions.
"[We're going to] keep doing what we are doing. It's working, so we won't change much in the coming weeks. The best way to prepare for nationals is mentally. It's an intimidating environment with a lot of fast runners from everywhere in the US. Being able to stay calm and relaxed is going to be key. The training we do will ensure we hit the times we need to; it's a mental battle from this point on," Beck said. "We aren't happy yet. Well, we are, but we're not satisfied. States is at the end of February and we have our eyes set on being in the top three. We're hungry and ready to do whatever we need to do in order to accomplish that."
The 4×800 boys team is a team both on and off the track. The four boys have been close friends since the beginning of their track careers.
"The best part of the journey has been being able to experience it with some of my closest friends and an amazing coach. We get to grow as athletes and as people together, which is something special. The toughest part has been physically and mentally stepping up to the next level. Last year, nobody knew our name. Now we're ranked highly in the nation," Beck said.
Check hhsmedia.com for the latest updates on the 4×800 boys indoor track team.