Juniors, seniors submit applications for National Honor Society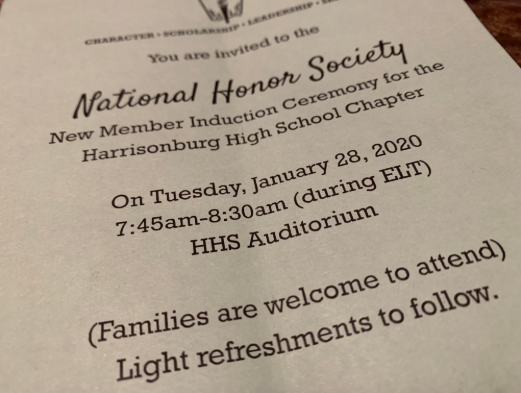 Juniors and seniors hoping to join the National Honor Society were required to submit their applications by Nov. 11.
The NHS acknowledges students for their academic success with a 3.5 grade point average or higher in addition to participating in numerous extracurriculars both inside and outside of school.
Applicants were required to submit two recommendation letters and two essays in addition to lists of their leadership, volunteer and community service experiences. Students at HHS completed their applications and turned them into Mrs. Weaver, who believes the NHS is a great experience for all students.
"Joining the NHS is an honor students can use to put on their college and scholarship applications," Weaver said. "Students who are involved in the program get the benefit of being encouraged and motivated to participate in service activities as well as to continue their academic achievement."
According to Weaver, student applications are analyzed by a group of five teachers who make up the faculty council, which then determine if the student fits the criteria of the NHS.
"The faculty council is looking for well-rounded students focused on academic success and who have a deep commitment to service and leadership and who exemplify consistent character traits worthy of honor and integrity," Weaver said.
Although it takes dedication to academics, extracurriculars and service to get accepted into the NHS, that dedication doesn't stop once a student is accepted.
"Once students are members, they are expected to maintain a GPA of 3.5 or higher and participate in community service. [Students are] required to perform 15 community service hours during their junior year of membership including the summer and at least 10 hours during their senior year in order to retain active membership in the NHS," Weaver said. "Each member will be required to complete at least five service hours at official NHS sponsored service opportunities like the Streaks Serve the 'Burg each year."
HHS currently has 35 seniors in the program who were accepted into the NHS last year as juniors. One of the students is senior Leif McCoy, who advises future applicants to be dedicated to academics in addition to service and activities in order to increase their chances of getting accepted into the society.
"Keep your grades up [because] there is a GPA requirement," McCoy said. "Also doing things outside of just school so extracurriculars, working and community service [will give you an advantage during the application process]."
For McCoy specifically, he believes he was accepted into the society due to the variety of activities he chooses to participate in.
"The diversity of my extracurricular activities [is what I believe helped me get accepted because]. I am really interested in music, debate, model UN and I have a job," McCoy said.
Those who were accepted into the NHS will officially become a member during the Induction Ceremony Jan. 28 during Extended Learning Time.