Lawton enjoys last year of dance club as president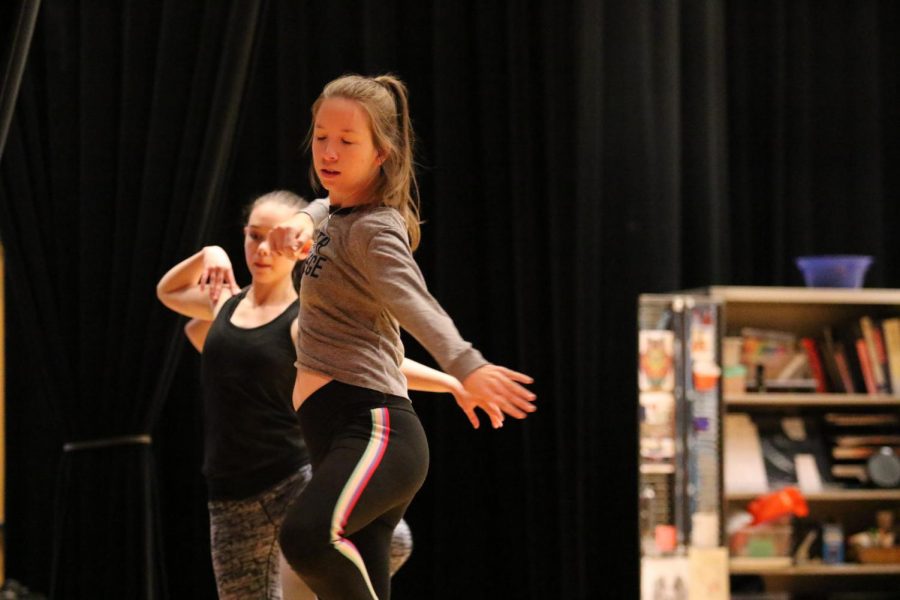 Senior Julia Lawton has always found dance to be an important part of her life, so when given an opportunity to help the school's dance program, she was all in.
"I've always been invested in the dance program," Lawton said. "I like doing the organizational stuff and since dance is such an important thing in my life, I want to contribute to this program."
This passion and investment is what made Lawton a strong candidate for president of the school's dance promotion club, C-Crew. After frequent conversations with head of the dance program, Amber Corriston, and a fair amount of work put into the club, Corriston along with other members thought she was a perfect fit.
"She's been involved for the last four years and so she really knows the dance program," Corriston said. "She had done a bunch of work prior to our first meeting to get everybody organized… when we were talking about officers, everybody basically unanimously voted and said she seems like she would be great as the leader and the president."
Lawton made clear that C-Crew is not a class where students are actively dancing, but rather where students meet with the goal of promoting dance.
"We make posters for our dance shows and we are going to have some fundraisers this year," Lawton said. "It's more about finding ways to bring dance and what we do in class to the rest of the school."
Lawton's job as president is to conduct those meetings. She works to maintain a smooth operation within the club.
"I plan the meetings and keep them organized. We have different teams. We have people who are in charge of fundraising and advertising so I'm just kind of the organizing person for all of that," Lawton said.
Looking into the future, Lawton, along with C-Crew, hopes to use the fundraising to their benefit.
"We are trying to get HHS dance shirts, [and] we really want to have some sort of dance piece that C-Crew does," Lawton said. "One of our big fundraising things is to raise money to make you not have to pay to get into honors society."
As president, Lawton hopes to continue the rapid growth of the school dance that has taken place since she joined. To do this, C-Crew has put an emphasis on promoting the program to a wide range of people.
"Dance is such a great class and it builds a really strong community, so I think just continuing to reach out to different kinds of people in the school is a goal of ours," Lawton said. "I just want as many people to take dance as possible."
Through it all, Lawton hopes that C-Crew can change the perception of dance in students eyes.
"A lot times fine arts really gets placed in the fine arts bubble, like only people who know what is do it, but dance has started to be much more inclusive than that," Lawton said.