VHSL Media Championships offers opportunity for journalism staff growth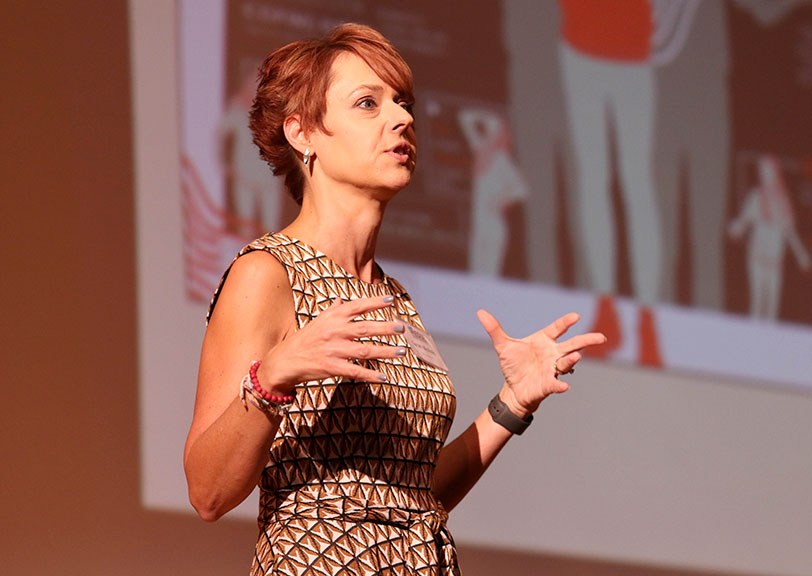 By 10 a.m. Oct. 19, 31 different journalism and broadcasting staffs from 27 different schools around the state flooded the auditorium for the keynote address given by Sarah Nichols from Whitney High School in California that would begin the annual VHSL Championship Workshop. This year, it was held at HHS for all student journalists who are looking to improve their skills. The one day workshop offered classes on many different aspects of journalism and exposes first-year staff members such as freshman Jolie Sallah to a smaller convention before major ones later in the year.
"I came today because I thought it would be very informative, and I would learn new stuff and coming would make me a better writer overall," Sallah said. "I think that this is important [to] because it is a starter workshop and it lets you know more of what is going to happen at those bigger conventions."
The workshop focuses on skills for newspaper, yearbook, broadcasting,literary magazine and photography. Sallah plans to attend journalism conventions in Washington D.C. and Nashville, Tenn. later in the school year. Prior to these conventions, Sallah has specific skills that she wants to focus on improving.
"I am hoping to improve on my sports writing and my writing in general because this is my first year on staff and I am not very good at writing yet," Sallah said.
The workshop holds many opportunities for first-year member such as Sallah; however, the day was also very important to junior and editor Dany Medhin.
"I think the most important part about this is having that safe space to meet other students that are involved in high school journalism and also meeting and connecting with advisers from other schools to see how they run their publications," Medhin said. "I know that even today I have seen people look at our paper and ask why they don't do something we do but then I look at theirs and think the same thing. At these workshops we have this pool of new ideas that we can all take back to our own publication and make it bigger and better."
As a first year editor, Medhin wanted to hone in on her leadership and design skills specifically at the workshop.
"I am definitely focusing on design personally because I think that my design capabilities can always improve. I also think that my leadership skills could definitely improve because you never stop learning and you never stop growing as a person. That's why I am taking a lot of leadership classes also and asking lots of questions and meeting more leaders from other schools to see how they handle different situations and figuring out how to be a better leader, improve my design, and what I can do to make my high school publication the best that it can be while I am still here," Medhin said.
Overall, Medhin believes that the experience will have a major impact on all the students that attended from the different schools. She wants all staff members to be able to walk away confident that they have new ideas to improve their respective publication.
"I really hope that the staff learns something new because we have a lot of first years that are [attended] here so I hope they learn[ed] something cool and take it with them. With learning new things, I hope the second-year members can find their weaknesses and strengths and grow from that. I am hoping the editors learn something new about themselves and their new role within our staff. Really, I am just hoping that this becomes a whole learning process for the staff and they ask themselves what they can do to make their publication better," Medhin said.