Five ways to ask a date to homecoming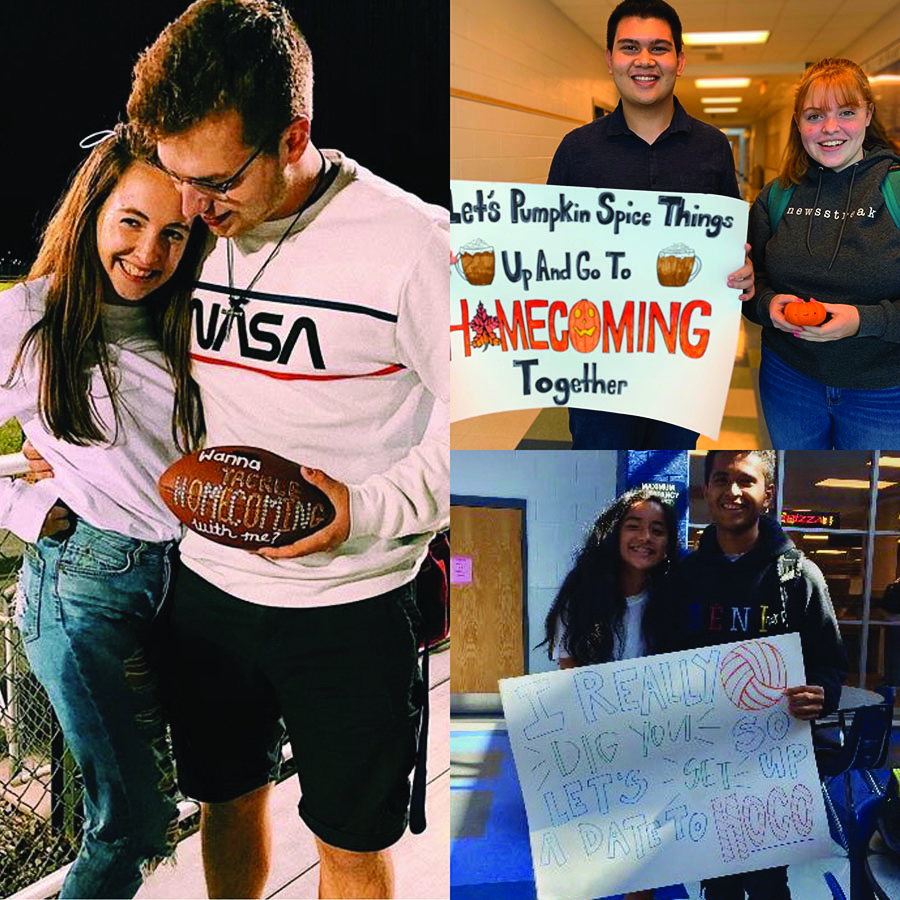 Dany T-Medhin, Editor
October 11, 2019
Homecoming is just around the corner and if you're like me, you don't have a date and are in desperate need of one. I find it quite difficult to find, ask and hopefully not be rejected by that special someone that will make homecoming a night to remember. For girls, finding the right dress, hairstyle, picture location, perfect get ready playlist and, most importantly, the after homecoming dinner hangout location can take a lot of planning and perfect execution in order for it to work. Whether you have your eyes set on someone or are still searching, here are five unique, cute ways to ask your date.
POSTER. You can always go with something simple and make a cute poster with a corny but classic pun and then the big question. Then surprise them in class, at lunch, in the library, in the hall, at their game or wherever you want really. That's the blessing of posters, they're simple and effective. An example could be that you write out "It would be sweet if you went to homecoming with me?" and fill the poster up with candy. It doesn't have to be with candy, it can be with anything. Just decorate it and put time and effort into it if you want it to be good.
ANNOUNCEMENT. If you're the bold type then this is the one for you. Make your way early in the morning to talk to the people who work in the office and see if you could make an announcement. If they're hopeless romantics, they'll for sure let you ask your date. You could ask something along the lines of, "Hey if (insert name) is listening, I'm in desperate need of a date to homecoming. Mind going with me? I'll be waiting for your answer at second breakfast by the gym." Don't use this exactly but something like it.
DECORATE. This is such a simple way to get her/his attention. Take some time after school to decorate their desk in a certain class or their locker. If they have a car, that's even better! Decorating something of theirs will make them feel special, making them more likely to say yes. You can use markers, balloons and streamers for simple decorations. If they play a sport, use their sporting gear to make your proposal more personalized and unique.
FOOD. You know that food is the way to anyone's heart. If you have a knack for baking like Zeke Baylor, (for those of you who know, you know) disguise your question in a pizza box or spell out HOCO in cookies. It doesn't matter what type of food, just having food with it will increase your chances a heck of a lot. As long as you're not asking with something they're allergic to. That would be bad… trust me, I know what I'm talking about.
JUST ASK. Sometimes a big gesture might not work or could make the other feel uncomfortable. Sometimes just having an intimate conversation and simply asking, "Hey, do you want to go to homecoming with me?" could be all that you need.
These are just five ways to ask someone to homecoming, but don't feel like you need to have a date in order to go. Sometimes just going with a group of friends could be just as or even more fun than if you went with a date. Always remember that your homecoming experience will be what you make it. Good luck!