Marching Blue Streak Band dominates at back to back competitions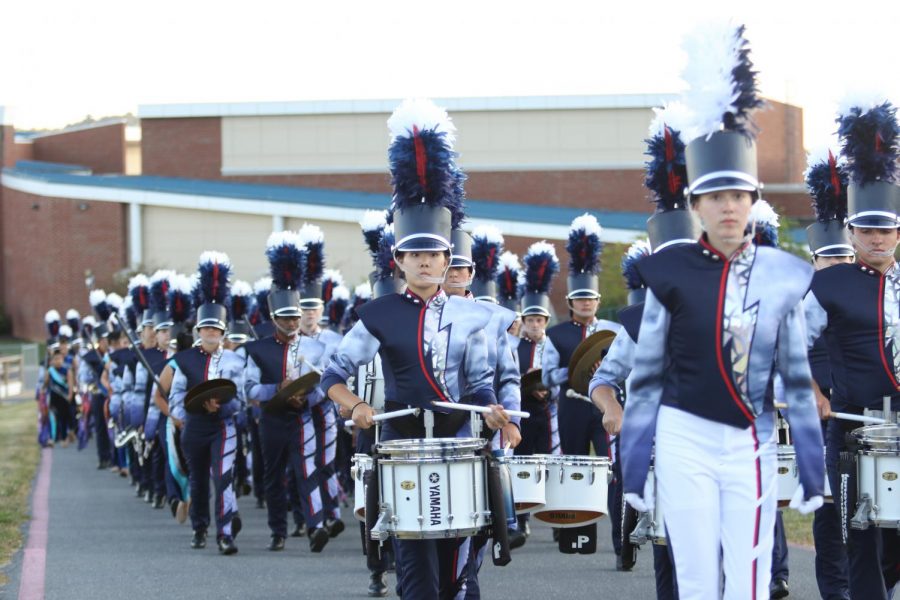 Traveling over 280 miles in a single day, the Marching Blue Streak Band spent Saturday, Sept. 28 competing in two competitions for high school bands and color guards throughout the state. Their first stop was Riverbend High School in Fredericksburg, Va. to attend Emerald Classic, an annual marching band invitational. A total of 18 bands were in attendance, and in the end the Marching Blue Streak Band came away with first place awards in music, visuals, color guard and percussion. They earned the highest score of the day in each category while being tied for highest score in percussion. They also earned second place in general effect, being tied with the second highest score of the day in the category. All of the first place finishes added up to a first place Class AAAA grand champion title with a score of 85. Color guard leader senior Lizzy Burzumato left the event filled with pride.
"It really feels good that all our hard work paid off. We've been working on this show for so long and it finally feels like this is all playing out wells since we've been doing so good so far for this school year. Fingers crossed that we keep this up," Burzumato said.
After leaving Riverbend High School and catching a special performance of the Marching Virgnians from Virginia Tech at the Emerald Classic, the Marching Blue Streak Band traveled to Herndon, Va., for the Virginia Marching Band Cooperative NOVA Regional Competition. While competing against 28 other bands, the marching band received first place in visuals, color guard and general effect. At the end of the day, the Marching Blue Streak Band received second place with a score of 84.4, only .15 points away from the first place winners. Marching band member junior Ryan Secrist found this loss to be a frustrating end to an exhausting day of competitions since this is the second time the Blue Streaks have been awarded second place by less than .5 points. Secrist, this being his third year in the marching band, has never found his experience to be infuriating.
"It would have been nice to win but the fact that we lost by .15 of a point really irked me. We all work really hard but now we have to work even harder to prove ourselves," Secrist said.
In the past two weeks, the Marching Blue Streak Band has won two grand champion awards for first and have gotten second place two times. Throughout their four competitions of the year, the Blue Streak Color Guard has remained undefeated, winning first place at all events.
"Color guard has gone through a lot since now we have more members than returning ones for this year. This means that it was hard to get adjusting to at first but it is so amazing that all the hard work that all the new people have put in has really paid off and has made us undefeated," Burzumato said.
The next time the Marching Blue Streak Band performs will be Friday, Oct. 4 alongside 80 middle school students from Skyline Middle School and Thomas Harrison Middle School at the home varsity football game, making the band that night a total of 280 members. Then, while taking a Saturday off Oct. 12 the Marching Blue Streak Band will host the 10th Annual Shenandoah Valley Marching Invitational here at Harrisonburg High School. The Streaks will perform at 5 p.m. that afternoon.