The Atlanta Braves are a force to be reckoned with despite young roster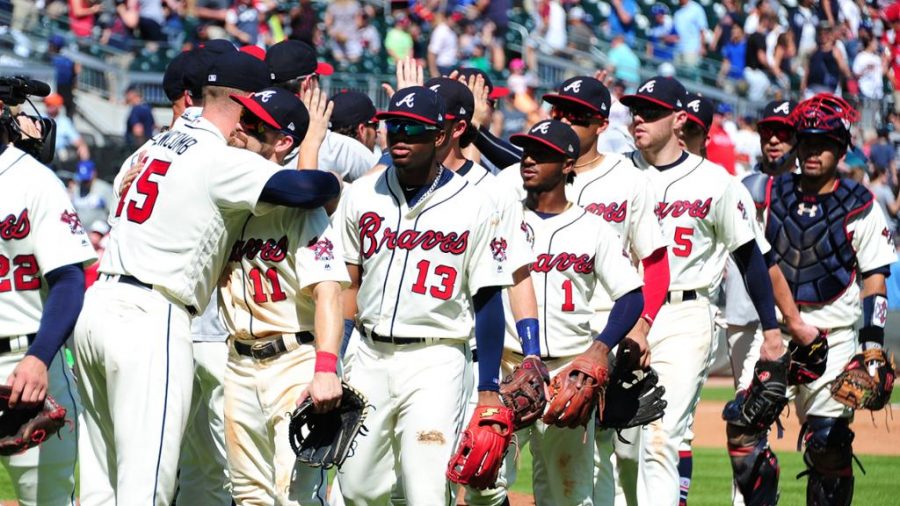 Athletes train and dedicate hours upon hours for the chance of playing a sport professionally, but once they get there, the hard work doesn't stop. For some, the transition from playing college sports to professional sports can be difficult, while others excell against athletes that are years, and sometimes even generations, older than they are.
The Atlanta Braves organization has been apart of Major League Baseball since 1966 after they changed their team name on a number of occasions as well as changing their home base from Boston to Milwaukee and then finally to Atlanta, where they have resided for over 50 years.
Within the overall evolution of the Braves team since 1871, they have only won a total of three World Series and only one of those World Series titles were from the Atlanta team in 1995. Since then, the team has experienced struggling seasons in 2015, 2016 and 2017, all of which were years they had over 20 more losses than wins. However, the years since their last World Series title has not been only failure. In 2010, 2012, 2013 and 2018, the organization has accumulated over 90 wins in each of those seasons.
As of the 2019 season, the Atlanta Braves (94-60) are ranked first in the National League East against the Washington Nationals, Philadelphia Phillies, New York Mets and Miami Marlins. As playoffs are approaching, the Braves have a 100% chance of making the postseason, but only a 10% chance of actually winning the World Series.
Although they are having one of their most successful seasons, the stars on the Atlanta Braves are mostly young athletes. Ronald Acuña Jr. is 21 years old, Ozzie Albies, Austin Riley and Mike Soroka are all 22 years old and both Max Fried and Dansby Swanson are 25 years old. In comparison to other players currently in the MLB, the youngest player this season is a 20 year old shortstop, Fernando Tatis Jr., who plays for the San Diego Padres (69-84) and the oldest player in the MLB this season is Fernando Rodney, a 42 year old pitcher for the Nationals.
Despite being one of the youngest in the league, Acuña Jr. has shown off how great of a player he is even though some of his opponents are nearly twice is age. After making his MLB debut last season, he won the National Rookie of the Year award. Since then, his success has not stopped. With 40 home runs on the season and 37 stolen bases as of Sept. 20, Acuña Jr. is making his way to the 40/40 club after being introduced to the 30/30 club in a game against the Marlins where he hit a solo home run in the eighth inning.
In addition to Acuña Jr., 30-year-old Freddie Freeman has also been very successful this season. After graduating high school in 2007, Freeman was drafted by the Atlanta Braves, but didn't make his debut until 2010 and over the past nine years, he has maintained a batting average just short of .300. In an article by Bleacher Report, Freeman was ranked 17th in the top 100 players in the MLB ahead of his teammates Acuña Jr., Albies and 33-year-old infielder Josh Donaldson as well as right behind 26-year-old Bryce Harper, who signed a $330 million contract with the Phillies after ending the 2018 season with the Nationals.
Donaldson has also been a powerful athlete this season with 89 runs batted in as of Sept. 20. Acuña Jr. and Freddie Freeman, however, both have more RBI's even though Donaldson is twelve years older than Acuña Jr.
Another young star on the Braves' roster is Ozzie Albies, who was drafted into the MLB in 2017. With 23 home runs and 180 hits on the season as of Sept. 20, Albies currently has a .293 batting average heading into the postseason.
The relatively young Braves team has not shown any fear against their opponents, which in returned as completely turned around the Braves' organization. Out of a total of seven games against the Phillies during the regular season, the Braves won three with the influence of their young athletes. The Phillies, nevertheless, were named the youngest team in the MLB this season with an average age of 27, however, most of the stars on the Braves such as Acuña Jr., Albies, Riley, Soroka, Fried and Swanson, are all younger than that.
Heading into playoffs at the beginning of October, the Atlanta Braves have a high chance of winning their division since they're currently in first place. However, either the New York Yankees (100-54), Los Angeles Dodgers (98-55) or Houston Astros (100-53) are predicted to win the World Series this year. After beating the Baltimore Orioles (49-104) on Sept. 10 on their home field, the Dodgers were first to earn a postseason spot. In August, the Atlanta Braves played a three game series against the Dodgers and won two out of three of those games. Because of this, the Braves should not be overlooked due to former unsuccessful seasons or their young roster since they have a chance winning many postseason games as well as possibly making their first World Series appearance since 1995.