Mehegan creates and sells stickers to showcase art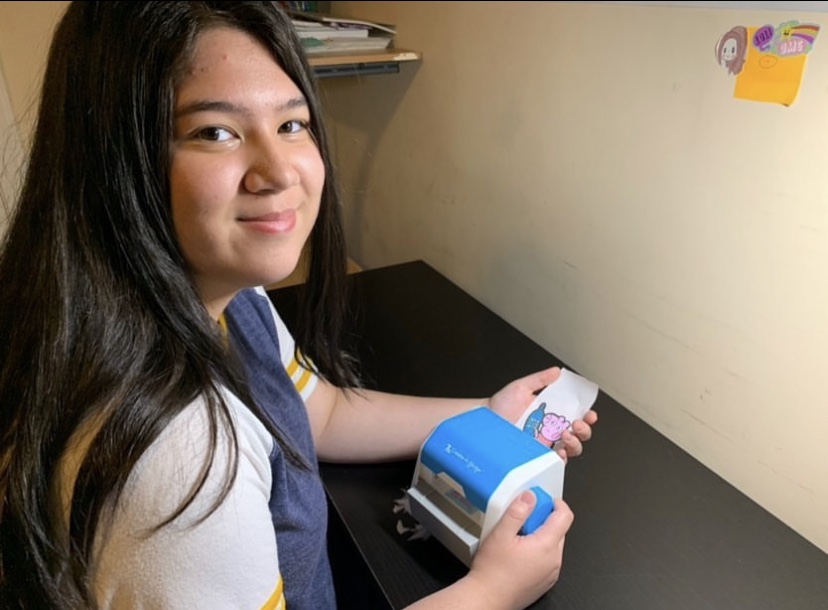 TikTok has inspired lots of teens to try new things, such as dances and food, but for sophomore Julia Mehegan, it inspired her to make stickers with a Xyron Create A Sticker Machine. Mehegan started making stickers during the last two weeks of summer and she continues to keep selling stickers at an affordable price in order to give her art more attention.
"I've always wanted to make some sort of merchandise and get my art around. Making buttons [would've] been very expensive and hard, so I decided to make stickers because everyone would use them on their chromebooks. I bought the machine on Amazon. You can buy the refills for the machine on Amazon. Recently, I just bought a refill because the business is going very well. [I charge] only one dollar, it's an easy price for everyone and I also make commission stickers, where you can ask me to make a certain design…that would be two dollars. The price would [increase] on the complexity of the design," Mehegan said.
When Mehegan's business was first started, her Peppa Pig sticker became popular. When she noticed the popularity of meme stickers, she started making more, which people have been a fan of.
" My first customer was AJ, and then she posted on her [Snapchat] story. Then I got twelve DM's (Direct Messages), the next day. Everyone liked the Peppa Pig one. [I base my designs] on popular designs, like Peppa Pig and Spongebob characters. I really want to make stickers of the interests I like, but not a lot of people would buy those. So, [I thought] making memes would be easier [to sell]," Mehegan said.
Mehegan plans on keeping her sticker business, and going to spread her art to make a profit.
"I think [my business will continue to be successful] because of the machine. I can literally just put a piece of paper in, and make it into a sticker. I can easily make anything I want," Mehegan said.